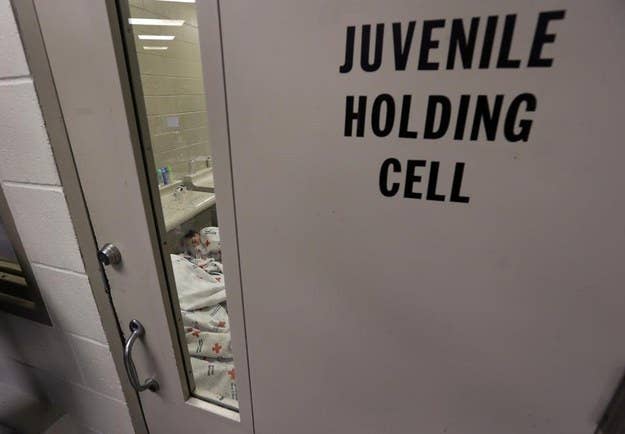 WASHINGTON — The thousands of undocumented minors in U.S. detention facilities includes an unknown number of pregnant teenage immigrants.
The pregnant minors have been moved into longer-term shelters operated by the Department of Health and Human Services (HHS) in order to provide federally funded health care.
As many as 90,000 undocumented minors from El Salvador, Guatemala, and Honduras are expected to enter the United States this year. The rush of children, many of whom are trafficked by drug cartels and other criminal organizations, has become not only a strain on the asylum process but a political nightmare for the Obama administration.
It is unclear how many of the minors are pregnant and now in HHS custody, and HHS spokesman Kenneth Wolfe said Friday that the department does not have "available" statistics on the number of pregnant minors housed in HHS facilities.
But Wolfe confirmed the department, which is tasked with overseeing the flood of immigrants, moves pregnant girls to permanent shelters, rather than the temporary detention facilities that most of the undocumented children are in.
"Pregnant teenage mothers are housed at regular/permanent Unaccompanied Alien Children program shelters (not temporary UAC shelters) and are provided medical care. We do not have statistics available," Wolfe said in an email to BuzzFeed Friday night.
HHS has begun establishing temporary shelters across the country to house undocumented children after the permanent, long-term facilities were overwhelmed by the unprecedented number of immigrants. According to the HHS
website, the department maintains "approximately" 100 permanent shelters in the United States, most along the southern border with Mexico.
Under the 14th Amendment, their children will be American citizens if they are born in the United States. It is unclear whether the mothers — and their children — will be deported. Wolfe did not respond to multiple requests for comment on that issue, and White House spokesman Josh Earnest did not respond to a request for comment Saturday.
It is extremely difficult for undocumented parents to get citizenship. For instance, they have to wait until their children can sponsor them when they come of age, or be granted asylum by the government. But with an estimated 4 million American children with at least one parent who was in the country illegally, the Obama administration in 2013 directed immigration officials to use "discretion" when deporting parents.