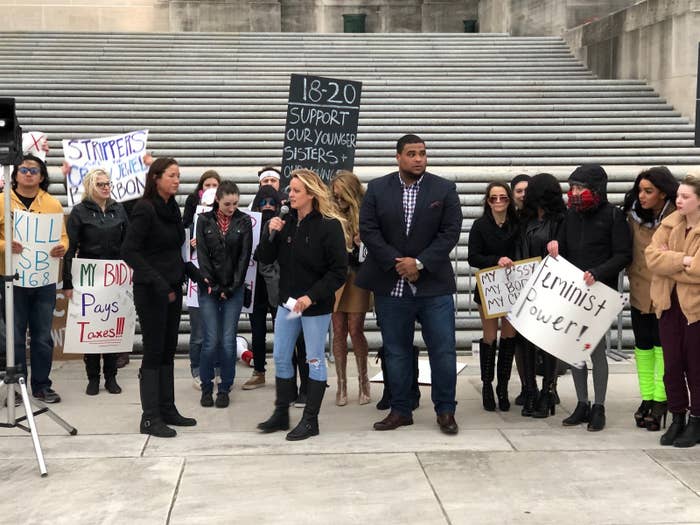 BATON ROUGE, Louisiana — Stormy Daniels joined more than three dozen sex workers on the steps of the Louisiana State Capitol Sunday to protest the state's new law requiring strippers to be at least 21 years old — a measure activists warn could potentially push hundreds of young women into prostitution.

Billed as a measure to combat human trafficking when it was passed in 2016, the law bars women under age 21 from exposing their breasts or butts. Although the 5th Circuit Court of Appeals had stayed the law earlier this year, the same court reversed itself last month, allowing the measure to take effect this Monday.
It has been dubbed the "Baby Stripper Law" by its opponents, who say the bill will force potentially hundreds of women out of strip clubs across the state. Although there are no hard numbers for the number of women under 21 who are currently working as strippers in Louisiana, activists claim that they make up a significant portion of the workforce. As many as 100 women working in strip clubs on New Orleans' Bourbon Street could be affected, activists said; 60 dancers at the Hustler and Hustler's Barely Legal clubs alone will be impacted, according to the clubs' operator.
"Not only is the law unconstitutional, it's fucking sexist," Daniels, 39, declared Sunday. "It specifically targets female dancers, not male entertainers. How such a law can get passed in this day and age is mind-boggling and insulting to every female out there, whether you work in the adult entertainment industry or not."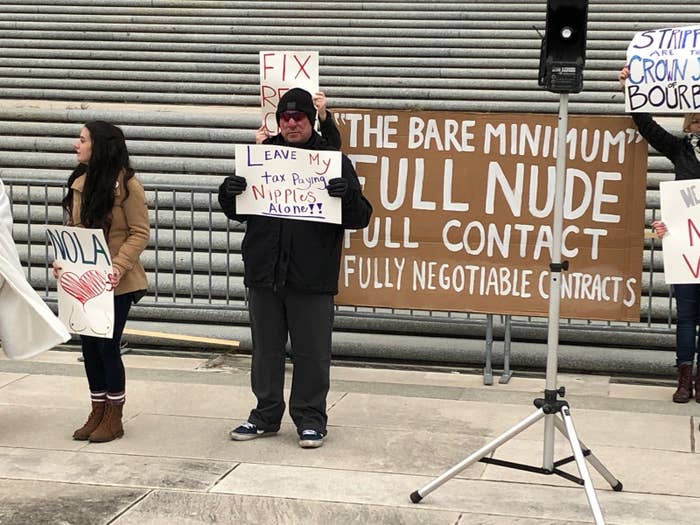 A Baton Rouge native, Daniels has become one of the most recognizable sex workers in the world, in no small part because of her alleged affair and subsequent legal battles with President Donald Trump.

"If this law had gone into effect when I was 18 here in Louisiana, I would have missed out on many of the opportunities that were afforded to me to become a successful businesswoman and to escape the very dangerous situation I grew up in," she told the small crowd in front of the statehouse. Daniels, whose real name is Stephanie Clifford, has said she was sexually abused as a child, beginning at age 9.
The 5th Circuit's decision is the latest win for anti–sex work activists, who have successfully used often vague allegations of rampant human trafficking to try to crack down on the sex work industry. Earlier this year Congress passed the Stop Enabling Sex Traffickers Act/Fight Online Sex Trafficking Act, which in addition to targeting traffickers has also eliminated the ability of sex workers to use online resources to screen potentially violent clients. In New Orleans, strippers narrowly beat back an effort by the city to scale back the number of strip clubs on Bourbon Street after city officials were unable to demonstrate that trafficking was occurring in the clubs.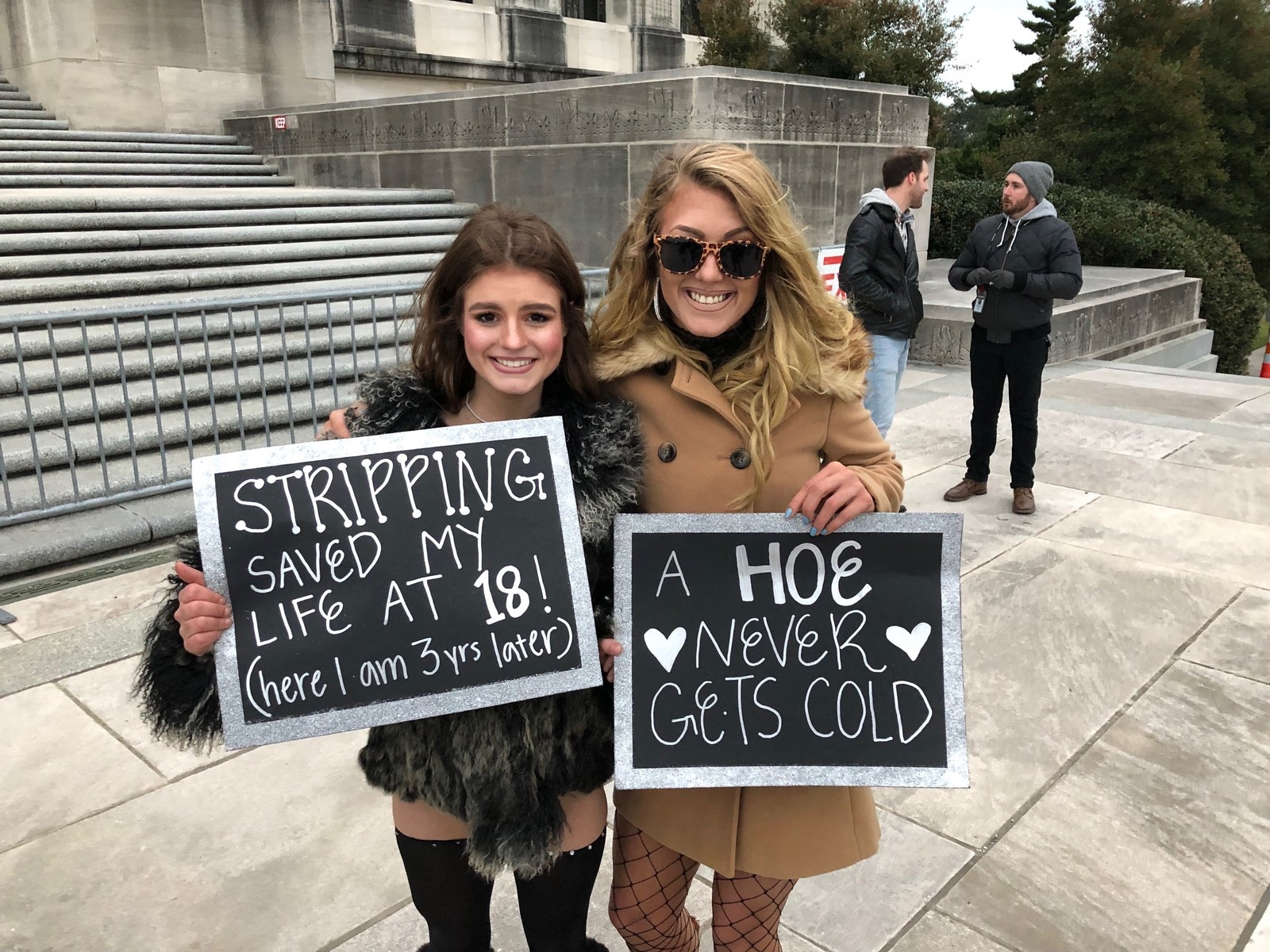 Strippers at the Sunday protest argued Louisiana's new age limits not only unfairly target women, but will eliminate a key way for financially struggling young women to fend for themselves.

"If I would never have had dancing in my life, I wouldn't be in the best place," said "Charley," a New Orleans-based stripper who turned 21 on Dec. 6, narrowly avoiding the new cutoff. She told BuzzFeed News that she has been working as a stripper since she was 18 years old, after living with an abusive mother.
"I have younger siblings who are my main concern, and I have put my life on hold so they wouldn't have to continue the abuse that I had to go through," she said. "I love them like they're my own children."