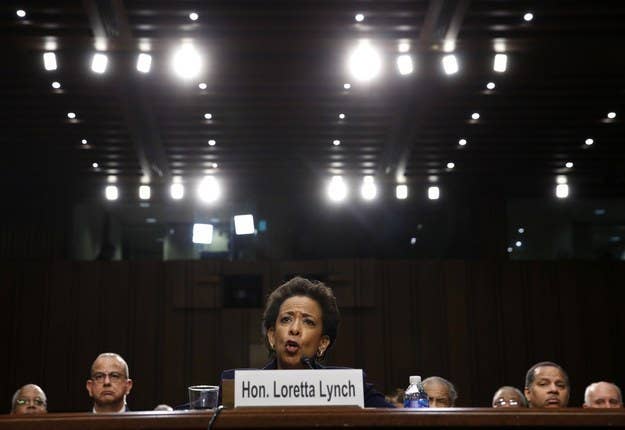 WASHINGTON — Senate Majority Leader Mitch McConnell won't stand in the way of Loretta Lynch's nomination to become the next Attorney General despite pressure from conservative activists and Sen. Ted Cruz to hold up all of President Obama's nominees until he rescinds a controversial immigration order.
Angered over Obama's executive orders deferring deportations of potentially millions of undocumented immigrants, Cruz and other conservatives have called on McConnell to keep all of Obama's nominees off the floor of the Senate, save those that have a direct effect on national security issues.
On Wednesday a spokeswoman for Cruz said the Texas conservative stands by his position, though she noted it is up to McConnell to actually block nominees. "The senator has asked that leadership halt nominees until the president rescind his latest executive action. He is still supportive of that measure, but that is a decision up to leadership," the spokeswoman told BuzzFeed.
But according to a senior Republican Senate aide familiar with the situation, McConnell isn't going to stand in the way of Lynch's nomination. "If she is reported out of the committee favorably, she's headed to the floor for consideration," the aide said.
With at least three Judiciary Committee Republicans expected to vote for Lynch, the committee could send the nomination to the full Senate in as soon as two weeks.
That, in turn, means Lynch could take over from Eric Holder before the end of February, thanks to Democrats' elimination of nomination filibusters during the last session of Congress.
Cruz — who has not yet formally announced his opposition — could, in theory stage a symbolic filibuster on the Senate floor to delay the confirmation process, but Lynch now appears on the glide path to confirmation.
During the first day of her two-day hearings Wednesday, Lynch successfully avoided any major missteps, carefully endorsing the broad notions of many of Obama's most controversial policies while not being drawn into rhetorical traps set by Republicans.
According to Republicans and Democrats, part of Lynch's success has been her outreach efforts to lawmakers in both parties, which has gone a long way towards securing support from Republicans.
"I met with her. I had a question about something called Operation Streamline specifically in the Yuma sector of the border," Sen. Jeff Flake told BuzzFeed News Wednesday. "The answer was so-so on it but … my philosophy has always been the president should always get his people unless there is something disqualifying about them and there's nothing disqualifying about her."
Flake, a member of the Judiciary Committee, added, "She's got an incredible history and background and experience and so I can't see myself voting against her."
But Republicans also have another motivating factor to move quickly on the Lynch nomination: their hatred for the man currently running the Department of Justice, Eric Holder.
Holder, who has never been praised by friend or foe for his people skills, has had a combative, openly hostile relationship with congressional Republicans since he first came into office in 2009. At times almost derisive in his interactions with lawmakers during oversight hearings, Holder has rubbed the entire GOP wrong to the point that almost anyone would be seen as a better fit for Republicans.
And that, almost as much as Lynch's efforts to build relationships, has Republicans inclined to get her into office in a relatively swift manner.
"The surest way to get rid of Eric Holder is to replace him with someone else," the senior Republican aide said.