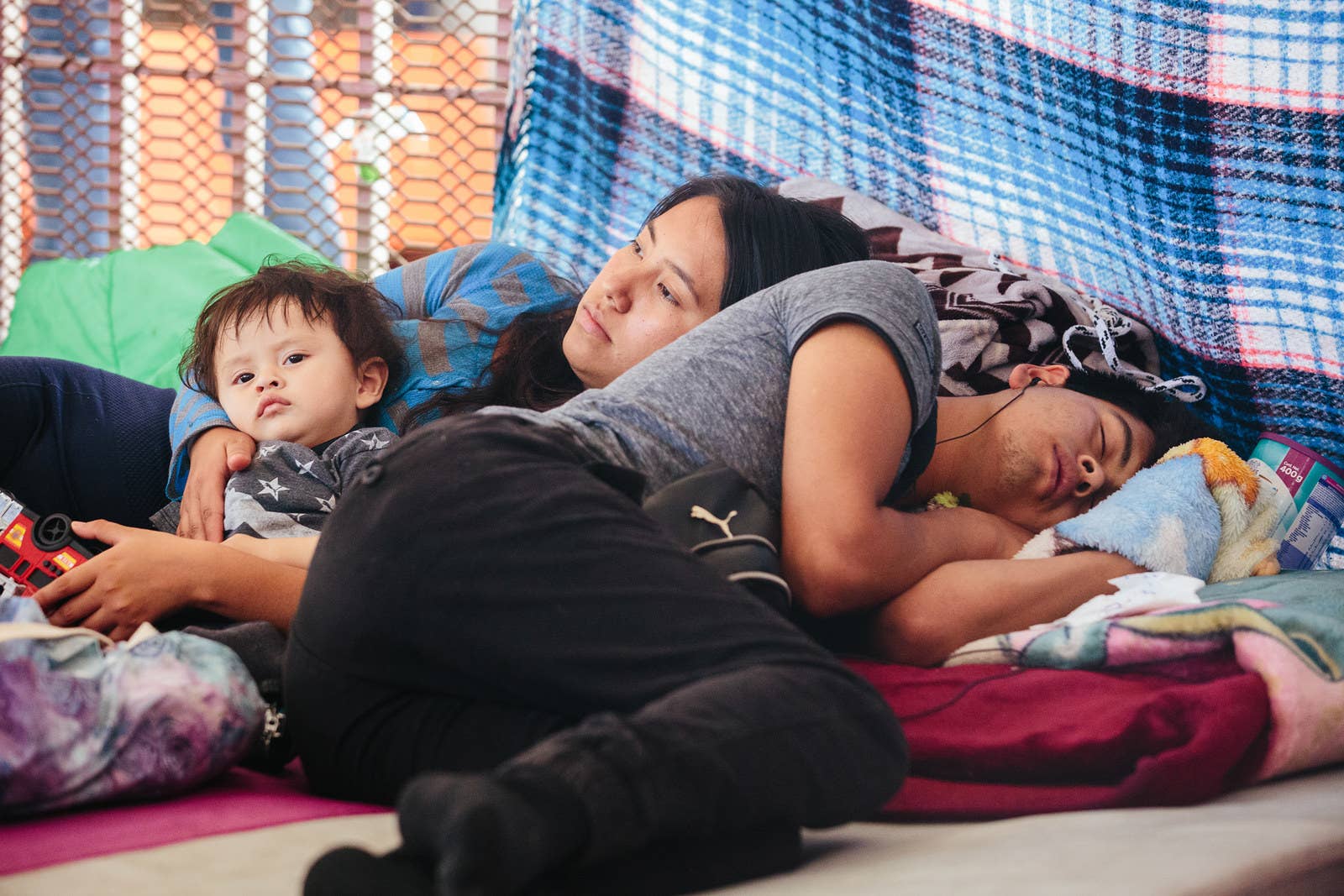 Each morning at dawn, the aging freight train pulls into this tiny, rural town, and workers set about loading it with the local fruits and vegetables destined for other parts of Mexico and the United States.
Depending on the day, dozens of mostly Central American immigrants wearily hop off the train, disappearing into Caborca's quiet streets in search of food and rest. The stream of immigrants brought on the train to Caborca never lets up.
"Every time the train comes, maybe five leave. But 10 more show up," Josael Romero said, squinting against the blazing Sonoran Desert sun as he surveyed the yard of Pueblo Sin Fronteras, the immigrant shelter he's run for the last four years.
The night before, 96 men had slept in the makeshift maze of cubicles Romero has fashioned in the dirt courtyard out of blue plastic tarps and blankets. Most nights, he said, they have anywhere from 140 to 200 people sleeping two or three to a cubicle. Nearly all of them will eventually make their way north to try to cross the border into the US.

"They try other places before coming here," Romero said, stepping into the shade of a tarp. "Everywhere along the border is saturated with Border Patrol," he added, watching a young man trim the hair of an immigrant sitting in the shade.
Everyone knows the dangers of the desert, and they've heard the stories of the hundreds of bodies that are found every year by human rights workers combing the desert just over the US border. But Romero said people still come, "expecting an opportunity to cross here that may not exist elsewhere."
Once a way station for immigrants working their way toward border crossings in Mexicali and Tijuana, with only a relative few opting to try their luck in crossing through the unforgiving Sonoran Desert, this tiny cartel stronghold has become a major jumping-off point for immigrants desperate enough to brave the dangers.
There are no turnstiles in the open desert, so it's impossible to know exactly how many people try to cross in this region each year. But if Border Patrol arrest numbers are any indication, it's gone from a trickle to a flood.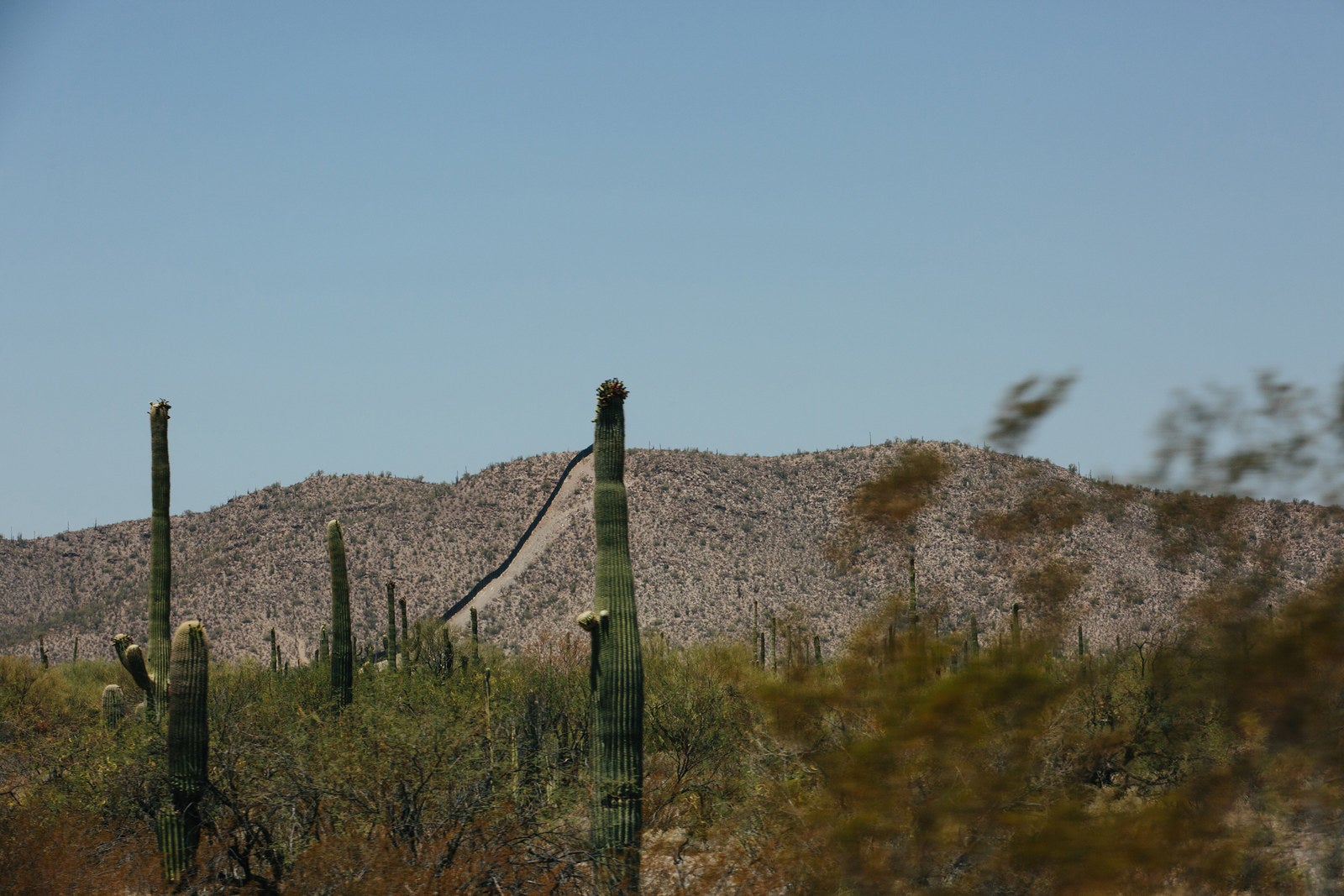 Arrests of families along the entire Arizona border are up 119%, from 5,868 arrests between Oct. 1, 2016, and June 30, 2017, to 12,853 between Oct. 1 last year and June 30. At the same time, arrests fell 6% at the San Diego border sector and dropped even more at several heavily patrolled Texas sectors, including El Paso and Big Bend.
Human rights activists believe the influx of immigrants, including families and unaccompanied minors, is driven in large part by successive border crackdowns — starting with the Obama administration's 2016 round of immigration raids and followed by President Trump's "zero tolerance" policy — which have made crossing at safer parts of the border or asking for asylum at official ports of entry nearly impossible.
"Word has gotten out that it's not safe to cross in Texas," said John Fife, a minister in Tucson, Arizona, and one of the leading human rights activists on the border. And with the Trump administration making it more difficult for those who come to official ports of entry to gain asylum, Fife and other activists worry the numbers of people heading to the desert will continue to increase, putting thousands of people in extreme danger.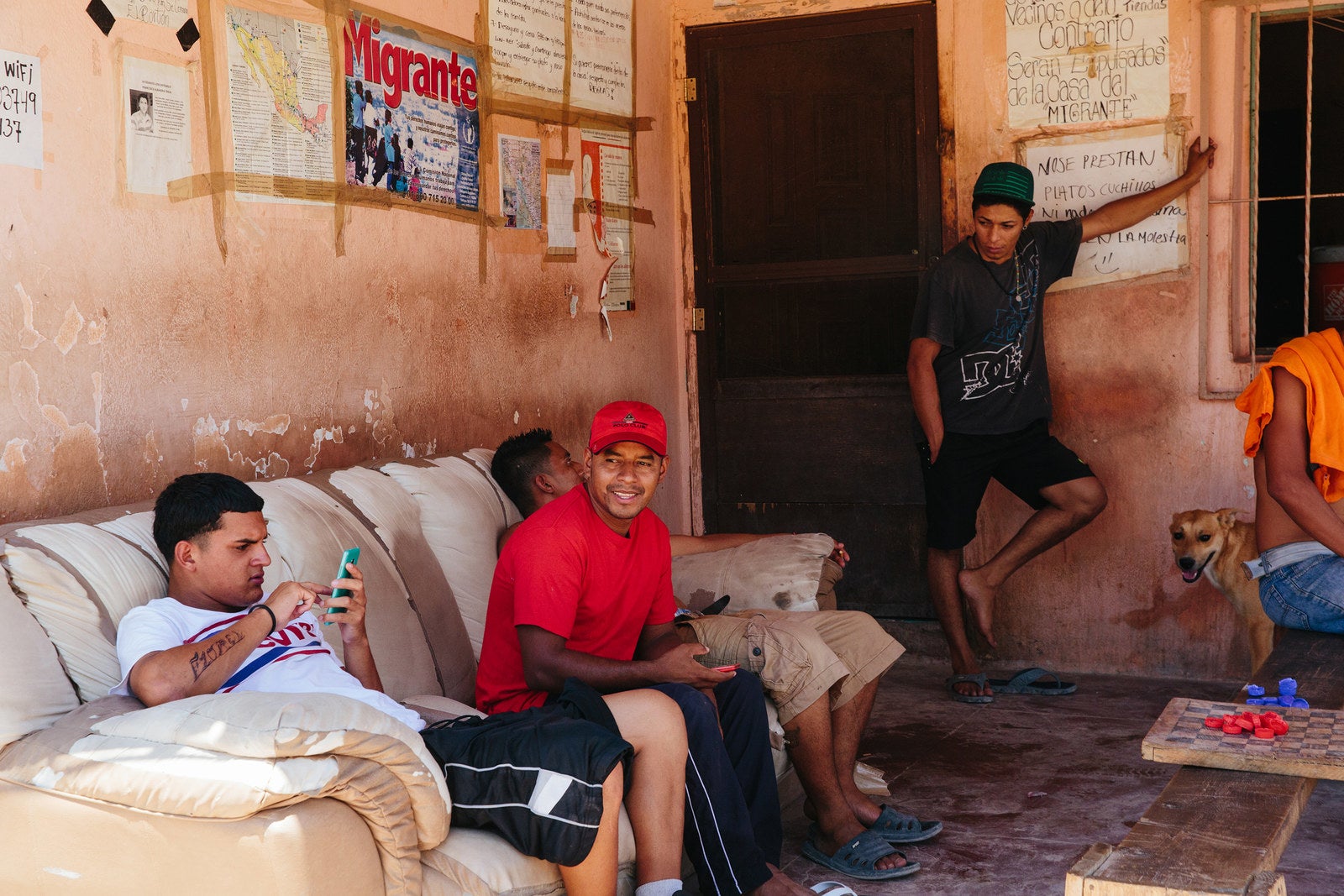 Romero smiled, lifting his shirt to show off the tattoo of his 8-year-old daughter Melanie's name on his chest. He last saw her in February, when the 28-year-old had briefly returned to El Salvador to visit family. "It's too dangerous for me to live there," he said.
When he was 13, Romero said, he was forced to flee El Salvador after a local MS-13 clique began extorting him. He eventually settled in Loudoun County, Virginia, with family. He began working odd jobs doing landscaping and washing dishes in Leesburg. But in 2012, he was arrested following a fight with another man, and on May 14, 2014, he was deported back to El Salvador.
Within months, he was back at the US border. But the Texas and California sectors were nearly impassable that summer, as the Obama administration struggled to stem the flow of minors into the country.
Romero said that it was almost unheard of for families to stop in Caborca and try their luck at crossing the desert, but in the last year, he said more and more have come.
Romero, along with thousands of other immigrants, headed for the Sonoran Desert. After working odd jobs in nearby Sonoyta, Romero decided against trying the deadly trek across the border. While in Caborca working one day, he saw a few dozen men standing on a hill just outside of town. A local explained that the men were immigrants, and without a shelter in the town, they were forced to wait for the train west in the open elements.
So Romero went to Pueblo Sin Fronteras, the volunteer group behind the annual migrant caravan, and with its help he opened the town's first immigrant shelter. Most of the people who come through the shelter are men from Central America and southern Mexico, though Romero occasionally gets women and younger boys.
Romero said that it was almost unheard of for families to stop in Caborca and try their luck at crossing the desert, but in the last year, he said more and more have come. Some arrive on the train, but most use buses to make it to Caborca, where they link up with local smugglers, who take them to "underground shelters" run by the cartels where they wait their turn to cross.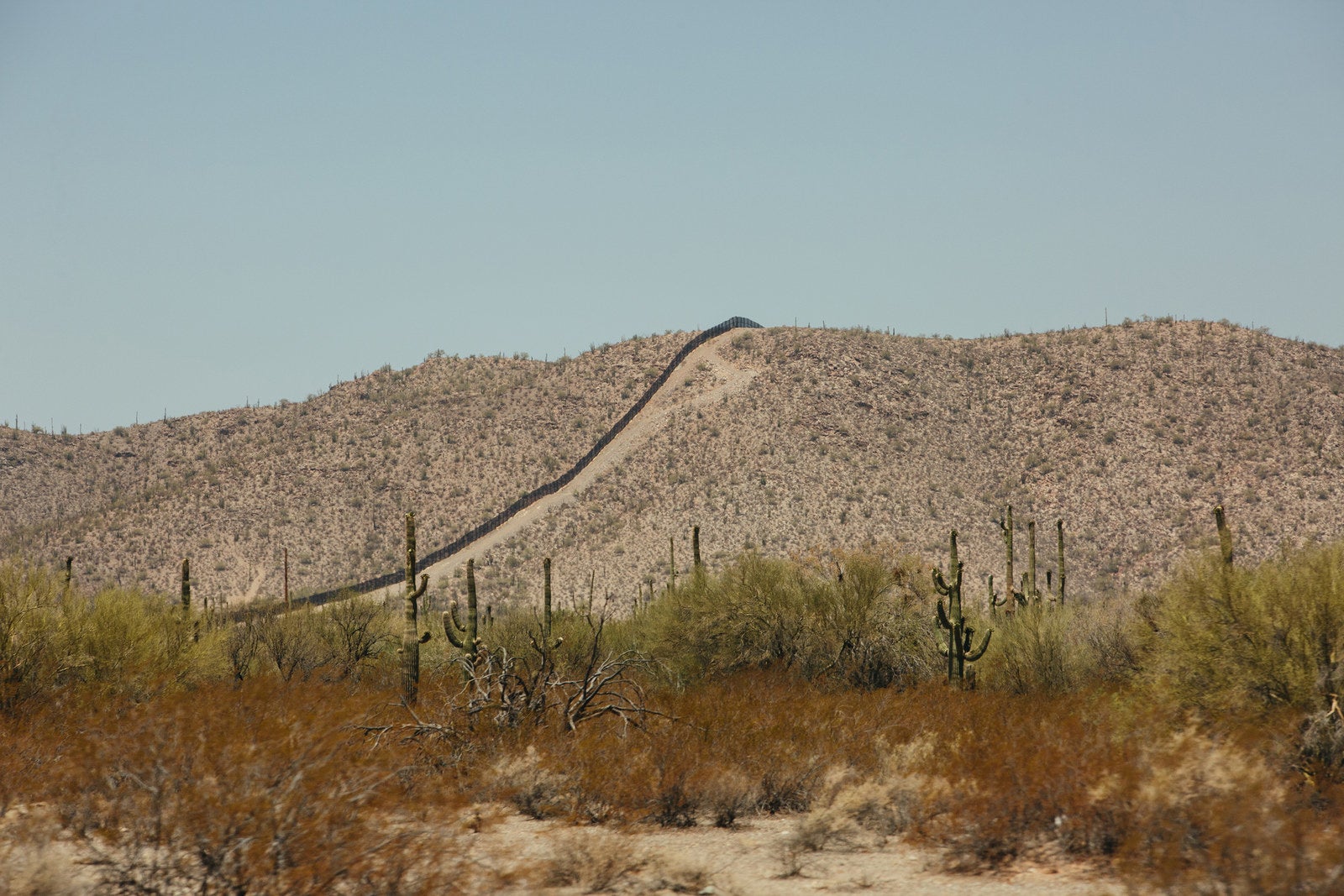 While families and children have been crossing and dying in the desert for years, it remained relatively rare even during crackdowns like the 2014 Obama push that sent Romero to Caborca. Even for healthy, well-provisioned adults, it's extraordinarily dangerous to cross the Sonoran Desert, where a sprained ankle can mean a death sentence.
So most families avoided the area entirely, heading to either eastern Texas or far western California to try to cross illegally. Families that did end up on the Arizona border almost always made their way to ports of entry like Nogales and San Luis, Mexico, to ask Customs and Border Protection officials there for asylum.
But things began to change in early 2017, as President Trump and his team were coming into office. Although deterrence has been the cornerstone of US immigration policy since former president Bill Clinton first used punitive enforcement measures as part of his Prevention Through Deterrence initiative, under Trump the Department of Homeland Security has taken it to whole new level.
In addition to starting its family separation policy last fall (which White House Chief of Staff John Kelly explicitly views as a powerful deterrent), DHS and the Department of Justice have rolled out new punitive policies, including ending a key mechanism refugees from Central America have used to legally live in the US known as Temporary Protected Status and stepping up criminal prosecutions of first-time border crossers, which the administration argued was in part to "dissuade migrants from risking their lives to cross illegally through the inhospitable Sonoran Desert." DHS also has begun arresting immigrants living in the US under deferred deportation orders, and dramatically expanding workplace raids.
At the same time, activists say, DHS began turning away immigrants who came to border points of entry. Although DHS has denied refusing to hear asylum claims, in a May 2017 report Human Rights First documented 125 instances in which CBP agents at six ports of entry turned away asylum-seekers between November 2016 and April of last year. Although turning away asylum-seekers violates both US and international law, activists say CBP agents continue the practice.
But like previous deterrent-minded border enforcement tactics, none of these ended up slowing the flow of migrants. They simply shifted where people went, with increasing numbers of families heading to the Arizona border.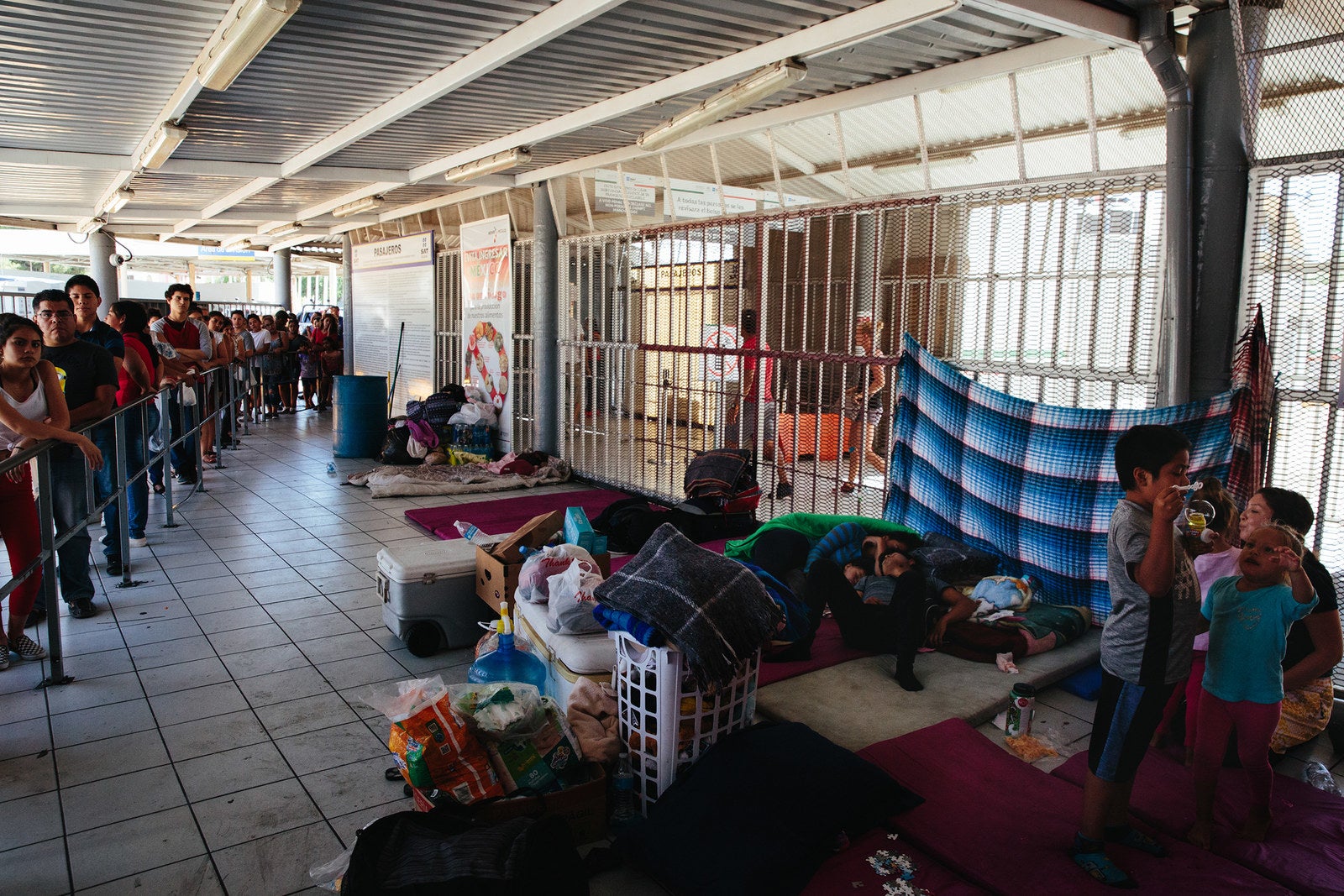 The increase in families wasn't immediately obvious to human rights workers in Nogales, where the main port of entry on the Arizona border is located. And, according to Joanna Williams, that was to be expected. "These are families that would have just arrived on the bus, gone down to the port, and would have been processed by CBP without us knowing," said Williams, the director of advocacy and education at the Kino Border Initiative.
But by the end of April, lines began to form at the Nogales crossing, with dozens of families waiting to be seen by CBP officers. With existing shelters in Nogales already nearly full, activists quickly scrambled to increase their capacity. New shelters were opened, and Kino, which operates a free kitchen for immigrants and deportees, expanded its operations.
"We're stretched very thin," Williams said.
In meetings with activists and lawyers, CBP officials insist the slowdown in processing asylum-seekers is a result of the increased numbers of people coming to the border. But the figures don't support that.
"This is the most prolonged violation of the law at the port that we've seen."
For instance, in December of last year — long before lines of families were waiting outside the Nogales crossing — 1,036 families came to Tucson ports of entry seeking asylum. That's the same number as in May of this year. "It's a manufactured crisis," Williams said, suggesting the slowdown is part of the Trump administration's push to impose strict new limits on legal immigration and choke off the flow of asylum seekers into the country.
The abrupt slowdown in the asylum process at the border this spring coincided with announcements from the Trump administration. On April 1, Trump angrily tweeted about the annual migrant caravan organized by Pueblo Sin Fronteras, insisting, "Republicans must go to Nuclear Option to pass tough laws NOW."
Five days later, Attorney General Jeff Sessions formally announced the administration's zero tolerance policy to address the "crisis that has erupted at our Southwest Border."
"From a political perspective, when there's lines and lines of families waiting, it's easier for our administration to say, 'Oh, they're invading our border and there's too many asylum-seekers' … whereas if they were to just process them as they are legally required to, it wouldn't make for as good publicity," said Williams, who alleged, "This is the most prolonged violation of the law at the port that we've seen."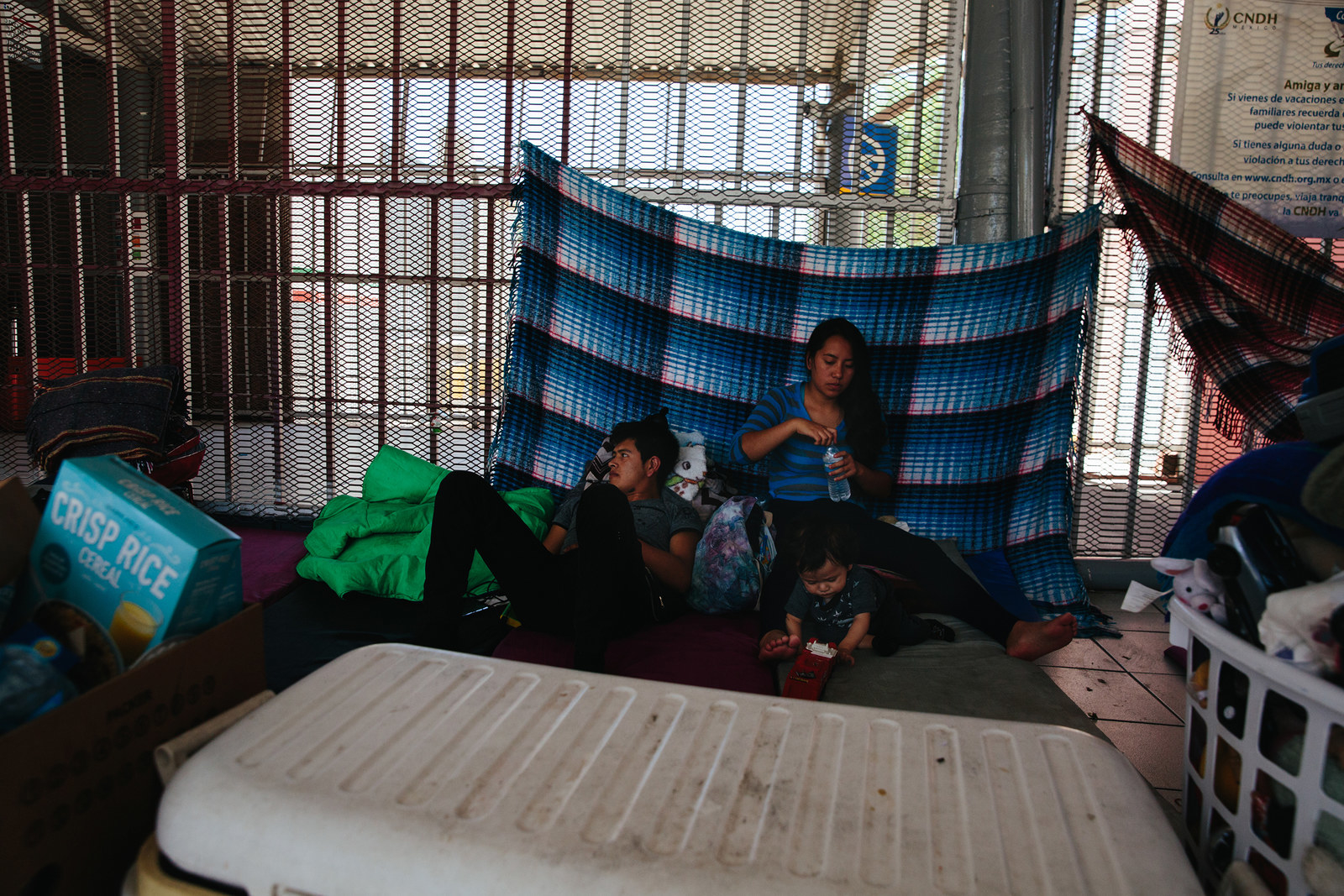 The slowdowns at ports of entry, family separations, and other policies are having potentially deadly consequences, Williams and other activists warned. It's become common for frustrated parents clutching their children to run into car traffic at Nogales port, where they are arrested for illegal entry into the United States, in a desperate attempt to force CBP officers to hear their claims, Williams said. On an almost daily basis, one of the families staying in shelters in town disappears, lured into the Sonoran Desert by coyotes.
"We think what's most commonly happening … is people arrive at the port, realize the line situation, and they don't even get into the line," Williams said. Instead, they go into the desert and attempt to cross the border illegally. "It's the logical thing to do."
"I've heard of people being forced at gunpoint."
But it's also an incredibly dangerous decision. Because the migration "lanes" are controlled by drug cartels, families with no money are often forced to carry drugs as payment. Others are used as decoys, marched into the desert to distract Border Patrol agents while others ferry drugs across the border.
"I've heard of people being forced at gunpoint," said Fife, who points out that even those who aren't used as mules or pawns by the cartels face immense dangers in the open desert. In many cases, coyotes don't accompany immigrants very far into the United States, but instead leave them with a little bit of water and instructions on what landmarks to look for as they walk.
Given the sheer numbers of families CBP is finding, Fife said it's not a matter of if but when the bodies of entire families start being found in the Arizona desert.
"The death toll is going up," Fife warned. ●