Social Conservatives Hold Half-Hearted Press Conference Against Same-Sex Marriage
Opponents to marriage equality find themselves dispirited in wake of Supreme Court's decision to strike down Defense of Marriage Act.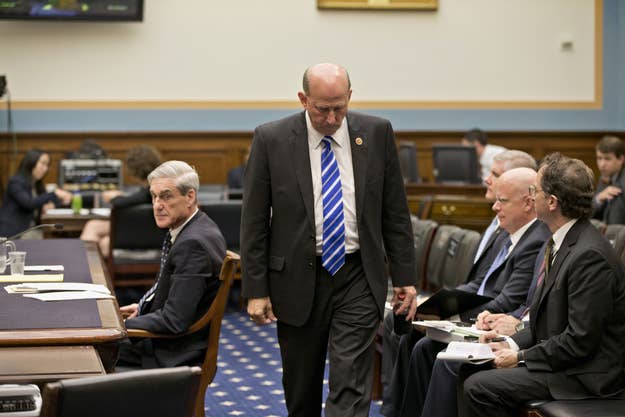 WASHINGTON — The Supreme Court's decision to strike down the Defense of Marriage Act left social conservatives confused and dispirited Wednesday as they struggled to come to terms with the new political landscape.
The DOMA ruling and a second case that essentially eliminated a California ban on marriage equality clearly left conservatives, particularly those on Capitol Hill, searching for answers.
The rulings have been met throughout the conservative world with a mixture of frustrated anger — talk radio host Bryan Fischer's twitter feed became a litany of despairing outrage, with tweets like "Sodomy-based marriage is an egregious violation of the 'Laws of Nature and Nature's God.' May God have mercy on us" — and resignation.
"While I am obviously disappointed in the ruling, it is always critical that we protect our system of checks and balances. A robust national debate over marriage will continue in the public square, and it is my hope that states will define marriage as the union between one man and one woman," Speaker John Boehner said in a statement.
Others, like talk radio host Dana Loesch made the case that the decision was actually a defeat for Democrats. "Dems invited big gov't into marriage with DOMA. This was a loss for big gov, a loss for Dems," Loesch tweeted Wednesday morning.
But nowhere was conservative dispiritedness more on display than Capitol Hill.
During a "press conference" in the Capitol Wednesday, a dozen of the nation's most conservative — and typically bombastic — Republicans appeared to be going through the motions of outrage.
Only a handful of the hundreds of reporters working in and around the Capitol Wednesday showed up for the event, and the number of members involved was far fewer than at other conservative events, like an anti-Obamacare event in March that drew scores of House and Senate lawmakers — including Senate Minority Leader Mitch McConnell.
Rep. Vicky Hartzler, a Missouri Republican, kicked off the event, reading from prepared remarks that focused on the argument that the Supreme Court's ruling undermined a bipartisan vote by Congress.
"We believe the court got it wrong on these rulings. The court's activist ruling ignores the votes of a bipartisan majority of Congress. This is a dangerous precedent which strips power away from Congress with respect to defining national marriage policy. We must work to defend the right of Americans to make marriage policy," Hartzler read.
Rep. Steve Scalise also took issue with the overturning of DOMA, which when it was passed in the 1990s had strong support from Republicans and Democrats alike. "It's a sad day when unelected judges change the definition of marriage and turn their backs on the will of voters and their elected representatives," he said.
Some half-heartedly lashed out at the Supreme Court. "It's a narrow radical majority of the court in my opinion have substituted their personal views on marriage for those of voters," Rep. Tim Huelskamp said.
Rep. Michele Bachmann called the court an "effective oligarchy … [that] have not yet arisen to the level of God."
Rep. Randy Weber listlessly accused the court of being part of an elaborate plan orchestrated by President Barack Obama. "They are in collusion with the President and his Injustice Department," Weber complained.
Others argued the decision would be bad for the nation's children. "The desires of adults are not more important than the needs of children," Michigan Republican Rep. Tim Walberg told the small gathering of reporters at the event.
Even Rep. Louie Gohmert — whose exaggerated Texas drawl and fiery rhetoric have made him a Tea Party favorite — was off his game. To be sure, Gohmert attacked "homosexual marriage," accused the high court of "dishonesty [and] inconsistency," and argued they are an "unholy quintet that goes against the laws of nature and nature's God." But his heart just didn't seem to be in it.
After about half the participants in the event had gone through the motions of speaking out against the rulings, Hartzler abruptly brought the event to a close, thanking reporters for "allowing us to share" before the dozen lawmakers shuffled uncertainly off stage and through a back door, ignoring repeated demands by reporters that they respond to questions. Dogged through the halls of the Capitol, most of the members continued to refuse to say much more.