Senate's Lone Black Republican Praises Supreme Court Voting Rights Act Decision
"Punishing six southern states because of past failures does not help us in the present and certainly does not help find our path to the future," says Tim Scott.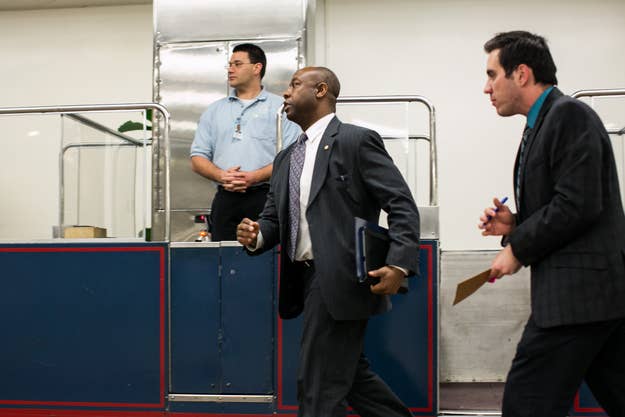 WASHINGTON — Sen. Tim Scott, the only black Republican in the Senate, backed the Supreme Court's decision to strike down key parts of the 1965 Voting Rights Act, arguing formulas from "the 1970s" cannot provide fairness and accountability.
In a statement released late Tuesday afternoon, Scott said he hopes the decision will mean all states are treated equally under civil rights laws, rather than "punishing" Southern states with poor histories on voting equality.
"We are a nation that demands fairness and accountability. Is there a formula from the 1970s that helps us find that today? I don't believe so," Scott said in the statement.
"We should strive to ensure that all Americans have access to opportunity and equal protection under the law. But punishing six southern states because of past failures does not help us in the present and certainly does not help find our path to the future. All states should be treated equally, and today's decision provides for that opportunity," he added.
Scott's home state of South Carolina is one of a number of states that, until Tuesday, were required to get federal pre-clearance from the Department of Justice to make changes to their voting rules, including imposing new voter identification rules that have become popular with Republican-controlled state legislatures.
Scott's statements come as other black lawmakers on Capitol Hill, all of them Democrats, roundly denounced the law.
Congressional Black Caucus Chairman Marcia Fudge denounced the court's ruling, calling Tuesday one of the "worst days for civil rights" in the nation's history. Rep. John Conyers argued that "this case takes us back to the Civil Rights Act of 1865, which didn't give African-Americans the right to vote" and that the decision would essentially "obliterate" the larger Voting Rights Act.
"The Supreme Court stuck a dagger in the heart of the Voting Rights Act … they are saying history cannot repeat itself. But I say come and walk in my shoes," said Rep. John Lewis, a leader of the civil rights movement who was beaten during protests in Selma, Alabama.
Noting that following the Civil War freed slaves were given the right to vote, "They were elected to Congress and served in this body. After a few short years later those rights were nullified and one of the worst, most brutal periods of discrimination and human and civil rights violations followed," Lewis said.
"It took exactly 100 years, from 1865 to 1965, to get those rights back," the civil rights icon added. "A nation turned a blind eye towards legalized segregation and racial discrimination for 100 years."