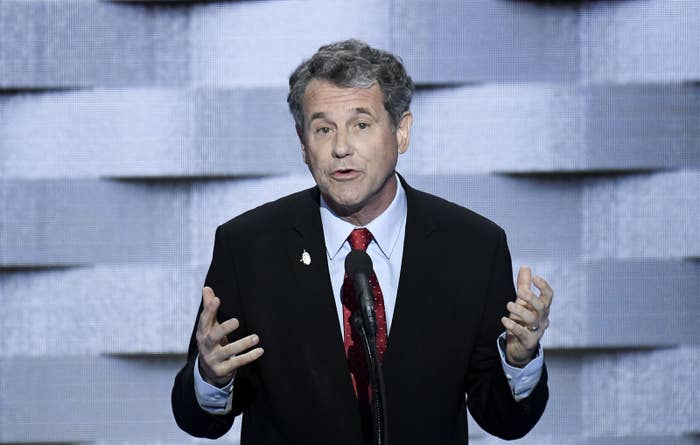 COLUMBUS, Ohio — Democratic Sen. Sherrod Brown Friday will call on Democrats to refocus their efforts to woo back working- and middle-class voters by using an inclusive form of economic populism to appeal to those economically squeezed by modernization and the increasing reliance on independent contractors by employers.
In a speech Friday morning at Ohio State University, Brown will outline his plan, saying "work is something that unites us all. All work has dignity" and denouncing President Donald Trump's form of populism, according to excerpts provided to BuzzFeed News.
In his speech Brown will look to blur traditional racial and class distinctions, insisting the same sort of issues that impact traditional Democratic working-class constituencies also impact white or white-collar voters. "The value of work isn't a black issue or a white issue. It's not a blue-collar issue or a white-collar issue. It's not a liberal or conservative issue," Brown will insist, according to the transcript.
Significantly, the Ohio Democrat will take direct aim at Trump's divisive form of populist nationalism, arguing "populism is for the people — not these people or those people, but all people. True populism is not about who it excludes, but who it embraces."
The speech will also include a host of specific legislative proposals, ranging from traditional Democratic mainstays like increasing the minimum wage to $15 an hour to new rules forcing companies that rely heavily on independent contractors to pay their payroll taxes. Independent contractors are at the heart of the so-called gig economy, and large corporations like Uber rely heavily on them — much to the chagrin of labor unions and many workers who believe that allows companies to skirt overtime and benefit rules.
Brown is already facing one challenger for his seat in next year's election — State Treasurer Josh Mandel — and his speech and legislative agenda sets a clear, populist tone for his upcoming re-election campaign.

But Brown could have his sights set on even loftier goals: Hillary Clinton considered tapping Brown as her running mate — a decision which, in retrospect, could have helped her defend states like Ohio, Pennsylvania, Michigan, and Wisconsin.
More importantly for Brown, however, is the fact that numerous Democratic and Republican operatives – including several close to Trump's world — see Brown's labor street cred and populist underpinnings as a potentially strong weapon against the president come 2020.