Sen. Robert Menendez Demands A Less Trigger-Happy Patrol At The Mexican Border
"Sometimes kids throw rocks over the border and border guards ignore it. Other times they shoot back. There's something wrong with that policy," the New Jersey Democrat said.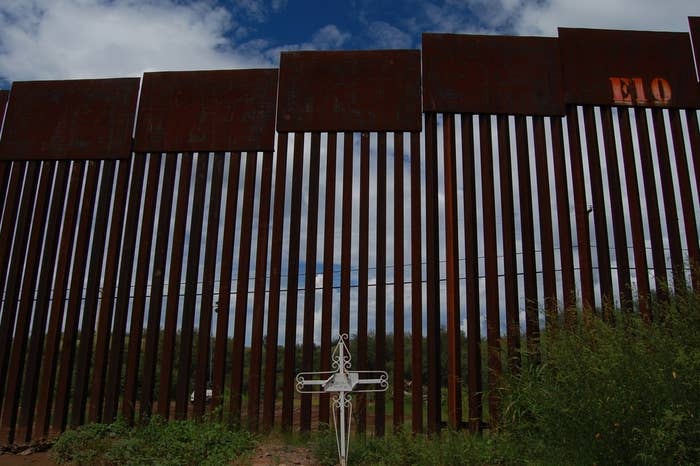 WASHINGTON — Sen. Robert Menendez Tuesday harshly criticized the Department of Homeland Security's use of force along the U.S. Mexico border, arguing that a lack of a use of force policy for Border Patrol agents has led to dozens of injuries and deaths of unarmed Mexican nationals inside of Mexico.
Over the last several years, cross border violence between Border Patrol agents and Mexican civilians has been on the rise, leading to scores of injuries and more than 20 deaths, including the shooting of 16 year old Nogales, Mexico resident Jose Antonio Elena Rodriguez who was shot seven times in the back by Border agents in October of last year.
"It's a little crazy. Sometimes, depending on what part of the border, maybe there is a degree of danger and I want people to be able to protect themselves. But even in the city, where you're in a tough neighborhood, you don't shoot first and ask questions later," Menendez told Buzzfeed Tuesday.
The deaths and a rising number of complaints of excessive use of force by Mexicans in Mexico and migrants detained along the border is a concern because "there doesn't seem to be a unified policy on the use of force. Sometimes kids throw rocks over the border and border guards ignore it. Other times they shoot back. There's something wrong with that policy," Menendez said.
A DHS Inspector General's report, requested by Menendez and other lawmakers, makes clear that Border Patrol agents lack the proper training, bluntly stating that, "many agents and officers do not understand use of force and the extent to which they may or may not use force."
But that report provided no recommendations on how to improve the current system, nor did it recommend imposing a unified use of force policy — a fact that Menendez was critical of. The report "lacked depth and just asking for more statistical information in my mind wasn't the goal," Menendez said.
The use of deadly force by Border Patrol agents along the Mexican border has become an increasing source of tension over the last several years, and is something that activists and congressional aides said the administration has been slow, or in some cases, reluctant, to respond to.
For instance, the decision by the Department of Justice in August to not pursue criminal charges against Border Patrol agents in the 2011 deaths of Ramses Barron-Torres and Carlos LaMadrid has enraged Mexicans living along the border, as well as their government.
LaMadrid, a U.S. citizen who the Border Patrol says was seen loading narcotics into a vehicle, was shot and killed by border agents while trying to allegedly flee over the border fence.
In the Barron-Torres case, DOJ said the shooting occurred because agents were protecting themselves from rocks being thrown over the fence.
"Barron-Torres continued to throw rocks, and one of the agents fired a round at Barron-Torres from his service weapon, fatally striking him. A videotape of the incident captured Barron-Torres making a throwing motion with his right arm, then falling to the ground," DOJ said in a statement.
In the Rodriguez case, the teen was shot while walking down a busy residential street in downtown Nogales that runs along the U.S. Mexican border. According to media reports, Border Patrol agents, who were behind the fence on top of a high cliff running along the street, fired as a result of a rock throwing incident. That shooting is still being investigated.
The Mexican government condemns "cross-border gunfire and reiterates its emphatic rejection of the use of lethal force in migration control operations," the government's consulate said in a statement to the Nogales International last month.
Menendez warned he will not sit idly by during the confirmation of DHS' next Secretary, and said he will expect outgoing Secretary Janet Napolitano's replacement to address cross-border violence.
"As we look at a new nominee for this opportunity, it is my hope that we'll have a clear understanding … that we're going to have some serious attention to what is the appropriate use of force and what is not. Because right now I think there has been use of force that at times is beyond what is called for," he said.