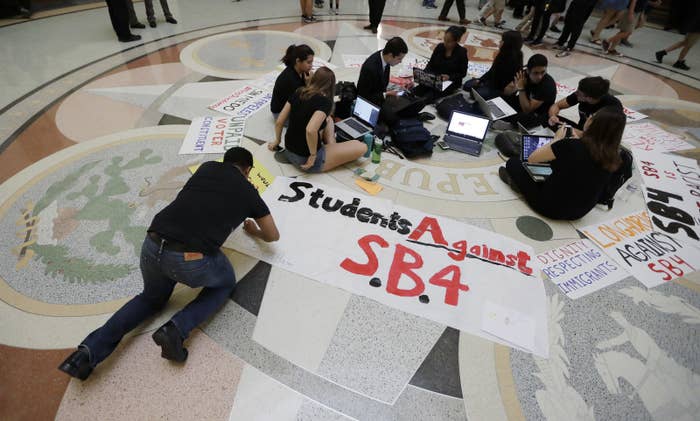 Frustrated by six months of playing defense against President Trump and Republican governors sympathetic to his immigration policies, local and national groups are making Texas ground zero for the national fight over immigration.
According to organizers, as many as a thousand activists from Arizona, Texas, Washington DC, North Carolina, Maryland, and Florida will converge on Austin starting Friday for three days of protests and meetings. Rep. Joaquin Castro, a San Antonio Democrat and rising star within the party, will also be participating.
The immediate aim of the weekend is to kick off a summer-long push against a new Texas law banning sanctuary cities and empowering local law enforcement to demand documentation from anyone they suspect is in the country illegally. The law has generated outrage from Latino groups, protests, and a lawsuit by a group of local governments and activists. On Thursday, the ACLU announced it was joining the challenge to the law.
But organizers are hoping to start something even bigger — a national network of state and local progressive organizations that can closely coordinate not only defensive battles like the one in Texas, but go on the offensive against the Trump administration and its allies. The hope, one source involved in the effort said, is to create "a new civil rights movement."
"It's terrible these things have to happen, but they're a huge wake up call for people who've been standing around not engaged," said Pita Juarez, communications director for One Arizona, which is sending 25 activists to Austin this weekend.
Immigration activists have had success building these sorts of coalitions in the past, albeit on a smaller scale, and are hoping to use those wins as a model for the new movement. For instance, in 2010 Arizona lawmakers passed SB 1070, a sweeping immigration measure that made being undocumented a state crime and required state law enforcement authorities to check the papers of anyone they suspected was undocumented.
The law touched off widespread protests in Arizona, and numerous small, local organizations were formed to fight the law. But it wasn't until activists realized "everyone was fighting these little battles. Why don't we fight them together?" that they began to make progress, said Juarez, whose group was formed out of the 1070 fight as a sort of umbrella organization for the state's various local groups.
Armed with what they learned on the ground, Juarez said, Arizona activists will hold training sessions with activists from Texas and other states in Austin this weekend. Some are practical considerations — for instance, they will train local activists to conduct "know your rights" sessions for Latino communities in Texas, and provide them with information on the documentation they need to carry if they live in so-called "show your papers" states, how to interact with law enforcement officials, and what to do if a family member is detained. Others are more broad, including the need for close coordination between groups at all levels and community engagement.
Taking a state-level approach to the immigration fight makes sense for activists. President Trump's election based on his hardline immigration stance has emboldened Republican and state legislators across the country, many of whom are expected to pursue bills like the Texas law over the next two years. Organizers told BuzzFeed News that building a network of activists across the country could potentially stop similar legislation from being enacted in the first place.
"This has to be stopped here. If we fail to stop it here, there's a real fear that it will spread and that deportation forces will spread to other states," said Jose Garza, Executive Director of the Texas based Workers Defense Project.