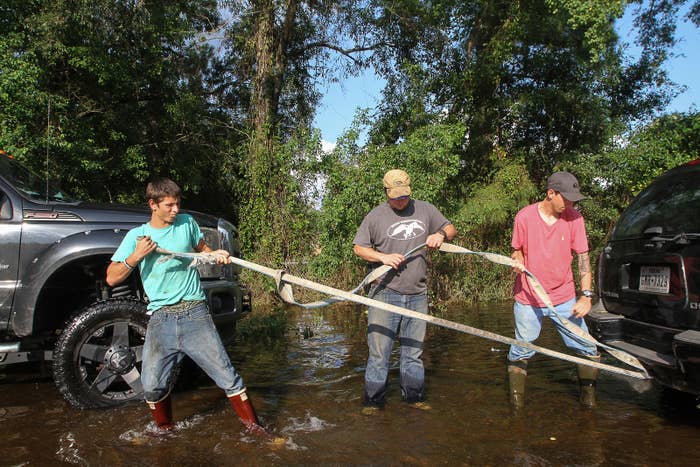 STARKS, Lousiana — Melissa Broussard had just wrapped up a quick tour of flood damage in this tiny, west Louisiana town and was back in the parking lot of the Silver Dollar Casino where rescuers were staging for the day's work when the calls for help started coming in.
One of the leaders of the Rescue Rangers — made up of scores of volunteers from Starks, Dequincy, Sulphur, even South Carolina — Broussard listened to the group's private Zello channel intently. Flooding was getting worse in Vidor, Texas, and a team of Rescue Rangers on the scene said more boats were needed to evacuate people.
But much of Starks was underwater, and with state officials likely to release more water from the nearby Toledo Bend dam, more damage could be done. Given that the town had been devastated just last year during record flooding in West Louisiana, Broussard and the group faced a difficult choice — leave for Vidor and hope for the best back home, or ignore the pleas for help in Texas.
"We're going to Vidor. The water's coming up there and people need help," Melissa Broussard said, stubbing out a cigarette. While a few members of the group would stay behind in case urgent calls came in from Starks, the rest of the crew secured their weapons, loaded up their pick-ups, and rolled south towards I-10.
The Rangers started this effort in Houston, when a group of residents from Starks, Dequincy, and Sulphur loaded their boats up on trailers and headed west, into the storm. They'd slowly worked their way back east drawn towards home as Harvey tracked ever closer to the Louisiana border. In Vidor, they launched into the rising floodwaters after dark, creeping slowly through the streets with only flashes of lightening to guide their way.

Before sunrise the next day they were a few miles east in Orange. Though they were exhausted, family members were calling for help. When they arrived, they found themselves essentially alone.
"There was literally nobody over there. It was dark so, ya know, there definitely weren't any government officials out there," Broussard said, laughing.
A lone Texas state police officer stood guard at an exit from I-10, and when the group explained they were heading into Orange to rescue people trapped by floods, he had only one request. "If I give you an address would you mind going to get my family?"
Over the next several days, more volunteers from around the area would join up, including Tim Wachtarz and David Mason.
Welding students at a local school, Wachtarz and Mason were in class last week when "we had a Navy Seal guy come by. He'd been out in his boat and he hit something and it ripped a hole in the bottom of his boat. So he dragged it up there for us, and we welded it up for him," Wachtarz said. "And we just got the idea to get out there and help them."
Originally, they'd planned on helping with food. "That's what started this for me and him. We were gonna cook food," Mason recalled with a laugh.
But when they'd arrived at the Pentecostal church in Dequincy, scores of pickup trucks and boats filled the parking lot. Wachtarz ran into his friend Dallas Lawrence, who invited them to work with the Rangers.
Over the next several days the team worked around the clock saving people, their pets, and whatever possessions they could. Broussard has no idea how many people the group helped, though she says it has to be in the thousands.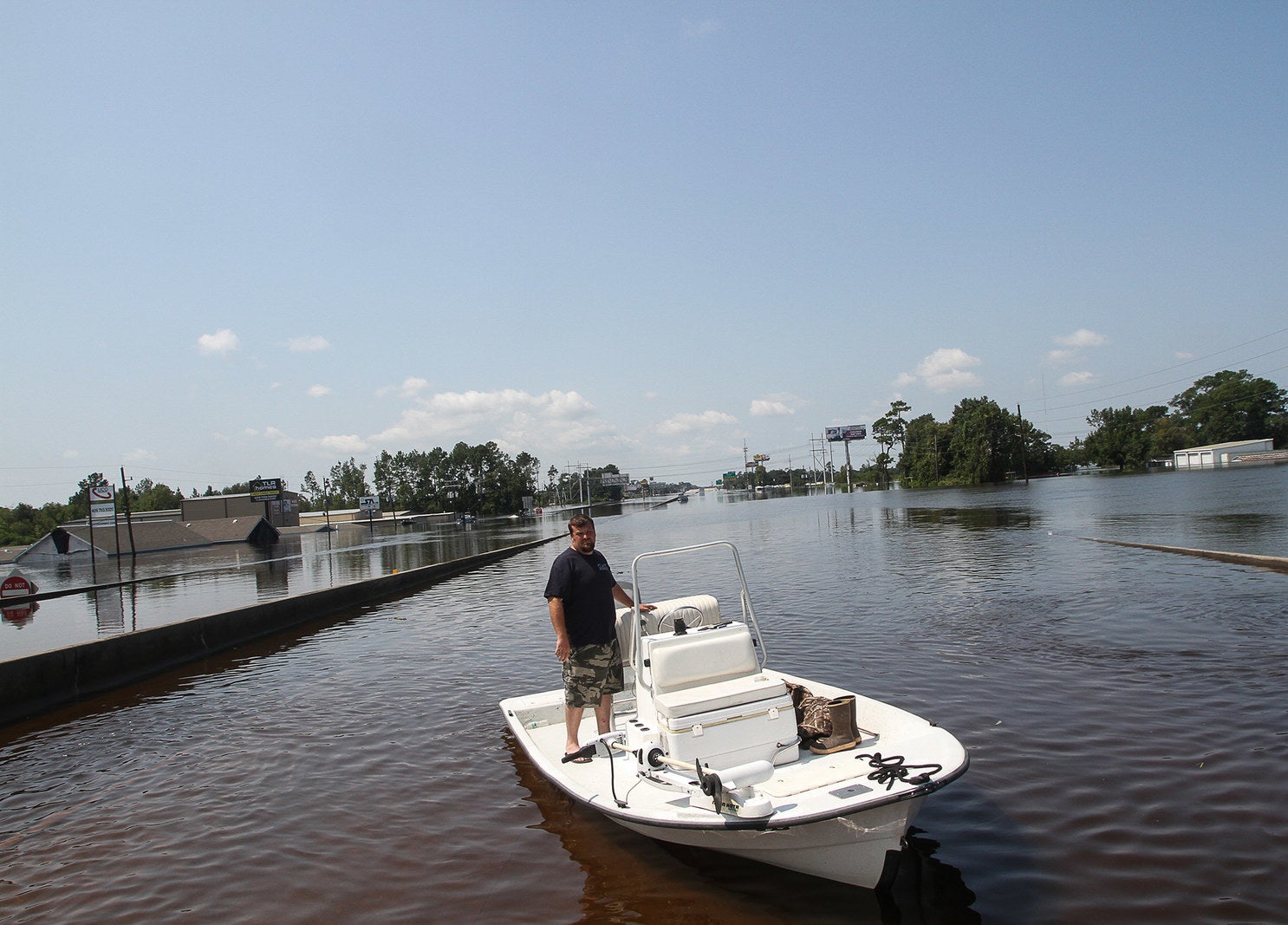 By Friday, things had begun to slow down. The easily accessible towns along I-10 had been largely cleared out, and in Orange, the floodwaters had receded. Far fewer people that need to be helped, and law enforcement was beginning to reign in the voluntary army.
But in the more remote parts of the region, things were going from bad to worse. The Neches River, already flooded because of Harvey's rain, was continuing to rise because of dam releases. Even areas where the water had lessened were flooding anew, and even people who had initially hoped to wait out the floods were becoming desperate.
A few minutes after leaving Starks, the caravan pulled up to the first check point on I-10. Traffic was already beginning to backup, and Louisiana state police were limiting access to Texas to residents of Orange, the media, and official relief organizations.
Wachtarz pulled his truck up to the checkpoint to confer with the police. They were initially skeptical, eyeing the caravan. "Oh don't worry, we aren't the Cajun Navy. We're on our own," Broussard told the skeptical troopers with a smile. Over the last several days local rescuers and police had had run-ins with the Cajun Navy — another group of volunteer boaters that has become a media favorite — and for police especially that group's prominent public profile was beginning to wear thin. The two officers immediately relaxed.
"Oh, alright. Good luck," one officer said, waving the convoy through the checkpoint and into Texas.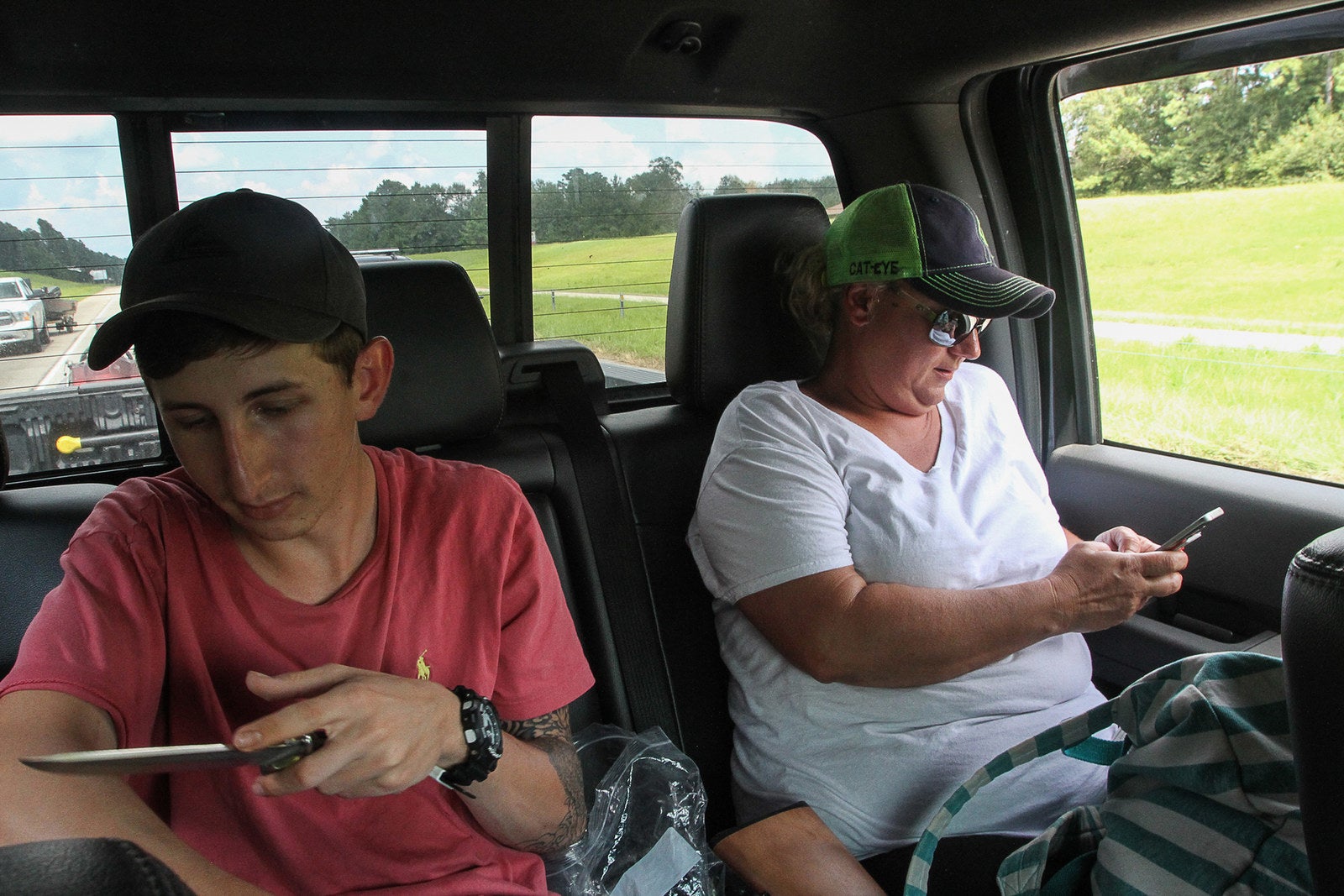 The caravan pulled off onto the shoulder of the highway just west of Orange. As convoys of police and military vehicles screamed past, Broussard stepped out. Over the last few minutes new reports had come in from Vidor, where rescuers were pulling out of some areas due to dangerous conditions, and moving in more accessible parts of town.

But a new area of concern had popped up a few miles northwest of Vidor.
"We're waiting to hear from dispatch on going to Lumberton. Their bridge collapsed, and they need immediate assistance," she said.
The problem was that nobody was sure how to get there. Exits to the small town of 11,000 west of Vidor were under deep water, and highway 96 to the north was also flooded. And with the bridge now down, the last link to the outside world for Lumberton was gone.
The Rangers decided to try to access the town from the west side of Vidor. There was some hope that the waters had gone down enough for trucks to pass, or to at least get close enough to put boats in the water.
Twenty minutes later, the group would hit the first in a series of literal and figurative roadblocks that would stymie their work throughout the day. Less than a mile west of Vidor, the water was still six feet or more deep on I-10, and was moving too fast for boats to try and navigate.
The group abandoned the plan and headed back east. Although it would take much longer to get into Lumberton, there was hope that route's to the east could give them access.
At Bridge City, the group pulled into a gas station parking lot.

Although the power was out and there was no gas, it was thick with pickups, police, ambulances, and military vehicles. Down the street, county and federal officials had set up a command center, and long lines of military troop carriers stood on either side of the road, filled with fidgeting national guardsmen. Everyone was ready to help. The problem was that nobody seemed to quite know where to go or how to get there.
The rangers ultimately decided to try to routes: north on route 1442, which was under water but may be accessible to lifted pickups, and south along the road. At least one person had successfully used that route to get to Port Arthur and then Beaumont. From there, it was a stone's throw to Lumberton. Though it would likely take hours, this seemed like the safest course.
It didn't take long to find out the southern route was no longer passable. Less than a mile from the gas station, Route 1442 turned into a deep, fast moving lake that stretched for miles. Even the troop carriers were having difficulty traversing it, with the waters coming up to their headlights.
The group that took the northern route had better luck, however. Though the water was deep, they'd pushed through, and ultimately found their way to Highway 96. Although it too was flooded out, the group was able to use the highway as a launching point, and two boats set off into the churning waters.
For the rest of the rangers, though, frustration was setting in. With no clear route to join their friends, it took hours of trial and error driving down flooded back roads and through partially submerged neighborhoods. And once the crew got close, one of the trailers threw a wheel's ball bearings, slowing progress.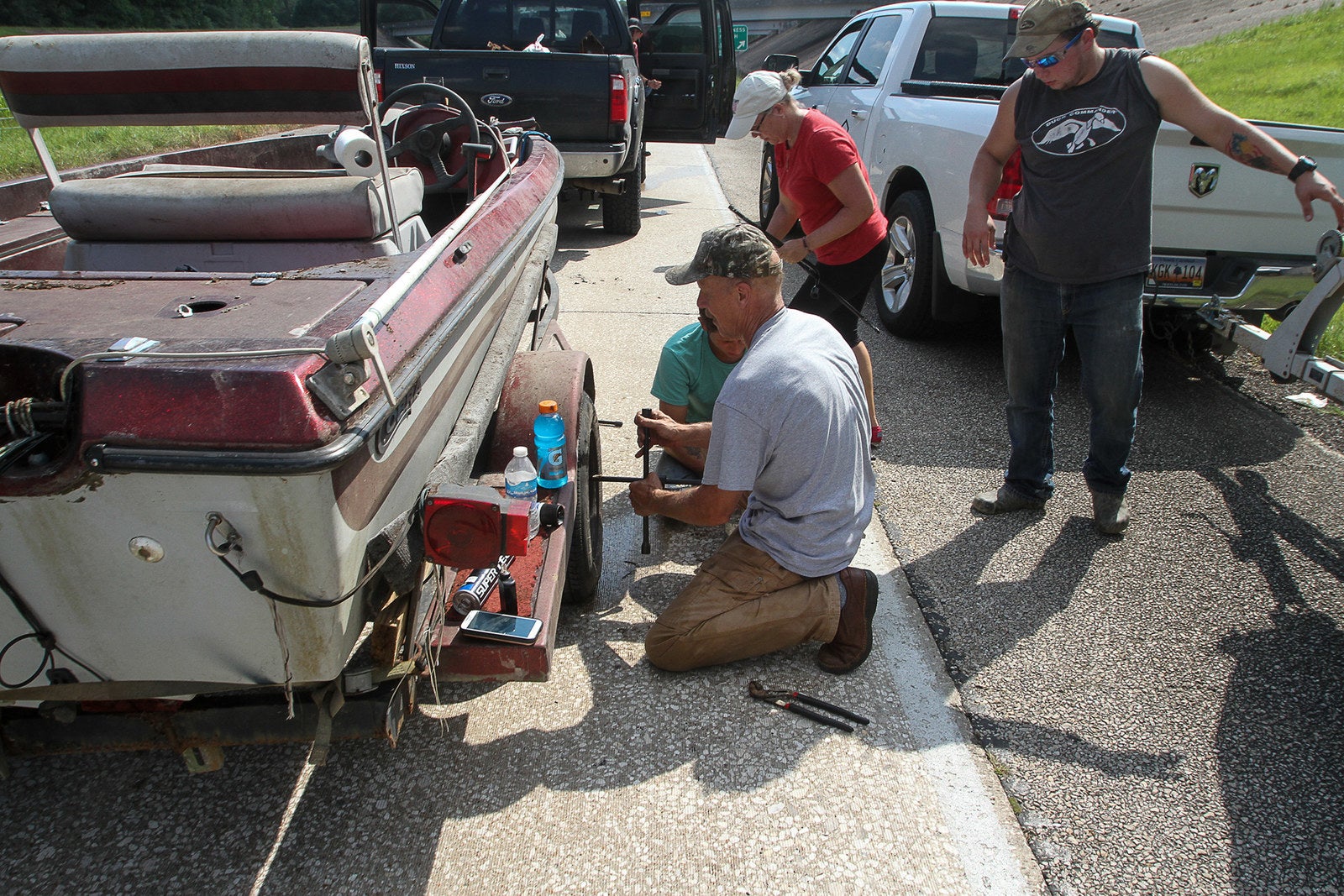 Finally at 1:45 the crew pulled up to the spot where their friends had launched from. As Wachtarz surveyed the damage to his trailer, preparations were being made to hit the water.
But just as things were looking up, the Zello crackled to life. "Do not come in. The current is too strong and you will get sucked in," came the voice of one of the rangers who'd taken the northern route. "Only come in if you have a small submarine."
Unbeknownst to the rangers, officials back in Louisiana had released more water from the Toledo Bend dam, and the current of the floodwaters had picked up considerably. Although they'd been able to get close to Lumberton, the waters became so swift they threatened to pull their small fishing boats into the wreckage of the downed bridge.
More than hour later the two boats appeared down stream, pushing hard against the current. The rescuers hadn't been able to get into town, and several emerged battered from having their boats pushed into debris.
"This ain't nothing like what we've been dealing with. This is really, really bad," one woman said.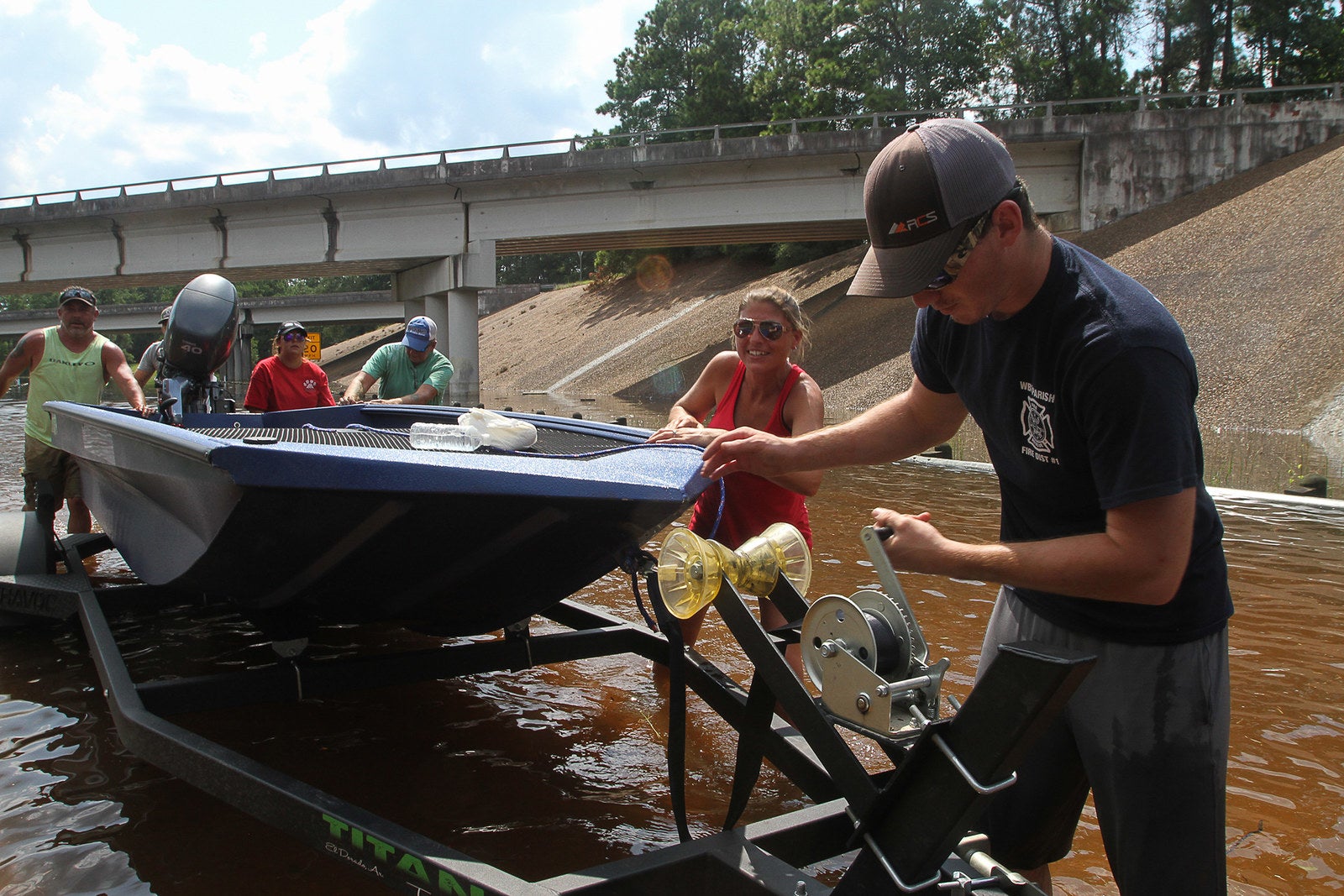 Hours later, the Rescue Rangers regrouped in the parking lot of the First United Pentecostal church. Members who'd headed back early had cooked burgers and gumbo, and coolers of cold Bud Light and Coors Light were on hand.

The volunteers were frustrated and tired. "We couldn't get anything accomplished. You go out there and try to help people, and you end up sittin' all day long," Wachtarz acknowledges. Asked if it gave him second thoughts about going out again, he quickly shook his head. "Ah nah, I'll prolly be back out tomorrow."
"Chasing leads, that's what today was. Sometimes that's what you gotta do. There's not always gonna be somebody for you to rescue. But you never know unless you try," Lawrence said.
Still, other groups of Rangers had helped save families in Vidor and other smaller communities throughout the day, and members had begun trucking in supplies to parts of Texas where the water was beginning to recede.
As the disaster begins to transition from rescue to recovery, getting help to people will remain a priority for the Rangers. With so many houses underwater, the cleanup will likely be long and hard, and the volunteers say they're already looking to the future and what they can do to help. "I plan on going back out next week to help with the disaster relief," Mason said.
Lawrence agreed. "The evacuations are about done. But the clean up is gonna come when the water goes. And I'm definitely gonna go back out to help. Because the same people that lost everything are going to be the same people out there cleaning everything up.
"It's our responsibility."
If you've been impacted by the storm in Texas or have a tip about rescue, relief, government, or aid efforts, call the BuzzFeed News tipline at (646) 589-8598. Find us on Signal, email, SecureDrop, and more here.