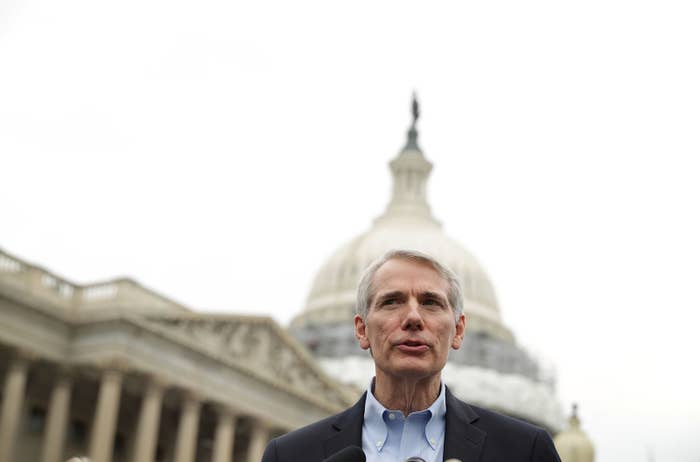 WASHINGTON — Republicans are hoping to put away at least two key Senate races weeks before election day, relying on an aggressive ground game and early voting efforts modeled on President Obama's 2008 and 2012 campaigns, allowing national campaign committees and super PACs to focus last minute spending on tighter races.
Using networks of young volunteers and an unprecedented reliance on early and absentee voting, Sens. John McCain and Rob Portman are on the leading edge of the GOP's efforts to adopt traditionally Democratic tactics — particularly early voting — even as state legislatures controlled by their parties are rolling back many of those very same strategic avenues.
"It's really a five-week, all-out get out the vote drive," said Michael Duncan, a Republican strategist who has worked on McCain's campaign in Arizona, where "70 to 80% of people will vote before Election Day."
Although Republicans have traditionally focused on massive Election Day turn out to win elections, the shifting voter base, rise of highly targetable on-line advertising, and an increasingly younger voter population have made "that swinging for the fences," Duncan said. "But the best teams also manufacture runs … and that's what GOTV and early voting is," he added.
Putting races like Portman's and McCain's ahead early is particularly critical for Republicans this year — forced to defend 24 seats and with the top of the ticket having no real coattails, and shoring up these campaigns with early votes means the National Republican Senatorial Campaign Committee and allied super PACs can focus on races like North Carolina Sen. Richard Burr, who is facing a tough fight.
The reliance on early voting is part of a broader retooling of Senate Republican ground game operations first used by Senate Majority Leader Mitch McConnell during his successful 2014 campaign that is being replicated in Ohio, Arizona, and other states.
"Our demographic is older and whiter, and more motivated in midterms," a GOP strategist said. Because early voting is a relatively new phenomena, it is often less appealing to those older voters, who have become invested in the ritual of going to a polling place to cast a vote in person. So while Republican enthusiasm for voting can spike, "that happens on Election Day, not necessarily the four weeks leading up to it."
But in an election where the top of the ticket has virtually no coattails for down-ballot candidates, turning out every possible vote is critical. Getting a ballot into their hands early means "it doesn't matter who you're voting for for president," a Republican operative said.
The strategy shift has already begun to pay dividends for Republicans. McConnell used it successfully in his primary against now Gov. Matt Bevin, and it helped beat off Alison Lundergan Grimes, who had significant backing from national Democrats.
That same year in North Carolina Republicans saw how not having an effective early voting strategy could hurt an incumbent.
Democratic Sen. Kay Hagan was locked in a tight race with upstart Thom Tillis, the then speaker of the state House. Despite Republicans' traditional advantage in midterm elections, the polls in the race remained extremely tight. Despite significant support from national Democrats, well before the election Republicans who were keeping an eye on early voting percentages realized they'd already won. "We knew at least a week out, because she wasn't hitting her early voting targets" particularly in black communities, the operative said.
The wins by Tillis and McConnell were a wake-up call for some Republicans, including Ohio's Portman, who two years out from election day was already listed by handicappers as one of the GOP's most vulnerable incumbents.
This year the early voting emphasis has already had one victory: McCain's thumping of former state Sen. Kelli Ward in August. Despite conservative hopes of running McCain out of office, Republicans close to him remained unusually calm.
And when primary day came in August, Ward actually turned out significantly more voters than McCain. Yet, the veteran Republican cruised to an easy primary win. "Kelli Ward actually won on Election Day, but we crushed her in early voting, which shows how critical it is," Duncan explained.
Meanwhile in Ohio, Portman has gone from facing a potential defeat to now appearing to be a lock for re-election next month, thanks in large part to his ground game efforts. (And help from split-ticket voting — in a recent poll, 20% of likely Hillary Clinton voters said they would vote for him, too.)
Beginning in January of 2015, Portman's team identified what one Republican called "the great, untapped resource. High school and college kids." The goal, he Republican said, was to "build this army of team Portman" across the state that could be used to target voters in their own communities. Operatives fanned out, meeting with high school students at every school within 25 miles a district office. At the same time, they began the process of setting up "Students for Portman" chapters on 36 college campuses. Portman often personally met with students, the idea being that it would help invest them in the campaign early.
By May, Portman's campaign was doing its first door knocks of the election — a full year or more ahead of when many campaigns begin on the ground voter outreach.
At the same time, the campaign also set up an aggressive micro-targeting data campaign along the lines of Obama's 2008 operation that is widely credited as one of the keys to his election. The campaign built a database broken down into 26 "tracks" tailored geographic and issue lines. This allowed them to target specific segments of the population with web ads, campaign literature and door knock scripts designed to appeal directly to them.
So instead of ads or mailers touting Portman's position on say, abortion, or regulatory reform, voters in the southern part of the state saw ads about his efforts to bolster the coal industry. In Toledo, where coal isn't an issue, the campaign emphasized his efforts to control an algal bloom that has threatened the region's water supply.
At the same time, every time volunteers have direct contact with voters, "We ask if you'd like to vote early," a strategist said, adding that this allowed the campaign to mail out 75,000 absentee ballots "to people we've had personal conversations with." As in person early voting gets ready to begin in the state, the campaign's volunteers will continue to press voters to cast their ballots now, rather than wait for election day.
The strategy has paid off for Portman: In September, the Democratic Senatorial Campaign Committee pulled a significant ad buy in Ohio that had been aimed at helping challenger former Rep. Ted Strickland. Democratic operatives at the time said Ohio had become out of reach for the party and that they wanted to shift resources to other states like North Carolina and Missouri.
And perhaps coincidentally, North Carolina and Missouri are two races where Republicans said their candidates have not invested as heavily in early voting as Portman, relying instead on more traditional Republican GOTV efforts.
The lack of emphasis on early voting and other ground game tactics in other races is a source of frustration for Republican operatives. "If Richard Burr and Roy Blunt ran 70% of the campaign Rob Portman is, we wouldn't be spending millions and millions," one longtime campaign operative said.