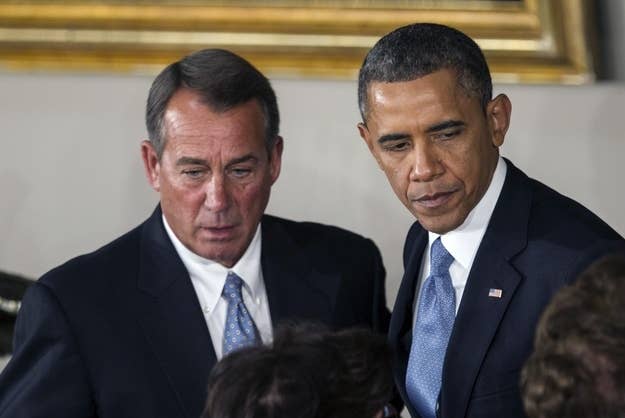 WASHINGTON — Republicans sought — and mostly succeeded, if only just barely — to avoid looking partisan or churlish on Inauguration Day Monday, but gave little reason to suspect that the truce will last any longer.
"I would have preferred a more bipartisan tone, hitting the reset button with Republicans," said Wyoming Sen. John Barrasso, a conservative doctor who was one of the few in his party to openly criticize Obama's second inaugural address, and who spoke for many. "In spite of the words he spoke today, his White House continues to be very confrontational rather than cooperative in working with Republicans."
Barrasso's blunt assessment of Obama's second inaugural address came as most of his colleagues were doing everything they could to keep from saying what they were all clearly thinking: Obama had laid down a gauntlet.
Senate Minority Whip John Cornyn, who just a few months ago was the conference's attack dog on the campaign trail, bent over backward to be kind.
"I thought it was aspirational. It gives us something to shoot for," Cornyn said, declining to voice anything negative about Obama's mention of climate change and other hot-button issues.
"You know, I think any differences we have amongst ourselves on policy, the president gets a pass on his inauguration. It's all about him and this country … from my perspective, this is not a time to criticize the president," he said. "He appealed to our better angels and hopefully we can rise to the challenge."
When asked if he actually believed the speech would help that cause, Cornyn refused to answer and ducked inside his Capitol office.
Cornyn's rhetorical gymnastics were typical of Republicans, who were clearly looking to avoid a fight with Obama on his big day.
Sen. Tim Scott said he appreciated that the speech included "a lot of reflection on history" and that he liked the "carpe diem" themes that ran throughout. But when asked about climate change and other specific policies Obama mentioned, Scott demurred, declining to say much beyond "I'm sure we're going to be on completely opposite sides of the [climate] issue."
Sen. John McCain, who has been one of Obama's harshest critics since losing the presidential race to him in 2008, stuck to a review of the speech's mechanics.
"Excellent delivery. I'm sure Americans appreciated it," McCain said.
After the luncheon, Sen. Rob Portman noted the "positive buzz" from the bipartisan event. "How long does that buzz last?" a reporter asked. Portman checked his watch and laughed.
Others dismissed complaints outright, at least for today. Rep. John Kline, a Minnesota Republican, waved away the notion that Obama should have made an active effort to reach out to Republicans.
"He's got a lot of opportunities to do that. This was a speech to America. He is entitled to do any kind of speech he wants to do. I didn't see any sharp partisan lines in there," Kline said. He added, "It's an exciting day for America every time we do this … it was a wonderful, wonderful program. I thought the president gave a good speech."
Similarly, Sen. Orrin Hatch praised Obama's speech.
"I thought it was good. I thought there were some good things in it. I didn't agree with everything, but my gosh, he delivered it well, as only he can do. And I thought the thrust was about togetherness and working together, and I think that was a good thing."
But even Kline acknowledged Monday's "buzz" may not last long. "We'll see how long the spirit of cooperation lasts. But today is Inauguration Day, it's a day to celebrate."