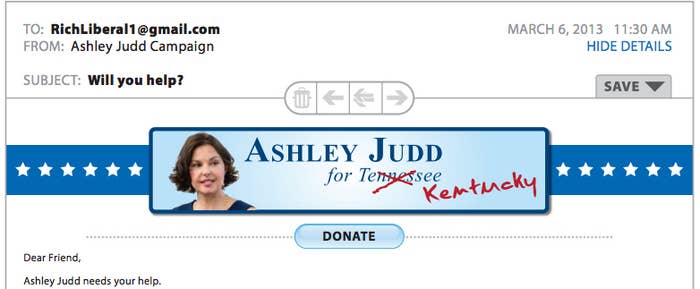 WASHINGTON — The National Republican Senatorial Campaign Committee is up with a new tongue-in-cheek web ad questioning actress Ashley Judd's Kentucky roots, the latest sign that national Republicans are leaving nothing to chance in Minority Leader Mitch McConnell's re-election.
Questioning whether a candidate actually lives in the state or district they are running in is hardly a new campaign tactic, although it has generally been targeted at incumbents who have spent decades in Washington.
But Judd is a neophyte to politics, and has yet to even formally declare her candidacy in next year's Senate race, and the email, which will go out to the NRSC's donor list, is a clear demonstration that Republicans are taking her seriously.
The email is designed to look like a fundraising pitch for Judd from Democrats.
"Ashley Judd needs your help. Despite the fact that she lives in Tennessee, Judd desperately wants to run for Senate in neighboring Kentucky. I know what you're thinking: how can a person who has said "Tennessee is home," that San Francisco is "my American city home" and that she "winters in Scotland" run for Senate in Kentucky?" the email reads.
"Well, that's where you come in.," it says. Littered with links to "donate" to Judd's campaign, the email also includes photos of the Versailles, Kentucky castle and urges donors to "donate $10,000, $25,000 or $50,000 we can start to piece together a down payment for a house that provides Judd all the amenities that she has grown accustomed to as she jets between Hollywood, Scotland, San Francisco and Tennessee."