Republican, Democratic Support For Kicking Russia Out Of The G-8 Is Growing
Military assistance for Ukraine and further isolation for Putin are also on the table on Capitol Hill. "Russia has forfeited its right to sit at the world table with countries like the United States, Great Britain, France, and Germany," Sen. Chris Murphy said Tuesday.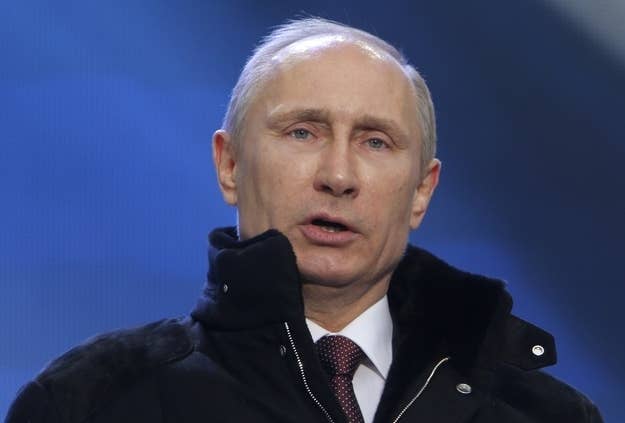 WASHINGTON — Democrats and Republicans alike said Tuesday the United States should being the process of expelling Russia from the G-8 and consider building up the Ukrainian military in response to actions taken by Russian President Vladimir Putin.
In a defiant speech to the Russian parliament Tuesday, Putin declared that Russia was formally retaking control of Crimea, a Ukrainian province that Russia has occupied for weeks. Although Putin said he is not interested in occupying additional areas of the Ukraine, the speech prompted harsh reaction from Capitol Hill, where Democrats and Republicans alike warned bluntly the Russian leader can't be trusted.
"It's hard to trust [Putin] … because they've been lying through their teeth for the last several weeks," Sen. Chris Murphy said Tuesday afternoon.
"He's relishing his position as the rebirth of the Soviet empire … I don't think he can be trusted," Rep. Adam Kinzinger agreed.
House Majority Leader Eric Cantor announced Tuesday that he has directed committee chairmen to identify additional sanctions and other steps that could be taken to further restrict the Russian economy, and called on President Obama and other world leaders to expel Russia from the G-8.
"Next week, the G-7 leaders should decide to revoke Russia's membership in the G-8," Cantor said.
That idea is quickly gaining traction in Washington.
"I think that's appropriate," said Sen. Ben Cardin, who has also been active on Ukrainian and Russian issues.
Cardin said that the world's top seven industrial powers should convene a meeting to address the situation and that "Russia clearly should not be included to make it the G-8 … [since] Russia really doesn't share" the same values. "It's important to speak with a united voice," Cardin added.
Murphy argued that "Russia has forfeited its right to sit at the world table with countries like the United States, Great Britain, France, and Germany … when you violate international norms to this extent you lose the right to sit down with the other world leaders and decide the economic and political direction of the world."
But Murphy and others also argued that Europe needs to take greater steps on the sanctions from to isolate Russia and cause economic pain. European leaders must "wake up to the fact that they need to join us in some really tough sanctions," Murphy said, pointing to further restrictions on Russian banks and oil companies.
Cantor also called for the Obama administration to drop its reluctance to begin providing military assistance to Ukraine, arguing "The U.S. should assess what military support we can provide Ukraine and the U.S. must work in concert with its NATO allies to reassure other countries threatened by Russia."
Sen. John McCain, who has been a harsh critic of Obama's handling of the Ukraine crisis, argued in a statement that the United States should "rush the modest military assistance to the Ukrainian government that its leaders have requested, including some small arms and ammunition, as well as significant non-lethal assistance, such as protective equipment, spare parts, fuel, and sharing of intelligence."
Although Murphy agreed — saying that he is "fully supportive of a U.S. led effort that puts real capabilities into the Ukrainian military" — he acknowledged that is not a short-term solution to stabilizing the situation.
Cardin also questioned the wisdom of military assistance, arguing "the Ukrainians would be the first to admit they just can't defend themselves against Russia."
Instead, Cardin argued economic support for the new Ukrainian government should take center stage. "I think our number-one priority is helping the Ukrainian economy … at this point we want to make sure there is a strong government in Ukraine."