Republican Debt Bill Could Reignite Obamacare Contraception Fight
House Republican leaders agree to fund government through Dec. 15, allowing contraception foes another crack at blocking Obamacare.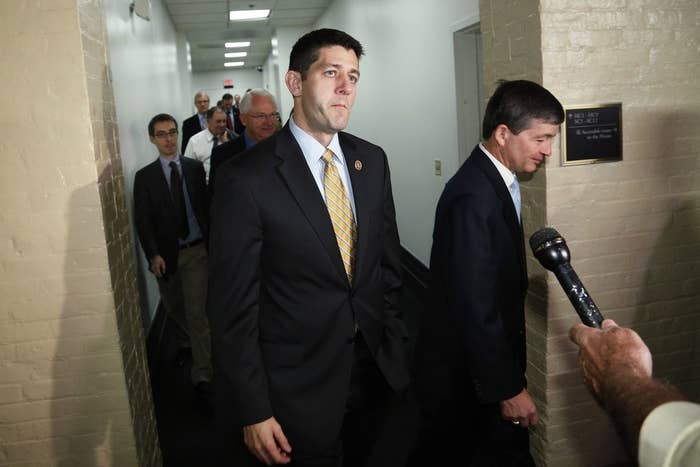 WASHINGTON — The House Republicans' latest plan to end the government shutdown and avert a debt default would only fund the government through Dec. 15, which would give anti-contraception and anti-Obamacare lawmakers a second chance to change or defund the law.
Abortion and contraception have not played a public role in the latest round of bickering over President Obama's signature law. Instead, the focus has been on a delay of the law's individual mandate as Republican leaders continue to argue for "fairness for all" Americans.
But according to Republicans familiar with the situation, for fiercely anti-abortion lawmakers like House Budget Committee Chairman Paul Ryan and other Republicans, one of the central reasons for fighting the law has been a demand for a so-called conscience clause, which would allow employers to opt-out of birth control coverage for their employees.
In order to placate these lawmakers, leadership has decided to fund the government only through Dec. 15 in order to give them another shot at either defunding Obamacare or inserting anti-contraception coverage language, Republicans said. "Dec. 15 is all about the conscience clause," one said.
The health care law mandates that insurance plans must provide contraception coverage with no-copay, and Republicans have charged that forcing employers to cover plans that pay for birth control could violate the employer's religious beliefs. The mandate also covers the "morning after" emergency contraception pill. In March of 2012, the Senate defeated an amendment introduced by Sen. Roy Blunt that would have allowed employers to opt out of the contraception coverage.
Three nonprofit religious organizations announced Monday that they have filed a class-action lawsuit against the federal government over the new contraceptives laws. The House is expected to vote on the debt-ceiling legislation this evening.