Rand Paul, Marco Rubio Square Off At CPAC
While Rubio sticks to a traditional approach, Paul's libertarian, reformist message gets the crowd going.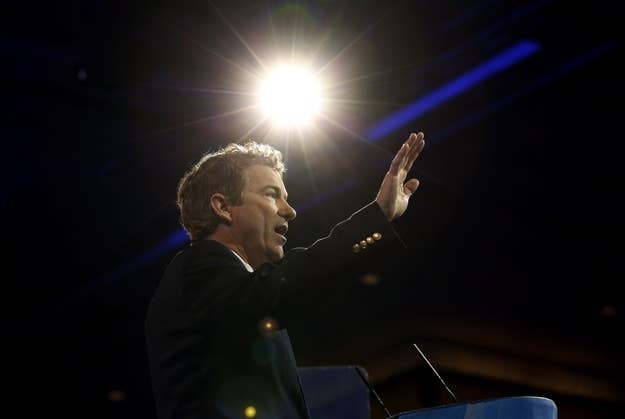 NATIONAL HARBOR, Md. — Two of the GOP's rising young stars went head-to-head Thursday afternoon at the nation's largest gathering of conservatives in what could end up being an early test of Sens. Marco Rubio and Rand Paul's presidential campaign prowess.
Rubio and Paul, lawmakers who have made no secret of the fact that they are eyeing a presidential bid, could not have had more different approaches to their speeches at the annual Conservative Political Action Conference.
Rubio came to the stage to the dulcet sounds of One Direction's "What Makes You Beautiful." Paul, on the other hand, came on to Metallica's thundering "Enter Sandman."
While Rubio purposefully avoided any mention of his signature issue — comprehensive immigration reform — Paul opened his speech with a direct reference to his 13-hour filibuster from last week.
On a more fundamental level, Rubio clearly was positioning himself as a young traditionalist.
Rubio argued that when average middle-class voters look at American politics, "they wonder, who's fighting for them … that is both our challenge and our opportunity: to be their voice."
While he did not talk about immigration, Rubio did hit several specific policy positions, particularly education. "Every parent in America should have the opportunity to send their children to the school of their choice," Rubio said, adding that, as a nation, "we should encourage career education … we still need plumbers, we still need carpenters."
Rubio also hued old-school in his attacks, throwing harsh punches at liberals over gay marriage, abortion, and climate change.
"Just because I believe states should have the right to define marriage in the traditional way does not make me a bigot," Rubio said to applause. "The people who are actually close-minded in our society are the ones who love to preach about climate science and refuse to believe the science that life begins at conception."
Paul, on the other hand, has fully embraced the role of the young reformer, giving a wide-ranging speech on topics like drones, marijuana decriminalization, and the need for the GOP to change that noticeably wowed the crowd.
Paul was clearly riding the wave of support he's seen from last week's 13-hour filibuster. "I have a message for the president, a message that is loud and clear, a message that doesn't mince words. The message for the president is that no one person gets to decide the law, no one person gets to decide your guilt or innocence," Paul said at the top of his speech.
Paul also took a shot at critics of his drone filibuster. "To those who would dismiss this debate as frivolous, I say, tell that to the heroic young men and women who have sacrificed their limbs and lives; tell it to the 6,000 parents whose kids died as American soldiers in Iraq and Afghanistan; tell them that the Bill of Rights is no big deal," Paul said to applause.
Paul also took up the call for the GOP to transform itself in order to win over what he dubbed the "Facebook generation."
"The Republican Party has to change — by going forward to the classical and timeless ideas enshrined in our Constitution. When we understand that that power corrupts and absolute power corrupts absolutely, then we will become the dominant national party again," Paul said.
"We need a Republican Party that shows up on the Southside of Chicago and shouts at the top of our lungs, 'We are the party of jobs and opportunity.' The GOP is the ticket to the middle class," he added before taking a direct shot at the traditionalists in the party.
"The GOP of old has grown stale and moss-covered — I don't think we need to name any names here, do we? Our party is encumbered by an inconsistent approach to freedom. The new GOP, the GOP that will win again, will need to embrace liberty in both the economic and personal sphere."