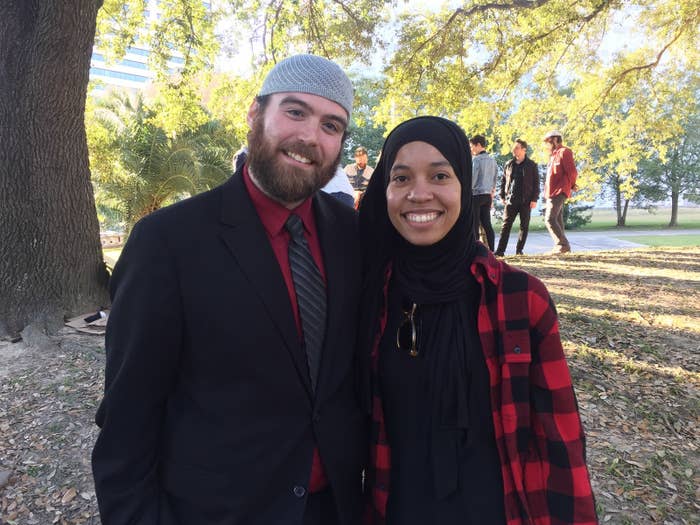 NEW ORLEANS — For Nicholas Pierce, President Donald Trump's executive order barring refugees and Iraqis from entering the United States hits especially close to home.
During an impromptu protest outside New Orleans' City Hall Sunday, Pierce, a white Muslim American, told the crowd his message to Trump and other Americans worried about Muslim immigration was simple. "We are not terrorists, we are not trying to hurt anyone," he said. "I had someone earlier today say to me, 'Why won't you co-exist with me?' I said, 'You don't know me. I've been co-existing with you for 27 years!'"
President Trump's executive order, which bans refugee resettlements to the United States for six months and immigration from seven Muslim-majority nations for 90 days, has sparked nationwide protests and condemnation from Democrats and even some Republicans.
Of particular concern is the impact the ban may have on people who have worked as translators for the American military in Iraq, Afghanistan, and other parts of the world where ISIS and al-Qaeda openly operate. For those men and women, being forced to return to their home countries could become a de facto death sentence.
But for Pierce, the ban on refugees is very personal. As a teenager growing up in Baton Rouge, Louisiana, the now–27-year-old law school student found himself essentially alone following the deaths of first his mother and then both grandparents.
"I was on my own for a little bit, and then I went to live with an uncle," he said. "I don't want to speak ill of him, but he was kind of a drunk. Not the slap-you-around kind of drunk, but not the come-home-and-take-care-of-you-and-put-food-on-the-table kind of drunk either."
While Pierce was struggling to make ends meet as a 16-year-old washing dishes, a co-worker, Shareef Abuhajah, who was a 20-year-old student at Louisiana State University, and his family took Pierce in. "I was essentially fostered by a Palestinian family," Pierce said in an interview with BuzzFeed News.
The Abuhajah family weren't strangers to being displaced: The family had fled Palestine during the 1967 war with Israel, ending up in Kuwait. In 1991, the family again became refugees when Saddam Hussein invaded, and they relocated to Jordan before finally settling in Baton Rouge.
For Pierce, his conversion to Islam was a gradual, natural evolution. "They never pushed Islam as something I had to do, or become," he said. "And it's not something I did immediately after meeting them either. It was just something that, as I started to wrestle with the issue of the death of my parents and all this stuff, and I decided I did believe in God and I needed to put form to that, their example led me to Islam."
At 17, Pierce converted, and a year later he joined the military because "I wanted to help people, and I wanted to show people that not all Muslims hate America."
While in the military, he met an Iraqi translator who had served with US military forces in northern Iraq. During a mission with a group of Marines, Ali Ahmed was shot in the shoulder by insurgents as he was attempting to lure them away from the American soldiers. Like many Iraqis who have worked with the US military, Ahmed received a green card to live in America.
While that should have, in theory, meant he would remain out of the grasp of ISIS and al-Qaeda, "He's the exact class of people," Pierce said, "should they go home to visit their families or should they even leave the country to go on vacation and try and re-enter the country under what Donald Trump proposed, they could be stopped at the border and sent back to their country.
"And that breaks my heart. What this is, is essentially an American serviceman who is going to be deported back to Baghdad."
Like many Muslim Americans, Pierce has had problems with people who question his loyalties, but he said he believes that the charged anti-Muslim rhetoric has actually prompted non-Muslim Americans to make a point of reassuring Muslims that they are not alone.
"You'd be surprised where you have the positive ones," Pierce said, adding that he and his wife, Ejaaz, were in Lake Charles last weekend. "You know, a tiny little town. And she went into a coffee shop said, 'that's a beautiful hijab. I think it's being drawn out by everything that's going on. People feel the need to reassure."