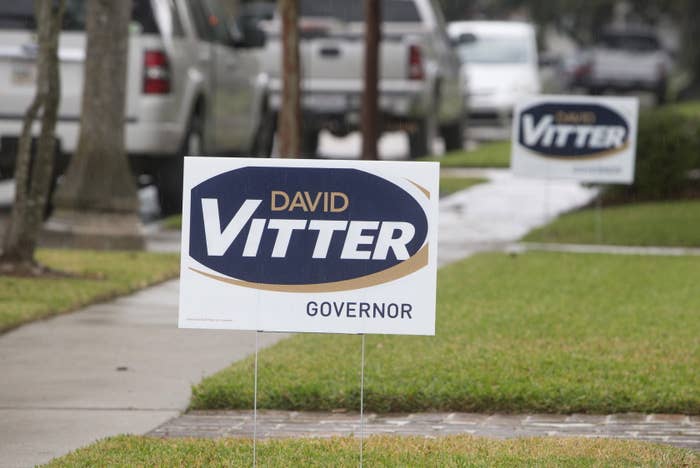 NEW ORLEANS — Republican Senator David Vitter, who has survived more than a decade of stories about his relations with prostitutes, finally saw them catch up to him Saturday night, losing badly in the race for Louisiana governor.
Louisiana House Minority Leader John Bel Edwards Saturday hung on to his weeks-long lead, despite a last minute attempt by Vitter to turn the wild campaign into a referendum on Syrian refugees — and on thin claims of danger from a "missing" refugee.

Edwards, a Democrat, will succeed Republican Gov. Bobby Jindal, who leaves office in January following a failed presidential bid. And Vitter will resign at the end of his Senate term, he said Saturday night.
Although the governor's mansion should have been Vitter's for the taking, a tighter than expected primary race and Edwards's successful use of Vitter's scandal-stained past resulted in the Democrat leading in most polls — sometimes significantly — for weeks before Saturday's run-off election.
Saturday's election marks the likely end of Vitter's nearly three-decade political career.

Elected to the House in 1999 to replace Rep. Bob Livingston — who was forced from office after revelations of an affair surfaced — Vitter quickly made a name for himself as one of the right's most strident social warriors and in 2004, he won election to the Senate.
Things took a turn for Vitter just three years later, however, when a powerful madam in Washington, D.C., identified him as a client.
Although Vitter's awkward 2007 acknowledgement at a press conference that he had hired a prostitute — who allegedly shared his wife's first name — should have quickly put an end to his career, Vitter survived.
In what became known in political circles as the Vitter Rule, rather than embarking on a "healing tour" or "business-as-usual approach" like so many scandal-tarred politicians, the Louisiana Republican opted instead to essentially disappear.
For months Vitter could not be found on Capitol Hill, and on the rare occasions when reporters spotted him, he would ignore any and all questions.
After his self-imposed exile, Vitter slowly began to reemerge into the public light, attending hearings, giving floor speeches and, ultimately, giving a press conference. And while he was initially dogged by questions about his involvement with prostitutes, they quickly faded in the unyielding stonewall silence from Vitter.
And Vitter survived again, overcoming a Democratic challenge in 2010 and providing a model for future lawmakers who would find themselves in similarly difficult situations.
Coming into this year's governor election, Vitter seemed to be the odds-on favorite to succeed the deeply unpopular Jindal. But Republican observers say Vitter miscalculated not only his popularity with voters, but the political acumen of Edwards.
Rather than shy away from Vitter's scandal — as Democrats did during his 2010 re-election bid — Edwards and his outside allies used virtually any chance to highlight it. In many ways it became the centerpiece of the attacks on Vitter, who at first sought to ignore it altogether. But even when he addressed the issue, he was never able to put it behind him.
An added, and certainly unwelcome, complication for Vitter was Jindal, who had spent almost his entire second term as governor operating an ultimately futile presidential campaign. Jindal is one of the most unpopular governors in the country — something that has hurt the GOP's brand in Louisiana, despite the state's conservative leaning.
But perhaps even more than his unpopularity, Vitter was hurt in the closing days of the election by Jindal himself. Longtime rivals, Jindal seemed to wage a last minute campaign of his own to sabotage Vitter.