President Obama Blasts Islamophobia, Republicans During First Official Visit To U.S. Mosque
"We've seen too often people conflating horrific acts of terrorism with the beliefs of an entire faith."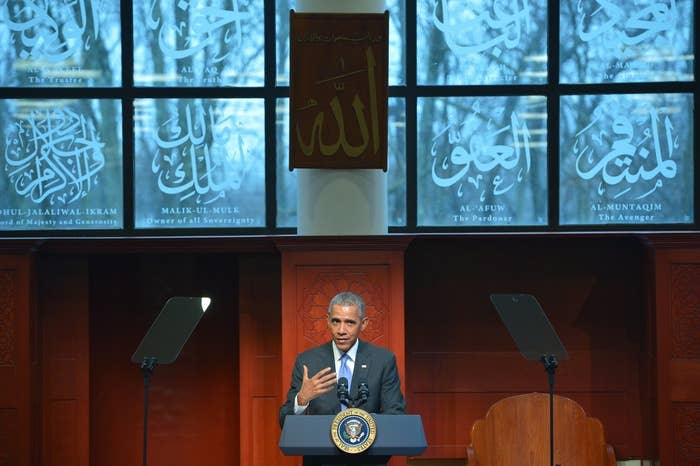 BALTIMORE — During his first visit to a mosque as leader, President Barack Obama on Wednesday called on Americans to combat Islamophobia and slammed Republicans' use of increasingly hostile rhetoric towards Muslims, calling it inexcusable and blaming them for a surge in attacks on Muslims.
"We've seen too often people conflating horrific acts of terrorism with the beliefs of an entire faith," Obama said in his speech at the Islamic Society of Baltimore in Maryland.
"For some time, we've been asking for pushback," Ibrahim Hooper, a spokesman for the Council on American-Islamic Relations, said to the AP. "Perhaps this will start a trend."
Obama also slammed Republicans, arguing their "inexcusable political rhetoric against Muslims...has no place in our country."
"It's no surprise than that threats against Muslims have surged," he said.
Obama's historic visit to the mosque comes as conservatives, particularly those on the campaign trail, have been using harsh language in talking about the Muslim world.
Donald Trump has staked out the most extreme position, calling for a complete ban on allowing Muslims to enter the United States. Sen. Ted Cruz has called for a halt on immigrants from countries with active Islamic terrorist organizations, which would amount to a de facto ban on Muslim immigration into the U.S.
Jeb Bush, meanwhile, has argued that Syrian refugees of Christian descent should be given priority over Muslim refugees in any future resettlements. All of the Republican candidates support at least a temporary halt on bringing refugees to the country.
At the same time, Muslim leaders say they've seen a spike in incidents of vandalism, threats, and physical assaults across the United States, particularly in the wake of the Paris and San Bernardino terrorist attacks.
Earlier in the day, Obama and senior advisor Valerie Jarrett participated in a roundtable with Muslim leaders from around the country, during which they discussed how Muslims contribute to their communities as well as the challenges of Islamophobia, according to White House Press Secretary Josh Earnest.
This is a developing story. Check back for updates and follow BuzzFeed News on Twitter.