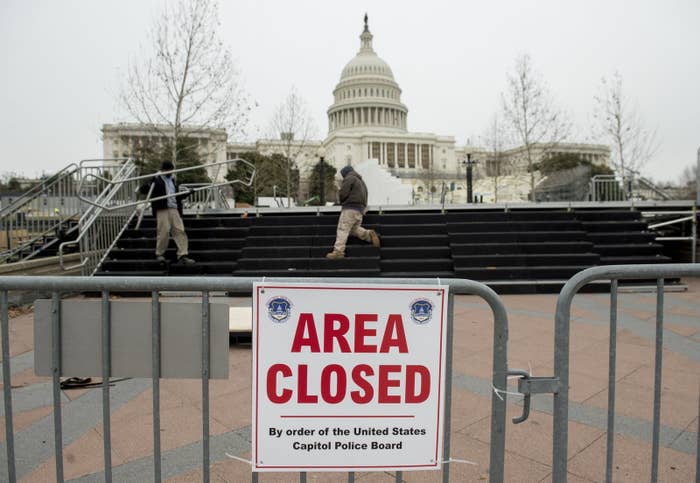 DC police are increasingly concerned that some of President-elect Donald Trump's supporters traveling to the nation's capital for next week's inauguration will be bringing not just heavy sweaters and down jackets, but firearms too.
Police prepare for armed individuals at demonstrations and at the inauguration itself, but have rarely had to deal with any in recent memory: no gun related arrests were made during the 2009 and 2013 inaugurations.
But with racial tensions high and coming on the heels of a divisive, sometimes violent presidential campaign, police are wary guns could make an appearance this year.
According to a DC police department source familiar with preparations for the Jan. 20 inauguration, the department is particularly concerned that members of white supremacist groups and other radicals who backed Trump may be carrying concealed weapons to protect supporters — and Trump — from protesters.
Second Amendment and so-called "open carry" activists were a common sight at Trump rallies and at the Republican National Convention in 2016 — in states where it was legal to do so. Because the District does not allow open carry, and weapons aren't permitted at the inauguration, such demonstrations aren't expected.
Although open carry activists often draw media attention for displaying their weapons, neither they nor Second Amendment activists more broadly are typically a concern for law enforcement, in large part because they take great pains to stay within the bounds of the law.

Rather, the bigger concern for law enforcement are any inauguration attendees who may come with illegally concealed firearms with the purpose of protecting themselves.
A Metropolitan Police Department spokesperson Tuesday told BuzzFeed News the department is "aware of various groups planning on exercising their First Amendment rights. Although we do not discuss operational strategy or tactics, MPD is prepared to both protect the rights of individuals to exercise their First Amendment rights and ensure public safety."
The spokesperson also warned, "If individuals or groups decide to act unlawfully, plans have been put in place to efficiently address them."
The inauguration always presents particular challenges for law enforcement in Washington. Although adept at handling protests, with hundreds of thousands of people attending the event, it's a security nightmare.
But Trump's swearing in will be no normal inauguration. For months during his campaign for the presidency, Trump's rallies were routinely marred by violence by protesters and supporters alike, leaving dozens hurt during riots in Chicago, Albuquerque, and San Jose, California. Most of those incidents occurred during rallies held at venues in downtown areas, and the routine violence only subsided once the campaign began holding events in more remote facilities or at airports with heavy security.
In addition to the estimated 800,000 people expected to attend the inauguration in support of Trump, thousands of anti-Trump protesters are also coming to town. While most are expected to participate in peaceful demonstrations, according to an MPD source, police believe at least one anarchist group is planning to try and block the inaugural parade route from the Capitol to the White House.
Meanwhile, vigilante style groups like Bikers for Trump are planning to participate in the inaugural festivities, and police sources said they are monitoring the plans of white supremacist organizations as well.
DC Mayor Muriel Bowser told reporters Friday that city officials are "prepared for any and all circumstances," and warned that anyone not participating peacefully will face consequences.

"We expected them to exercise their rights peacefully … and we'll be prepared should anybody not," Bowser said.