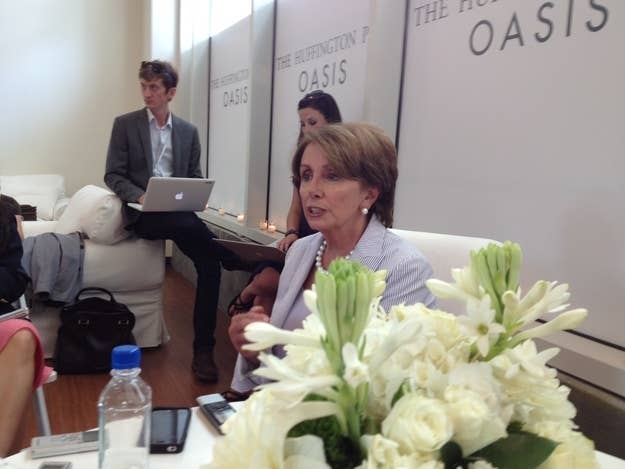 Charlotte, NC - House Minority Leader Nancy Pelosi hammered Republicans Monday, accusing Mitt Romney and Paul Ryan of "brazenly" misleading the public over their record and President Barack Obama's accomplishments.
Speaking to reporters at the Huffington Post Oasis here in Charlotte, Pelosi quipped at one point "They don't know when the factory closes, they don't know how fast they run."
Referring to efforts by Republicans to distance themselves from Rep. Todd Akin after his "legitimate rape" comments, Pelosi argued it was part of the GOP's efforts to distort their own record.
"They're separating themselves from Todd Akin. Oh isn't that something, they're like this in the Congress," the Democratic leader said, crossing her fingers. "They're hiding in plain sight. Who they are is very obvious," Pelosi added.
Pelosi was clearly on message, repeatedly criticizing Republicans for serial dishonesty and pleading with the media to call them out for it – a talking point used more and more frequently post the RNC convention in Tampa.
Significantly, Pelosi sought to downplay the importance of Ryan in the election. Asked about her relationship with him, for instance, Pelosi said "I don't have much of a relationship with him, I know he's a courteous young gentleman in the Congress."
"I think the focus should be on Mitt Romney. It's a reflection of his judgment that he picked Paul Ryan but the focus should be on the top of the ticket," she added.
Pelosi also had clear advice for President Barack Obama on how to fight back against Republicans, urging him to model his end run to the election on former President Harry Truman.
"Truman – he spelled it out. Do nothing. That is what they are. 77 democrats were elected in 48, saving his presidency," she said.
As for the chances that Democrats will take back the House and she will resume the speakership, Pelosi sounded optimistic.
Pelosi said she feels confident that much of her existing conference will return in November, arguing that if they survived 2010, "the year from hell for Democrats, we feel they can win again, especially with president Obama on the top of the ticket."
She also expressed confidence in the party's ability to pick up seats in states like California, Illinois, New York and Texas. Those seat will "account for about half of what we need to win where we'll be totally on our own" because Obama won't be competing much.