Paul Ryan Is The Nicest Guy On Capitol Hill
But can his good-natured identity survive the white-hot national spotlight? "Peel past the likability, peel past how cute he is and young and energetic he is," advises a Capitol Hill frenemy.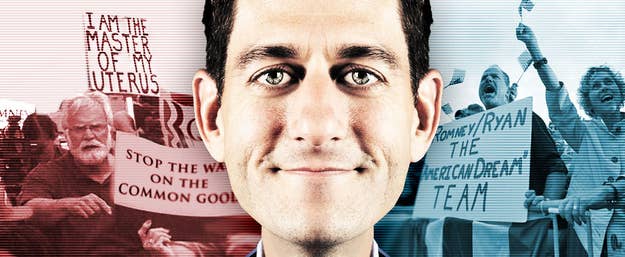 WASHINGTON, DC -- Here on Capitol Hill, Wisconsin Rep. Paul Ryan is seen by colleagues in both parties, reporters and staff alike as a young, earnest budget nerd who has tirelessly devoted his career in Washington to the single-minded devotion of saving America from its fiscal ruin. Aw, shucks.
His record on paper bears almost no relationship to that image.
Over his six terms in Congress, Ryan has established one of the most conservative records on social issues, co-sponsoring bills, from this year's ultrasound abortion and fetal personhood bills to voting against funding for international contraception programs in 2000. He's opposed making same-sex adoptions easier and is an ardent opponent to same sex marriage.
And whether you call them "bold" or "radical," the reality of his vision for the future of the federal budget and entitlement programs like Social Security represent not some sort of green-eyeshade fiscal rejiggering, but a fundamental restructuring of government and spending that relies far more on the private sector than even some Republicans are comfortable with.
Here is the mystery of Paul Ryan: Why do moderate Republicans and Democrats on Capitol Hill like him so much?
And here's the challenge: Will that warm and fuzzy feeling translate outside the beltway? Or will 51% of Americans end the cycle viewing him as a wild-eyed radical?
Democrats are working furiously to peel off what they see as a mere façade and a relic of the Beltway hothouse.
"Its important not to mistake civility and congeniality with a willingness to compromise … [his budget] is an uncompromising, unyielding ideological manifesto," Rep. Chris Van Hollen warned, noting that Ryan beat back all but one of the Democratic amendments offered to the bill.
Ryan's success has come, in no small part, from his good manners and understanding of the Capitol's culture at an ugly, tense time. He's charmed many of the people who might be expected to like him least, like Rep. Gwen Moore, a fiery Milwaukee representative who grew up in Ryan's district and, in contrast with the typical home-state enmities, has been friendly with him for years.
"He's very, very friendly, very respectful," Moore told BuzzFeed of Ryan, noting that once when they encountered each other in an airport "he quickly grabbed my suitcase" and carried it to her car for her. Moore one of the most outspokenly partisan members of the Democratic Party, beloved by the press corps for her willingness to take unflinching aim at Republicans on women's and civil rights issues.
But she has nothing bad to say about the presumptive Republican vice presidential nominee.
"He doesn't have harsh words for anyone," she said.
Capitol Hill's other bold/radical leaders don't evoke this sort of reception in the enemy camp, and indeed, insiders scratched their heads to think of a Democratic counterpart to Ryan — well liked, well respected and considered a part of the mainstream, even by opponents.
What's unique is his ability to mix substantive policy work with rigid ideological beliefs and still build a place for himself within the mainstream of political discourse. Hardline ideologues like Sens. Jim DeMint or Bernie Sanders have found support amongst their respective parties' purists, but have also found themselves marginalized on Capitol Hill because of their rigidity.
Likewise, "substantive" lawmakers like New Jersey Rep. Scott Garrett in the House or Oregon Senator Ron Wyden generally don't have the celebrity wattage to break out of the "policy wonk" mold and have a major impact on the national discussion.
Even Rep. Barney Frank, who may be the closest analog to Ryan in the Democratic Party, has never enjoyed the type of mainstream acceptance as Ryan has — in no small part because of his prickly personality.
Democrats and Republicans alike said one of the key factors in Ryan's ability to avoid being cast as an unreasonable conservative is his genuine, congenial nature. Ryan led a bipartisan group of lawmakers in a daily P90x workout routine and he could regularly be seen on the chamber floor discussing workout tips with the likes of Majority Whip Kevin McCarthy and Majority Leader Eric Cantor on the Republican side and Rep. Heath Shuler and former Reps. Anthony Weiner and Bart Stupak within the Democratic ranks.
Even Democrats with whom he's locked horns occasionally are on friendly terms with him.
"I get along personally with Paul," said Hollen, the ranking member on the Budget Committee who has spared with Ryan over the years, who said Ryan's mainstreaming reflects GOP's rightward tilt over the last several years.
"The Republican House is a very right wing, Tea Party-dominated House," Van Hollen said.
Ryan's amiable approach extends in particular to the press corps, where he is generally well liked, and who he's worked hard to court and engage.
Ryan is also a good looking (for Washington), young (for Washington) man in a world dominated by aging politicians few would ever accuse of being beauty contestants, a fact that draws his colleagues and the press to him.
Moore, indeed, suggested that her fellow Wisconsonite "has benefited from a beauty premium."
"I've often teased him that he's going to get old, and then we're going to beat him," she said.
At the same time Ryan has avoided making his positions on social issues — and even his most radical economic policies — a central part of his identity.
One Republican said it's simply a reality of his worldview and that while he holds his positions on abortion, gay marriage and other issues very strongly "he doesn't wear them on his sleeve" and would rather focus on economic issues.
Several Democrats and Republicans familiar with Ryan, however, said he has clearly made a conscious choice to avoid the spotlight of social conservatism for most of his career.
For instance, in 2005 when much of his conference took to the floor to give firery pro-life speeches during the Terri Schiavo scandal, Ryan did not, opting to release a brief press release outlining his support for efforts to intervene in her case.
And while he told the Weekly Standard ""I'm as pro-life as a person gets. You're not going to have a truce. Judges are going to come up. Issues come up, they're unavoidable, and I'm never going to not vote pro-life" and has cosponsored numerous anti-abortion bills over his career, he rarely makes floor speeches on them and never makes the issue a part of his talking points with the press.
That reveals a conscious decision to avoid becoming entangled in the divisive politics of those issues, Republicans and Democrats said, and is part of his clear effort over the last decade to build his profile.
Brad Dayspring, a senior advisor at the YG Action Network, argued it is part of Ryan's broader world view.
"Paul Ryan comes out of the Jack Kemp school of conservatism. It's aspirational, growth oriented, serious, and unique, and there is now an entire movement that surrounds it," said Dayspring, who worked closely with Ryan during his time in Cantor's office.
"He genuinely believes that the biggest threat facing his children and our children is tidal wave of debt, and the only way to overcome that is to strengthen Medicare, grow this economy and reform government for the 21st Century. That is where Paul has always been most vocal, that is where his time, energy and passion has been," Dayspring said.
Whether Ryan's patina of reasonableness and affability will last on the national level remains to be seen. The Obama campaign is already digging into his voting record and its allies have already begun to attack him over his strident anti-abortion positions.
And Democrats said that once you dig below the surface, a different picture of Ryan does come into view.
"Peel past the likability, peel past how cute he is and young and energetic he is, you will see [his budget plan is] very, very short on deficit reductions and doubles down on giving more and more" to the wealthy, said Moore.
Moore also said she believes Ryan's image may suffer simply from being under the pressure of having to be Romney's attack dog:
"Now that he's on the national stage I suspect that nice guy is going to peel off if he's going to be the pit bull against President Obama."