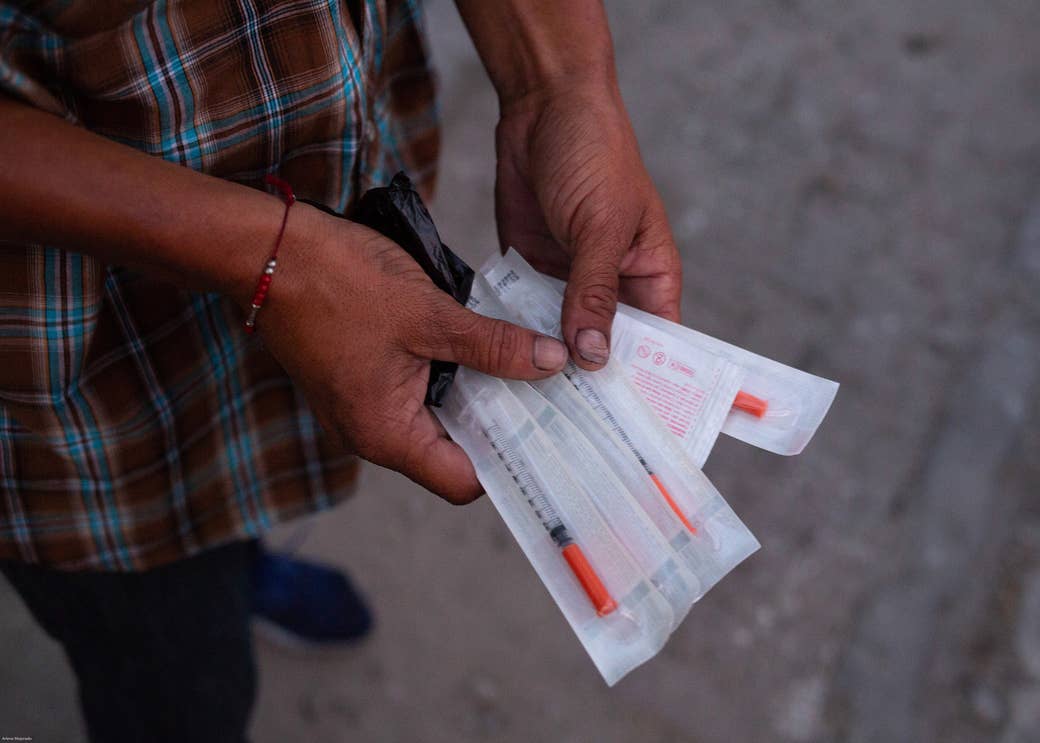 It's 6:20 in the evening when Dr. Patricia Gonzalez-Zuniga pulls her battered brown van to a stop. It's the first time she's set up her mobile health clinic on a weeknight, so she's picked the corner across from the Oscar Galvan Rivera Shelter, hoping nearby residents who use drugs or are homeless will see that she's there.
Situated along a busy highway that separates the United States and Mexico on the outskirts of Tijuana's red-light district, it's a perfect spot, and volunteers quickly begin unpacking the van's makeshift doctor's office onto the sidewalk: Aging card tables are deployed and stacked with boxes of syringes, overdose kits, rubber gloves, and other supplies. Wobbly folding chairs are set out for the first patients, who don't take long to spot Gonzalez-Zuniga and approach.
Doctors' hours are now in session at the newest clinic combatting America's addiction crisis, which is seeping over the border into Mexico.
Gonzalez-Zuniga, an HIV/AIDS specialist with the Global Health Institute at the University of California, San Diego, started these mobile clinics in 2015 in response to the growing number of people addicted to drugs living on the streets of Tijuana. A lifelong resident of the city, Gonzalez-Zuniga has spent nearly her entire life working with the poor in Tijuana, first volunteering with her mother as a child before beginning her medical career working with a pediatric doctor in orphanages and homeless shelters here.
According to Gonzalez-Zuniga, it used to be that most of the people she saw living on the streets were 30–50 years old, and while many had been deported from the US at some point, most had been living in Tijuana for many years before becoming homeless.
But in the past couple of years, Gonzalez-Zuniga said she's noticed something: a spike in younger people who are addicted and who speak English as their first language — a sign they got hooked on drugs in the US. Some have been deported by immigration officials; others have moved voluntarily to Tijuana, lured by the promise of a cheap fix.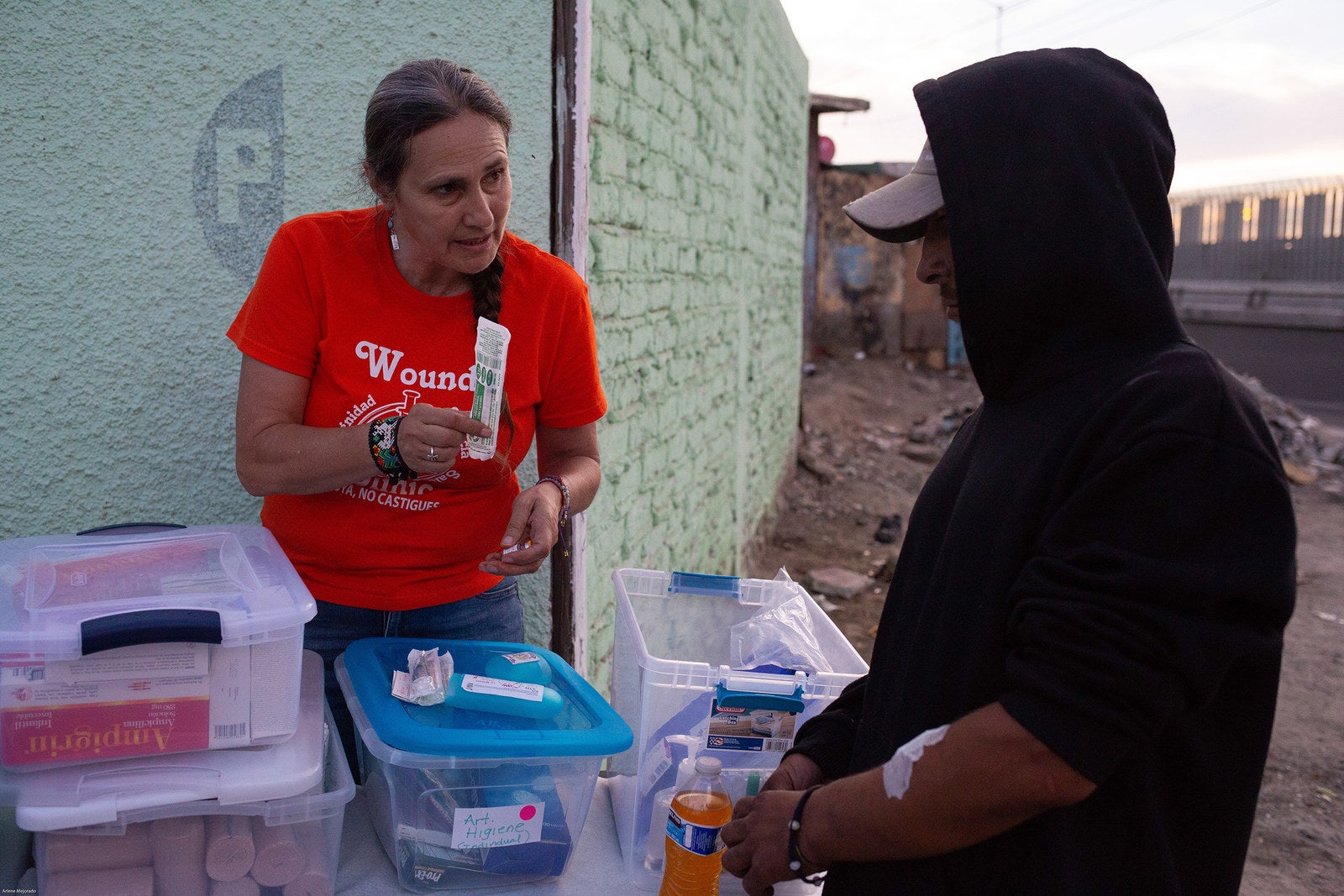 "Now we're seeing the recently deported. They're recently new to the city; they don't know where to go," Gonzalez-Zuniga said.
"Those persons are more vulnerable, because they've become kind of lost in this jungle," she added.
The need is clear. Even before Gonzalez-Zuniga had stepped out of her van, two men had appeared, seemingly out of nowhere. Their skin was discolored, a result of exposure to the sun, vehicle exhaust, and veins so ravaged by drugs they no longer supply enough oxygen.
She smiled and motioned at them to come closer. Gonzalez-Zuniga handed each a water bottle filled with Gatorade and asked them to sit down and tell her what was wrong. Giovanni, a rail-thin deportee, slowly lowered himself into a chair. He pulled his right pant leg up, exposing a dozen or more deep abscesses on the limb. Slipping between English and Spanish, he told Gonzalez-Zuniga he was in pain and having trouble walking. Later, Gonzalez-Zuniga would explain that abscesses are one of the most common problems her patients face, caused when they try to find a vein, any vein, that they can shoot into.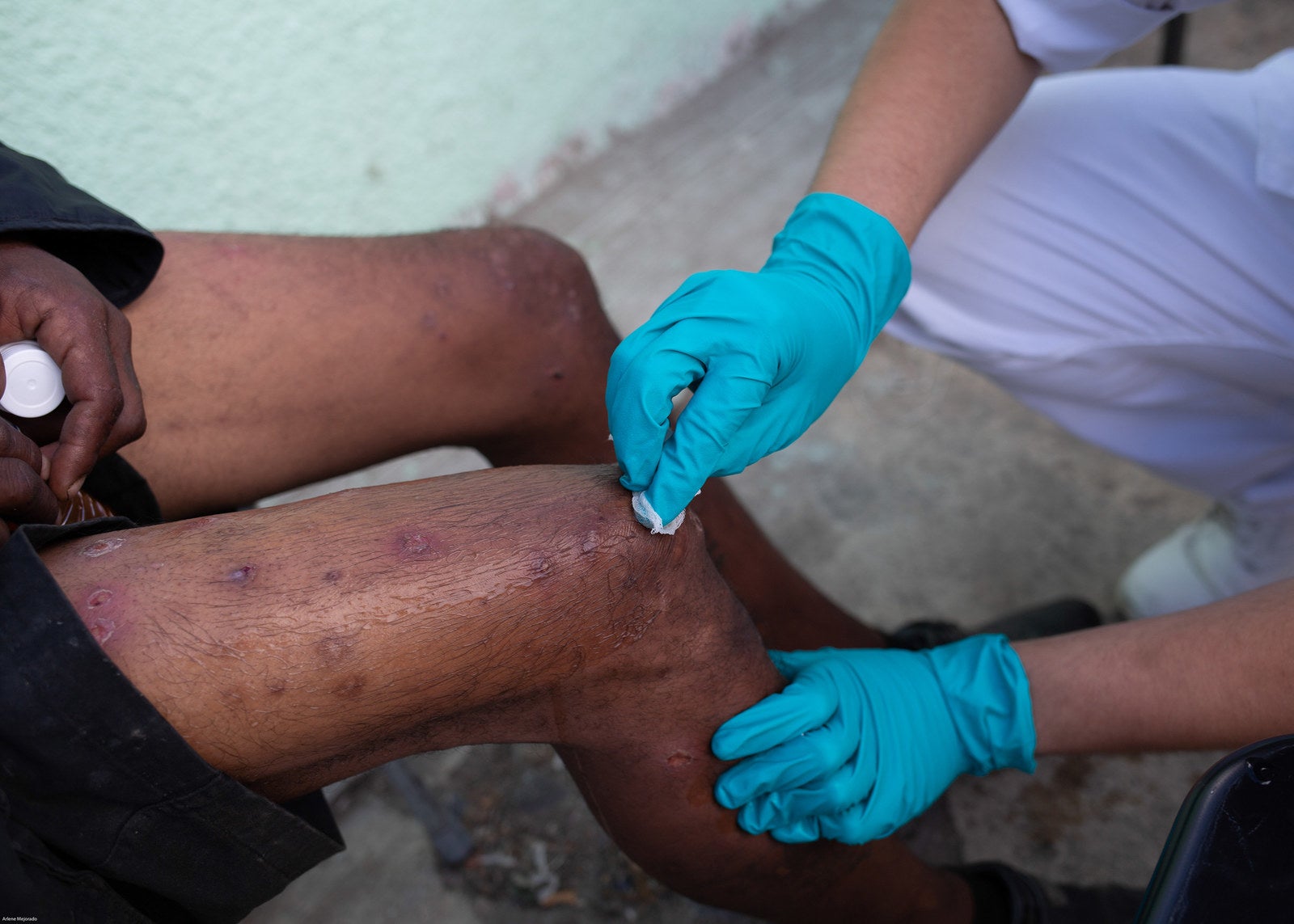 According to federal data analyzed by Syracuse University, since 2007 the Department of Homeland Security has deported more than 355,000 people to Tijuana, many of them long-term undocumented residents of the United States.
Because there are no statistics on the number of people in immigration detention suffering from addiction, it's hard to say how many of them were already struggling with substance abuse before being deported. But human rights activists and immigration attorneys say it's a common problem, particularly since undocumented immigrants often end up in detention after being arrested for offenses connected to drug use or abuse: driving under the influence, drug dealing, possession of drugs, or robbery.
And while the Bureau of Prisons says it provides treatment services to detainees, undocumented immigrants say they're left out. "Normally BOP has lots of programming … but not for them," said Grace Meng, an immigration lawyer and senior researcher with Human Rights Watch who's studied the health services in immigration detention centers.
"Those persons are more vulnerable, because they've become kind of lost in this jungle."
According to Meng, detainees housed in facilities operated by the Bureau of Prisons can access some treatment, but the vast majority of people being held on immigration charges end up in private prisons that do not provide drug treatment programs. Meng said the same goes for the scores of immigration detention centers run by the Department of Homeland Security.
But while getting help in detention may be difficult or impossible, getting drugs is not.
As a result, every year thousands of people struggling with addiction are being sent across the border to Tijuana, where they end up living on the streets, in sewer tunnels, and in shanties. And that's led to an ever-growing public health and humanitarian crisis in the city, Gonzalez-Zuniga said.
"There's not enough food, there's not enough shelters, there's not enough hospitals. I mean, one public hospital, for the whole entire city? It's crazy," she said. And while the Mexican government needs to do more to deal with the problem, so does the US. "It's very irresponsible to deport a patient … if they know they're going to be deported to Tijuana without help here," she said.
Given President Trump's hostility toward Mexico, help probably isn't coming anytime soon. But what is coming are more and more young American tourists looking for a cheap high just over the border.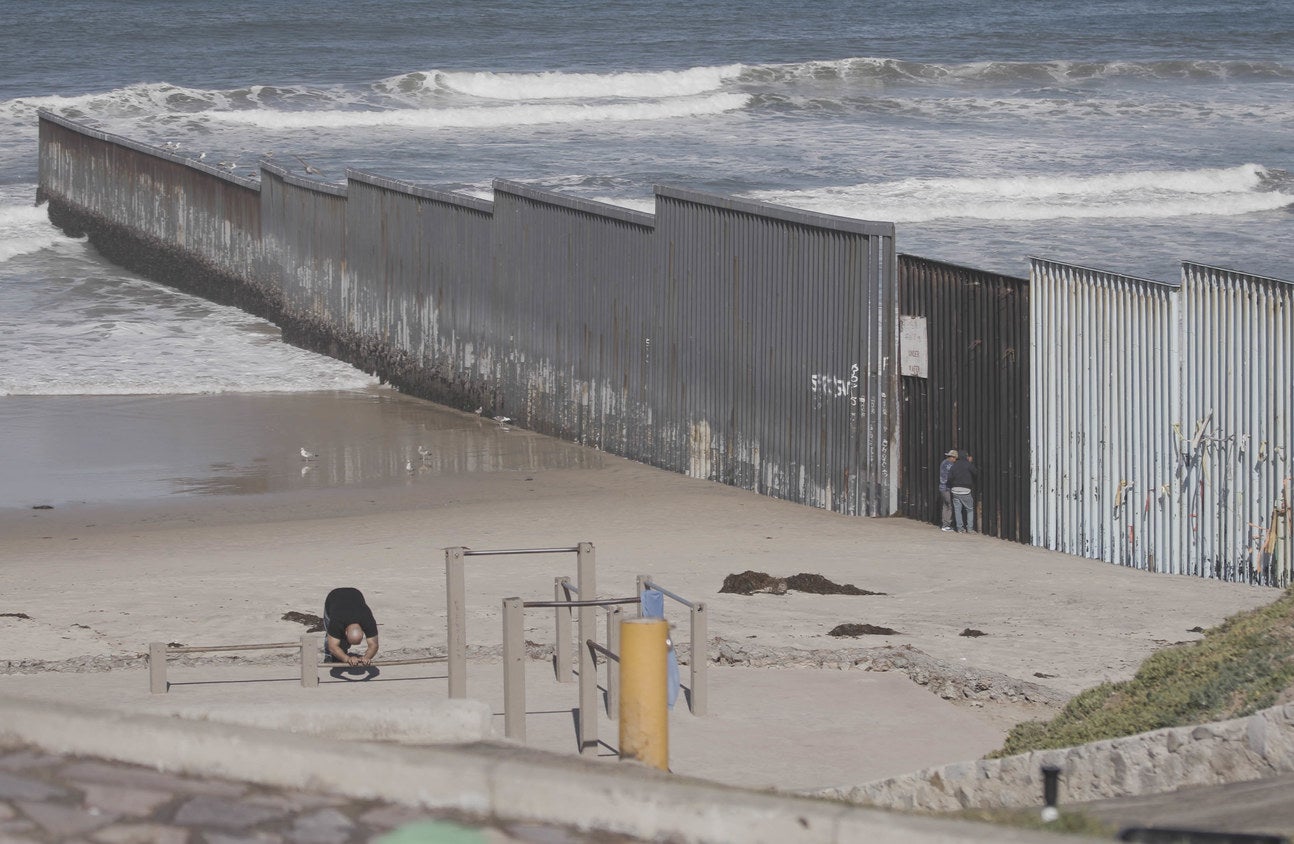 For decades, US residents have treated Tijuana, Juárez, and other border towns as playgrounds where they can indulge in illegal or frowned-upon vices while getting a funny picture taken with a donkey painted like a zebra.
And while sex had always been the biggest draw for these sorts of tourists, public health researchers say in the last five years there's been a steadily growing number of people from the US looking to get high.
While there are no hard numbers on how many people cross the border every day to buy drugs, there's evidence to suggest it's significant. According to data collected by researchers at the University of California, San Diego, a fifth of Tijuana locals who inject drugs reported sharing drugs with visitors from the US, with 70% of those saying they'd shared some sort of injection paraphernalia. The situation leads to obvious public health concerns, ranging from increased chances of spreading HIV through the sharing of needles to fueling an underground economy that is laying waste to the lives of Tijuana's poorest residents.
What is coming are more and more young American tourists looking for a cheap high just over the border.
The boom in drug tourism in Mexican border towns like Tijuana has been fed by a perfect storm of circumstances. In the mid-2000s, Mexico was in the midst of a years-long war between rival drug cartels that left tens of thousands dead and missing. Arrests for drug possession were taxing the country's already dilapidated prison system, and in 2009 the country decriminalized possession of small quantities of drugs.
At the same time that Mexico was struggling with its own drug crisis, the opioid epidemic was blooming in the United States. While heroin has long been a scourge in poor and minority communities in the US, by the late 2000s, the widespread availability of Oxycontin and other prescription drugs was fueling huge rates of addiction in suburban, white enclaves across the country.
Predictably, that spurred politicians to act. More stringent controls were placed on prescription drugs, and communities across the country launched increasingly hardline law enforcement operations aimed at stemming the flow of illegal pills and heroin. It was only a matter of time before Americans addicted to these drugs started heading to Tijuana and other border towns, where decriminalization meant US tourists no longer needed to worry about spending the night in a Mexican jail for copping a fix.
"Pharmacies are, you know, open," Gonzalez-Zuniga said with an ironic laugh. "And they're thinking they'll get what they need over here."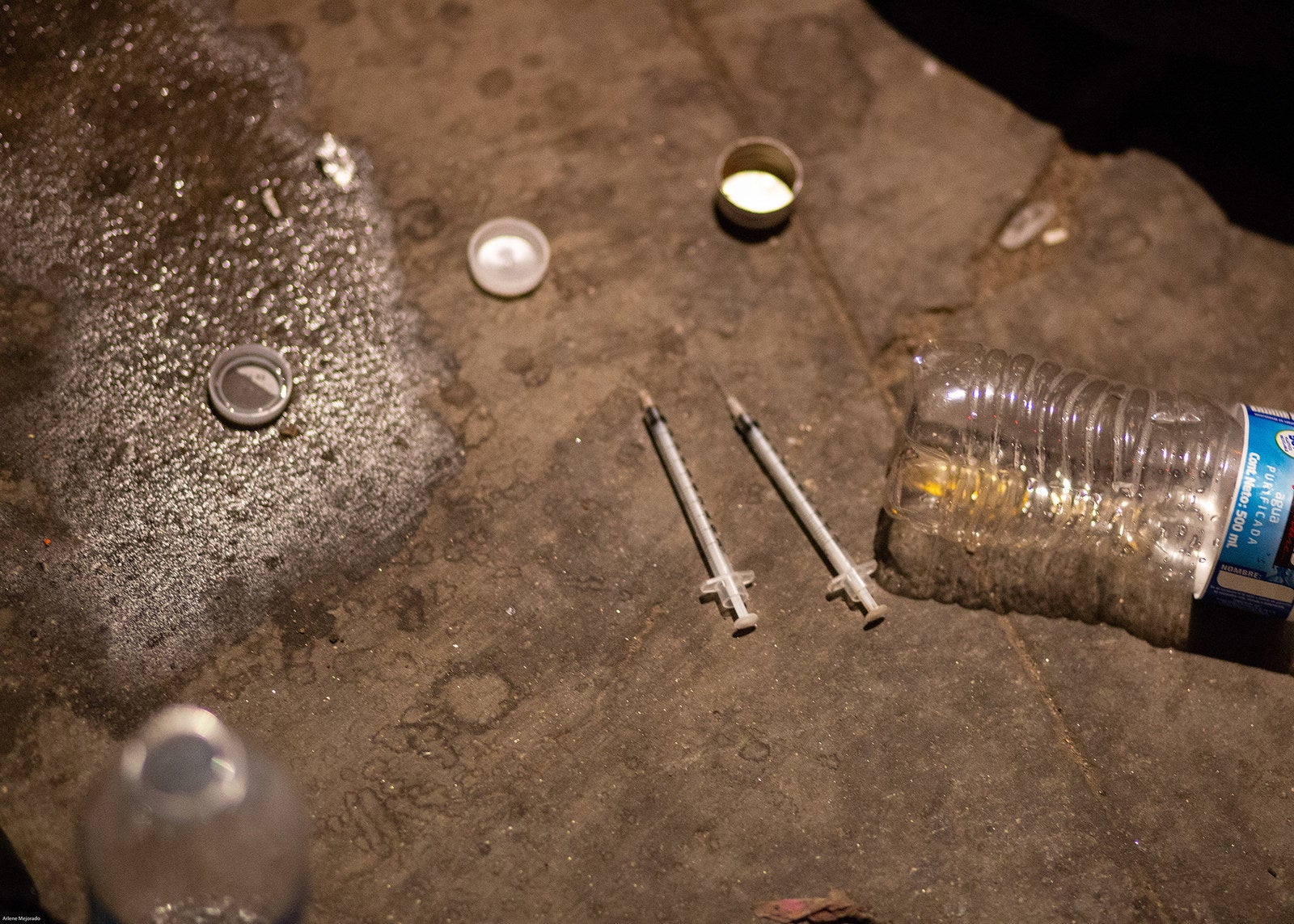 Indeed, it's as easy to buy a 20 peso ball of heroin as it is to buy Viagra, one of the most popular legal products that lure American drug-seekers to Tijuana. If you have any sort of income, gone are the days of dealing with street hustlers ushering you into a dark alley for a nervous exchange of money for drugs. Over the last several years, a number of bars and clubs have opened that cater to a young, hip US and Mexican clientele, where bartenders keep glass mason jars of drugs behind the bar. In one such spot off Tijuana's Avenida Revolucion on an April work night, the bartender did a better trade in bags of heroin, cocaine, and weed than she did in beer or shots of cheap tequila.
"They're thinking they'll get what they need over here."
The transactions were as mundane as they were frequent: A young Mexican or American would walk in, often trailed by a more timid group of friends. Spotting them standing nervously in the door, the bartender would suspend her conversation with friends and, between drags of her cigarette, greet them. After a few seconds of discussion about what she had available, the client would pass a few pesos over the bar. Satisfied with the payment, the bartender would fish out a tiny bag or two from the appropriate jar and hand them over, retreating back into her conversation as the buyers slipped into the street.
With the US continuing to treat addiction as a criminal rather than health issue and Tijuana officials eager for tourist money, Gonzalez-Zuniga said she worries whether either side has the will to fix the problem.
"Everyone is promoting Tijuana as a tourism place. They're promoting medical tourism, dental tourism, hotels, a lot of wineries. So that attracts a lot more people, and they think that they're more free here. And that's true, if you have money," she said. ●