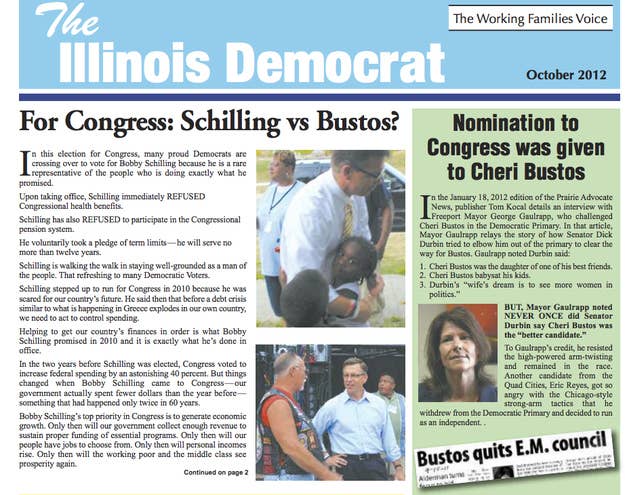 WASHINGTON, DC — Illinois Rep. Bobby Schilling may have hitched his wagon to the Tea Party to help power his insurgent Republican campaign for the House in 2010, but as his first reelection bid comes to a close, he's taking a decidedly different tack, courting Democrats and touting his independent streak.
Indeed, if his latest mailer to voters, framed as an ersatz news publication called The Illinois Democrat, is any indication, capturing the votes of Democrats is a clear priority.
"In this election, many proud Democrats are crossing over to vote for Bobby Schilling," says the first "article" in the 16-page campaign pitch.
The mailer touts Schilling's opposition to House Republican leadership during his freshman term in Congress; highlights the fact that was a member of a union; and touts his support for decidedly Democratic issues like transportation and infrastructure spending.
Schilling also pushes his ability to work with Democrats, with "Bobby Schilling — Right in the Middle" in bright purple lettering printed on one page, while at another point the mailer describes him as "Congressman Bobby Schilling — A Voice for Working Families."
The mailer even includes several pictures of Schilling with local NAACP leaders.
It's a marked contrast from Schilling's 2010 election, when he was swept into office as part of the Tea Party wave.
His campaign's Facebook page from 2009 and 2010 includes repeated entries about his participation in state and local Tea Party rallies, and his wife wrote for a Quincy, Illinois–based Tea Party blog.
The campaign made a point to highlight his support from conservatives, including endorsements from groups like the Illinois Federation for Right to Life and Glenn Beck's 9-12 Candidates effort.
On policy issues, he leaned heavily on his opposition to climate change legislation then before the House.
And while Schilling is now touting his ability to cross party lines and forge compromises with Democrats, in 2009 he took a decidedly harder position, telling a crowd in Galesville that "I was recruited by my family the day after the presidential election. My daughters were visually upset at the results and asked, 'What are we going to do?' I told my wife, Christie, that they were right, I had to do something. It was my time to step up and serve," according to a local news report.
Schilling's chief of staff, Terry Schilling, makes no apologies for his father's decision to tout his Democratic past.
"Bobby Schilling has working class roots," the younger Schilling said, not that he "has 13 years experience of being a union member — including time as a union steward for the International Paper Workers and as a recording treasurer for the United Food and Commercial Workers. "
And his record during his first term in Congress has been anything but hyper-partisan. Schilling has a 57% rating voting record from the conservative Heritage Foundation, and he supports Davis-Bacon rules governing federal contracts and the hiring of union workers. He's even been honored by the bipartisan organization No Labels, according to his campaign.
An Illinois Republican described Schilling as a "typical center-right guy," noting that "on labor issues [he] supports unions but on fiscal issues [he] wants a balanced budget."
Schilling's shift to the middle is not uncommon this year — from Mitt Romney on down the ticket, Republicans have been moving increasingly away from the Tea Party and ideologically strict conservatives for weeks as they look to tap into pools of independent and conservative Democratic voters.
And for Schilling, the decision makes sense. His district went for Obama with 60% of the vote in 2008; redistricting has meant that nearly 50% of the voters in his district are new — many of them Democrats.
And while Hare was a supporter of Obama, his strong support for the president's health care reforms had significantly hurt his popularity.
But in Democratic challenger Cheri Bustos, Schilling is facing a much more difficult candidate. National Democrats have hoped his district would swing back to their column this year, and Bustos has strong support from state leaders, including Majority Whip Dick Durbin, who she has known personally for years.
All of that has forced Schilling to make a much more aggressive case for Democrats than he may have had in the past.
"The reason we decided to target Democrats in our district is because the contrast between the two candidates is incredible," Terry Schilling said.