Obama Faces Questions On Drones, Immigration At Lunch With Democrats
"Better late than never," Sen. Max Baucus says of the president's charm offensive.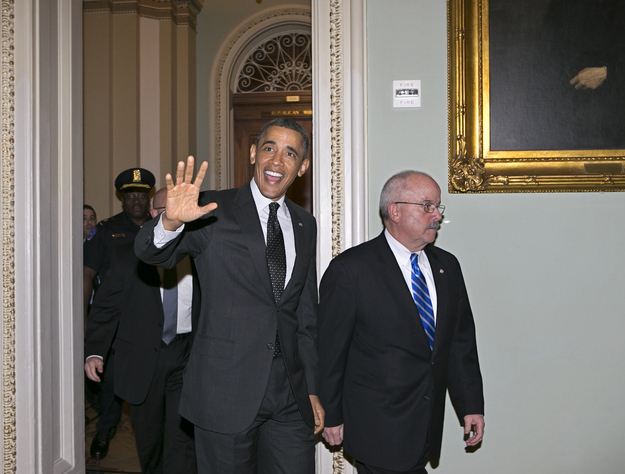 WASHINGTON — President Barack Obama swept into the Senate Tuesday to huddle with Senate Democrats, holding a discussion that ranged in subject from his drone policy to immigration reform.
The lunch, which is the first in a series on Capitol Hill this week as Obama tries to glamour members of Congress, didn't exactly wow Democrats.
"Better late than never," Sen. Max Baucus deadpanned following the lunch of Obama's charm offensive.
Asked before the lunch whether he was excited to see Obama, one Democrat sarcastically said, "Oh yeah, definitely."
And following the meeting, which lasted more than an hour, members gave polite, if sometimes confused, reviews.
"He's really reaching out to everybody, to each side of the aisle. He explained how he's reaching out to our Republican colleagues. It was great. It was very good," said Sen. Joe Manchin.
Manchin told reporters the meeting featured a variety of topics. "We went through the budget, we went through it all. Things that he's working on, things that we've got to do … Immigration was a big thing, gun control is something we're all concerned about. These are big issues."
Sen. Claire McCaskill argued the meeting showed just how united Democrats are — though she didn't want to get into specifics.
"We're trying to stay united unlike our friends on the other side," McCaskill said, adding, "I think we're getting pretty united."
But when asked what is dividing her conference, McCaskill said, "I'm not going to talk about that because I want us to get united first. And then we'll be united."
Obama is scheduled to meet with Senate Republicans and House Democrats tomorrow, neither of which are expected to be particularly difficult crowds. The big test of his offensive will come Thursday when he meets with House Republicans who have acted as a firewall against Obama's policy efforts for more than two years.
Correction: An earlier version of this article misstated Manchin's first name.