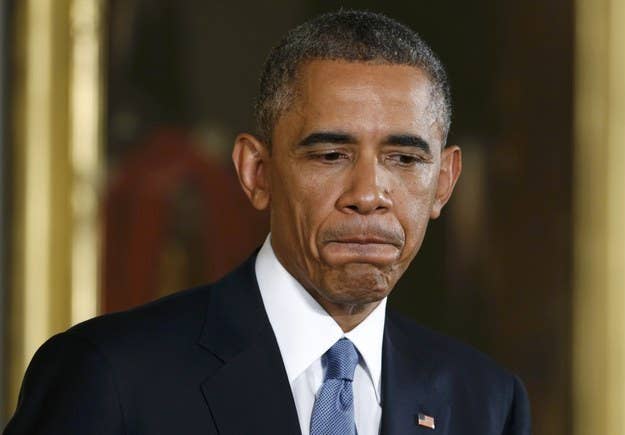 WASHINGTON — President Obama said Wednesday he will work with Congress to "update" his authorization to conduct the ongoing war with ISIS in Syria and Iraq.
Speaking to reporters during a post-election press conference, Obama listed updating the 2001 Authorized Use of Military Force — a sweeping, 60-word law that has been used to launch attacks against terrorists in Somalia, Yemen, Afghanistan, and other parts of the world.
Obama said he would "begin engaging Congress over a new authorization to use military force against ISIL. The world needs to know we are united in this effort and the men and women of the military deserve our clear and unified support."
Obama said he would discuss the AUMF vote with Republican and Democratic leaders during a meeting at the White House Friday. But while a bipartisan group of House and Senate lawmakers have begun pushing for a new, limited AUMF, Obama indicated he may simply be looking for an update to the existing 2001 law. "The idea is to right size and update whatever authorization Congress provides to suit the current fight, rather than previous fights. In 2001 … we had a very specific set of missions we had to conduct, and the AUMF was designed to pursue those missions."
"We now have a different type of enemy, the strategy is different, how we partner with Iraq and other gulf countries and the international coalition, that has to be structured differently. So it makes sense that the authorization from Congress reflects what we perceive to be not just our strategy over the next two or three months, but our strategy going forward," Obama said.
Obama's comments came as Democratic Rep. Adam Schiff, a member of the House Intelligence Committee and one of the leading voices pushing for a new AUMF, called on Speaker John Boehner pass a new authorization before adjourning for the year.
In a letter to Boehner, Schiff argued that while the threat of ISIS is significant enough to warrant military force, "no president has the power to commit the nation's sons and daughters to war without authorization from Congress. This is not a decision that can or should wait until 2015; this action was begun during the sitting of the 113th Congress and it [sic] well within our ability to authorize it properly before adjourning."
It remains unclear, however, whether Congress will tackle the issue during the upcoming lame duck session. GOP leaders have thus far been cool to the idea of passing a bill this year, and Obama left the door open to waiting until 2015, telling reporters the work that will begin Friday "may be just a process of us getting it started now. It may carry over into the next Congress."
A further complicating factor could be a reluctance to vote on an authorization of the handful of Republicans in the Senate and House who are considering a 2016 presidential run. Voting for the authorization would mean lawmakers would have ownership over the war against ISIS, and if that fight devolves into a new land campaign in Iraq or Syria, that vote could prove to be a campaign liability.