Nobody In Congress Thinks They Can Fix The Voting Rights Act
Plagued by dysfunction, Republicans and Democrats alike admit little will be done to fix the landmark civil rights law.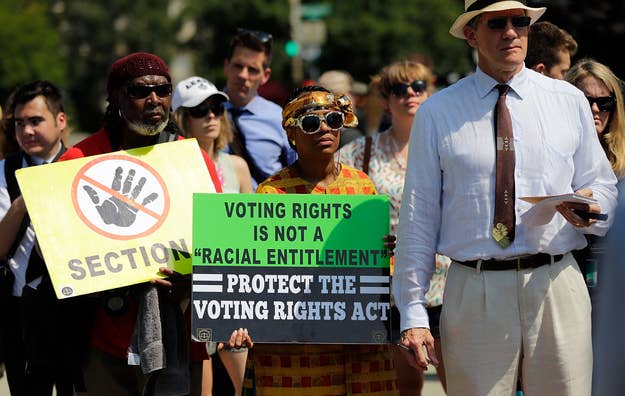 WASHINGTON — The Supreme Court may have tasked Congress with fixing key provisions of the Voting Rights Act Tuesday, but civil rights activists and voters throughout the country shouldn't hold their breath: Interviews with a range of lawmakers in the wake of the decision suggest it's unlikely any changes to the law will come soon.
In a 5-4 decision Tuesday, the court struck a blow to the heart of the Voting Rights Act by ending, at least for now, a requirement that certain parts of the country get advance federal approval before changing local voting laws, in pursuit of protecting the rights of minority voters. The court found that the law was based on an outdated formula and shifted the burden to Congress to come up with a new way to determine which areas should be subject to "preclearance" from federal judges or the Justice Department.
But lawmakers Tuesday were not optimistic that Congress, weighed down by dysfunction in recent years and unable to complete even the most routine legislative tasks, would be able to address the issue in the near future.
Asked if Congress' dysfunction makes it unlikely a fix will be made in the next two years, Senate Majority Whip Dick Durbin, an Illinois Democrat, said, "Of course it does," and sought to lay the blame at the feet of House Republicans.
"The reality of the Congress today is a House of Representatives that cannot pass a farm bill, that has been unwilling to take up a [water infrastructure bill] with 80 votes [in the Senate] … is an indication that they are not prepared to face some of the challenges that we are facing in this country," he said.
Senate Minority Whip John Cornyn, R-Texas, similarly acknowledged it could be difficult, regardless of interest in fixing the law.
Asked if congressional gridlock could make it impossible, Cornyn said, "Is this a trick question? I don't know the answer to that. I would think there will be widespread interest in making sure the Voting Rights Act is updated and available for its intended purpose, so I'd hope so … I think we'll give it the old college try."
He added, "Perhaps Congress ought to declare victory, say the Voting Rights Act worked and update the formula to reflect the current reality."
Senior Republican aides in both chambers said dealing with the Voting Rights Act is unlikely anytime soon. Asked what's more likely, the voting rights act being addressed by Congress this year or next, or the start of the end times, one House Republican aide said simply "the latter," while a colleague quipped "Likeliest: Al Sharpton and Jesse Helms press conference to outline new Voting Rights Act."
A Senate Republican leadership aide pointed out that the court's ruling was hardly a surprise and that Democrats have made no preparations to address the likely decision — which, for Republicans, raises questions about their seriousness.
"If Democrats plan to raise the issue, they sure have a funny way of showing it. Nobody's heard the slightest peep out of them in the lead-up to this decision. If they decide to raise the issue now a lot of people will assume it's a head fake to assuage their base," the leadership aide said, arguing that, "They've used the same trick on guns — lead your base to believe you're serious about doing something, but don't actually do anything."
Democrats and Republicans began drawing battle lines over the ruling almost immediately Tuesday morning, with Republicans largely praising the decision and Democrats denouncing it.
"Today's Supreme Court's ruling invalidating the preclearance requirements contained within the Voting Rights Act is a win for fairness, South Carolina, and the rule of law. The preclearance requirement forced South Carolina to spend millions of dollars to defend a photo identification requirement for voting that had already been ruled constitutional by the U.S. Supreme Court," South Carolina Republican Rep. Jeff Duncan said in a statement. "The court's ruling will hopefully end the practice of treating states differently and recognizes that we live in 2013, not the 1960s."
Meanwhile, Senate Judiciary Chairman Patrick Leahy decried the ruling, pointing to a series of previous Supreme Court rulings and congressional reauthorizations of the law as proof that it is valid. "Despite this sound record, and the weight of history, a narrow majority has decided today to substitute its own judgment over the exhaustive legislative findings of Congress. As chairman of the Judiciary Committee, I intend to take immediate action to ensure that we will have a strong and reconstituted Voting Rights Act that protects against racial discrimination in voting," Leahy said in a statement.
House Minority Whip Steny Hoyer told reporters Tuesday that Congress must act, regardless of how difficult that may be.
"It's incumbent upon the leadership for the House and Senate to come together. I think it can be done, should be done, and is what's practical to be done," Hoyer said.
But the Maryland Democrat acknowledged that, "Congress has not been very able to act in a bipartisan fashion. That's unfortunate because as recently as 2006 we acted in a very bipartisan fashion [on the Voting Rights Act] and I hope we can back to that again."
"It's not going to be easy but I think it is in [Republican's] best interest on a bigger picture, just like immigration. Whether it's in the individual interest to each member of Congress that's a different thing. We're sent here to promote the interest of our country," Hoyer added.