No, Congressman, You Probably Won't Lose Your Job For Voting For Immigration Reform
The threat of looming conservative primary challenges has kept scores of Republicans away from compromising on immigration and other issues. But it's a myth.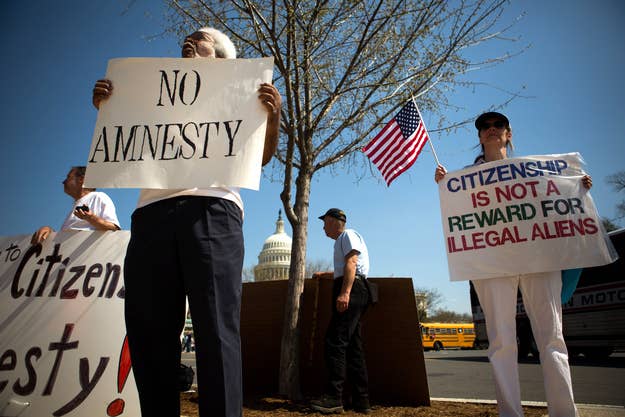 WASHINGTON — Conservatives in Congress have been actively opposing immigration reform in recent months, citing a fear that well-funded primary challengers will take them on if they compromise on the issue — a line of reasoning that has crystalized into conventional wisdom in Washington.
But interviews with operatives, campaign aides, and activists from groups like the Club for Growth and Heritage Action, as well as a review of recent election data, suggests the likelihood of Republicans facing serious primary challenges is not only overstated but probably won't have much of anything to do with immigration.
"We don't care about immigration reform," said Club for Growth spokesman Barney Keller with a chuckle, explaining his organization remains solely focused on "economic issues … [and] pro-growth policies."
As for Heritage Action, the one major group that is involved in the immigration fight, they're not expected to spend any money in the 2014 primary cycle.
"That certainly hasn't been our game in the past," said Dan Holler, a spokesman for Heritage Action. In fact, Holler said the group has no plans to play an active role in GOP primaries next year either and will instead continue to focus on hounding lawmakers on a daily basis here in Washington — a strategy that has paid off in spades for the organization.
But the reality that threats of coordinated, well-funded primary challenges to wayward Republicans is a myth doesn't seem to make much of difference to Republicans.
"All these members are afraid of the Club" and other conservative groups who they worry will spend big to oust them next year, a veteran Republican campaign aide said bluntly, pointing to the willingness of Republicans to openly defy their party leadership and side with activists on immigration, the farm bill, and a pending debt ceiling fight.
A veteran Democratic operative says much of the angst on the Republican side stems from the Club's stunning defeat of former Sen. Bob Bennett in his 2010 primary.
"After you saw what happened to Bennett, everyone is running scared, regardless of the validity of that fear … they're not very good at threat assessment," the operative said.
The raw data, in fact, suggests that Republican primaries are rarely a major problem for incumbents in the House.
Since 2006, only nine Republicans have lost primary challenges in which they were not running against another sitting Republican. Over that period, dozens more members have retired or resigned, but aides and conservatives alike said only a few, such as former Rep. Geoff Davis, stepped aside rather than face a primary. For most, it was a simple question of fatigue, age, financial opportunity, or having been redistricted out of office.
And in those cases in which outside organizations became involved, even fewer actually were ousted. The Club for Growth — the most feared outside group participating in GOP primaries — has backed only two since 2006: Rep. Tim Walberg's defeat of former Rep. Joe Schwarz in 2006 and Rep. Andy Harris' defeat of Wayne Gilchrest in 2008.
In 2012, the Club spent more than $600,000 on primaries in Arizona and Michigan according to data collected by Republicans. The incumbents survived all those challenges.
"Of the incumbents who lost, the Club for Growth didn't spend a dime in those races," the campaign aide said, noting that even those lawmakers the group supports don't always see infusions of cash — even when they're facing tough races. "Even their poster child [Rep.] Steve King, they didn't spend a dime to help him and he was facing a difficult race."
Republicans expressed frustration at the outsized influence vague threats of primary challenges have had on elected officials, particularly in the House. "Where's the money?" one GOP aide said of the threatened electoral punishment wayward Republicans will feel.
In fact, neither the Club for Growth or Heritage Action seem all that concerned with wins and losses — or spending tens of millions on primaries.
Holler did acknowledge that their scorecard can play a tangential role in a primary, however. "There's certainly an element of having to go back home and answer questions about votes," he said.
Still, for Heritage Action it's policy outcome — and not the primary — that matters. "We call that accountability and sometimes accountability is uncomfortable for some people," Holler said.
And then there's the Club For Growth.
"We're actually willing to get involved in Republican primaries, which very few groups will do," Keller said.
In fact, the Club has already come out against Idaho Rep. Mike Simpson, and more primary endorsements are likely.
But even still, the Club isn't waging a nationwide campaign to oust the scores of Republicans it doesn't see eye to eye with on policy issues.
"We only get involved in 15 to 20 races a year … we want our impact to be felt in the race." Whether the spending is felt or not is debatable, but its impact on Capitol Hill is undeniable. "We don't really care about winning races … there's a ripple effect to what we do," Keller said, pointing to the policy wins the group's efforts have translated into over the years.
And the Club's efforts have definitely gotten the attention of traditional Republicans. The Main Street Advocacy Fund — a moderate Republican group run by former Rep. Steve LaTourette — announced a plan to match the Club's spending dollar for dollar in defense of incumbent Republicans.
"The Club for Growth is a cancer on the Republican Party that prides itself on supporting rigid, divisive and obstructionist candidates," LaTourette said in a statement.
From the embarrassing struggles Speaker John Boehner had this winter in addressing the fiscal cliff, to the collapse of a comprehensive farm bill this summer, the Club, Heritage Action, and others have a had a clear and lasting impact on how the Republican conference operates.
"The whole goal is not to win every single race. It's to pass pro-growth policies," Keller said.
Correction: The Club for Growth spent $716,000 on open primaries in North Carolina and North Dakota during the 2012 election cycle. An earlier version of this article misstated the group's spending.