New Violence Prompts Criticism Of Anti-Muslim Lawmakers
Michele Bachmann and her allies warned of Muslims in government. She's "adding gasoline to the fire" says Rep. Carson.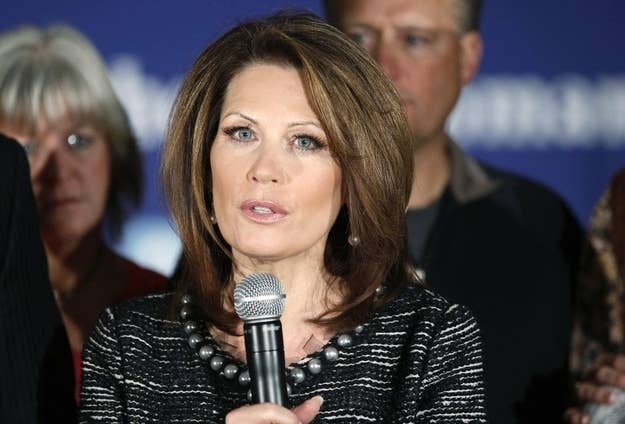 WASHINGTON, D.C. — Sunday's terror attack on a Sikh temple in Wisconsin has prompted some civil rights leaders and members of Congress to say aloud what has long been whispered on Capitol Hill: That the words and conspiracy theories of some of the most anti-Muslim legislators have grown dangerous.
No one has suggested any direct ties between the statements of lawmakers like Rep. Michele Bachmann and the attack on Sunday, which left six victims dead and several others injured. Indeed, the attacker, Wade Michael Page, had longstanding ties to white supremacist groups and deep roots in the racist fringe.
But voices, including those of her colleagues and leading civil rights figures, said the shooting — and a suspected arson attack at a Joplin, Missouri mosque that has previously be the target of anti-Muslim violence — added an urgency to Republican leaders' efforts to tone down the rhetoric of lawmakers like Bachmann and Reps. Louis Gohmert and Steve King.
Bachmann, Gohmert and King declined to comment for this story, as did the offices of GOP leaders in the House and Senate.
"I wouldn't go so far as to say that Bachmann's words contributed to this guy's actions, but an atmosphere that prejudices and denigrates a people and a faith tradition does make it easier," said Abraham Foxman, the longtime director of the anti-Defamation League, told BuzzFeed. "Loose language coming from people who have some standing does contribute to an atmosphere that legitimizes it."
Sikhs are not Muslims, though they have been frequent victims of anti-Muslim attacks since September 11, 2001, in part because Sikh men's traditional turbans make them look, to some, foreign.
And Bachmann's words have primarily targeted Muslims. She last month led a small cadre of Republicans in an effort to "expose" Muslim government works, including Hillary Clinton aide Huma Abedin, of having alleged (and unproven) ties to the Muslim Brotherhood.
That attack draw strong rebukes from top Republicans including Speaker John Boehner and Sen. John McCain. Bachmann, however, remained defiant, saying in a statement last month that she will "not be silent as this administration appeases our enemies."
The Wisconsin attacks and mosque burning have again raised the volume of the criticism.
Democratic Rep. Andre Carson, one of two Muslim members of Congress, told BuzzFeed Bachmann is "adding gasoline to the fire" with her campaign against Muslims in government.
The shooting and arson are "the latest examples of religious and ethnic intolerance and discrimination," he said, warning that "any elected official who sees themselves as a representative of the people needs to be aware that the American people are not monolithic" and that politicians have responsibility to represent "all of their constituents."
"We have to be fully aware that the kind of … rhetoric and vitriol and political pageantry that seems to be normal in politics has to cease," Carson added.
The attacks – and calls for a cooling of the nation's political rhetoric – come on the heels of comments by House Majority Leader Eric Cantor on the topic of tolerance in a July interview with Buzzfeed.
Cantor argued that from a "cultural standpoint" Americans need to be more accepting of other people and views.
"We need to be promoting tolerance and, you know, as someone who is a religious minority, I sort of grew up with having that mindset, knowing full well that I am in a very distinct way from a religious background, separate and apart from the mainstream of this country," Cantor said.
Muslim civil rights leaders also blame some elected Congressional Republicans and other political leaders for aspects of the climate.
"These are incidents that are happening because of the culture of fear and this culture of violence," said Abed Ayoub, legal director of the American-Arab Anti-Discrimination Committee.
Statistics on religiously or ethnic motivated attacks are tricky – the FBI says that in 2010 there were more than 2000 attacks motivated by religious or ethnic hatred.
But advocates say those numbers are misleading: many ethnic communities, particularly those with significant populations of illegal aliens, are loathe to report violence of any kind, and activists say thousands of smaller acts of intimidation and threats occur annually.
Ayoub said that while attacks on Arabs and Muslims spiked following the 9/11 terrorist attacks, between 2007 and the beginning of 2010 saw a significant decrease in attacks.
The controversy over the so-called "Ground Zero Mosque" erupted in 2010. Republicans and Democrats alike came out against the plan for a mosque near the site of the terrorist attacks, talk radio and cable news covered the controversy closely and Arab-American activists saw the number of attacks once again rise.
"We have seen a significant increase … there's no question in our mind that the political rhetoric is contributing to this culture of hate and violence," Ayoub charged.
There is an "onus and responsibility for elected officials to stand against such rhetoric," Ayoub said Tuesday, arguing that "its up to the party itself and the leaders within the party to stand up and say 'enough.'"