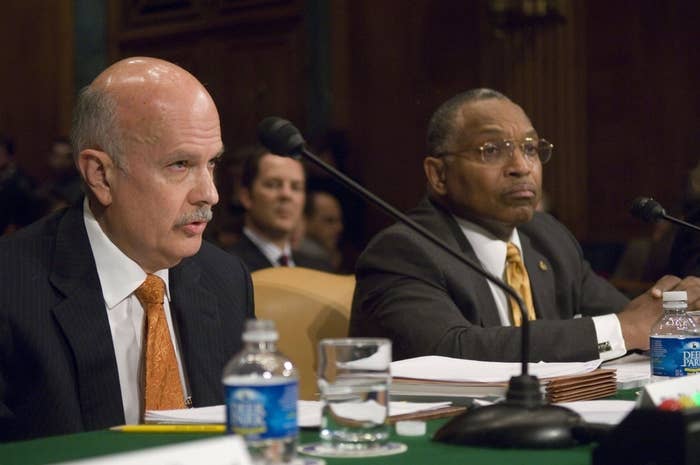 WASHINGTON — The chief judge of America's most powerful secret court is a 64-year-old man who has said his path toward the law began in part when he was stopped by police in the early 1960s simply for being black, and who once said he became a lawyer to "make an impact on the quality of life for people of color in this country."
Reggie Walton is the presiding judge of the Foreign Intelligence Surveillance Court, whose 11 members are appointed directly by the chief justice of the Supreme Court. Revelations of broad spying by the National Security Agency have drawn unusual attention to the Court, which The New York Times reported Sunday "has created a secret body of law giving the National Security Agency the power to amass vast collections of data."
Walton has not spoken publicly about his role and did not respond to an inquiry from BuzzFeed; people who know him spoke largely on the condition of anonymity. But in little-read interviews and in decisions, footnotes, and statements from the bench, Walton has offered clues at a worldview whose contours mirror the growing public comfort with an expansive role for law enforcement in Americans' lives. A judge who one former clerk described as "fair but harsh" in his sentences, he has shown a liberal streak on social policy from incarceration to drug crime, but has been dismissive of questions about the limits of executive power.
A 1993 interview with author Linn Washington paints a picture of a man who views the law and government as having a sweeping role in creating "social change."
As a district court judge in Washington, D.C., Walton has been a part of some of the most high-profile cases in recent history, including the Roger Clemens steroid case and the leak case against Scooter Libby — an experience that left a mark on the former Democrat.
"I saw how mean-spirited people can be," he told George Vecsey in 2011, complaining that "the liberal establishment" attacked him "because I am a Bush appointee and a registered Republican." (Walton hasn't spoken publicly about his political conversion; he said in the 1993 interview that he was a Republican when President Ronald Reagan appointed him to the Superior Court of the District of Columbia, a federal seat, in 1981.)
The Clemens case aside, Walton generally avoided controversy despite presiding over high-profile cases. His 2001 nomination hearing was so unremarkable, Judiciary Chairman Patrick Leahy held it during the August congressional recess and spent most of it slamming Republican critics of his confirmation schedule.
He has drawn little notice for his role in shaping the nation's secret law — even his Wikipedia page barely mentions the Foreign Intelligence Surveillance Court. But since his appointment to the court in 2007, the FISA Court has dramatically expanded the ability of the federal government to use controversial techniques to gather intelligence on Americans both at home and abroad that have outraged civil libertarians.
Walton serves as the court's public face to the very limited extent that it has one — typically, in low-grade sparring with Congress. Because the vast majority of the court's rulings are sealed, it is impossible to know which rulings expanding NSA's authority Walton has written. But it is clear that during his time on the court those powers have increased significantly.
That comfort with government power fits neatly with some elements of his career.
During his work as an assistant drug czar under President George H.W. Bush and later a presidential adviser, Walton aggressively pushed the administration to expand its work on social programs to stem the tide of drug abuse and poverty in minority communities. Having served on the D.C. Superior Court, Walton had a front-row seat for the crack wars that ravaged the nation's Capitol in the 1980s.
"I repeatedly stated my belief that efforts had to be made in the area of social programs. There was an aversion to social programs among the people in the drug office. They felt that you didn't need to address the problems of jobs or housing or education or the host of other social issues that I thought had to be addressed," Walton said in the 1993 interview.
Although there are obvious differences between the drug war and the war on terrorism, Walton's arguments for an expansion of efforts into extrajudicial areas belies a clear belief in an expansive view of the role of the federal government.
"There was always a problem with the administration's theory that local activities were principally the responsibility of local government," he said.
Walton has also taken an unsympathetic view toward complaints about the expansion of executive branch authorities during the Obama administration. For instance, in a footnote to his ruling dismissing former Rep. Dennis Kucinich's suit against Obama's decision to assist Libyan rebels, Walton wrote that, "While there may conceivably be some political benefit in suing the President and the Secretary of Defense, in light of shrinking judicial budgets, scarce judicial resources, and a heavy caseload, the Court finds it frustrating to expend time and effort adjudicating the relitigation of settled questions of law."
"The Court does not mean to imply that the judiciary should be anything but open and accommodating to all members of society, but is simply expressing its dismay that the plaintiffs are seemingly using the limited resources of this Court to achieve what appear to be purely political ends, when it should be clear to them that this Court is powerless to depart from clearly established precedent of the Supreme Court and the District of Columbia Circuit," he added.
Walton has also demonstrated something of an authoritarian streak. He is renowned for his tough criminal rulings. One former clerk, who spoke on condition of anonymity, said Walton was known as "a fair, but harsh judge especially on the criminal cases" whose punishments were normally at or near the maximum recommended under sentencing guidelines.
"I believe in punishment. I believe when people do wrong they should be punished. Unfortunately our system doesn't make people accountable to the extent that it should," Walton told Washington.
That posture is somewhat surprising given Walton's personal interactions with the legal system.
Walton was born in 1949 in a small Pennsylvania mining town, and the nation's difficulties with race have played a central role in his personal and professional lives. His mother had trouble finding work in their hometown of Donora, Pennsylvania, because she was black, and a young Walton found himself on the wrong side of the judge's bench on more than one occasion.
According to Walton, while "admittedly, on a couple of occasions, I wasn't falsely accused" of a crime, in a number of instances he was. Once as a youth, he was charged with a crime and, lacking enough money for a real lawyer, Walton was defended by a minister who "may have been a very good minister [but] he wasn't a very good lawyer, and as a result of that I ended up being convicted of an offense I did not commit."
On another occasion, Donora police "decided to stop every black male, and they stopped me indiscriminately, no predicate for the stop," as part of a delivery truck robbery investigation. Although the driver didn't finger Walton, the jurist says that and other similar instances "where I saw that the system wasn't totally fair to me, initiated my interest in the law."
Walton went to college across the state line at West Virginia State University, and got his law degree at American University in 1974.
"I entered the law because I saw it as a way for social change. I saw it as a way of trying to make an impact on the quality of life for people of color in this country," Walton told Washington. Before a brief stint as a federal prosecutor, he was a public defender in Philadelphia.
He continues, according to his official biography, to serve as a Big Brother "and frequently speaks at schools throughout the Washington Metropolitan area concerning drugs, crime, and personal responsibility."
And while Walton is generally seen as sympathetic to prosecutors, he also has a maverick streak that, people who know him said, doesn't quite fit the perception that the FISA court under Walton has been pushed around by the NSA or administration lawyers.
Walton has demonstrated a willingness to push back against what he believes to be bad policy or illegal efforts by law enforcement. In his interview with Washington, Walton recounted an incident during his time as a public defender in Philadelphia. While representing a client, he caught a judge attempting to circumvent double jeopardy.
"I said, 'Well, your honor, there is such a thing as the Constitution, and the Constitution bars a person from being placed in jeopardy twice,'" Walton recalled, noting that despite multiple warnings by the judge to not "cite that Constitution to me again," he continued his objections — even when he was threatened with contempt charges.
His time in the Bush administration was at times similarly strained, as Walton pushed unsuccessfully for less of a focus on incarceration for drug offenders.
In the 1990s, Walton locked horns with the U.S. attorney's office in Washington, which he viewed as bending the rules in order to win cases.
"This win-at-all-costs attitude was spread in this jurisdiction by the head of the United States attorney's office," he said, "and I think his influence tainted many of the people who were trying cases here. In my opinion, it is vitally important that a standard of fairness come from the top and that everybody who works in the prosecutor's office understand that there is this standard."
"While yes, we have an obligation to vigorously prosecute people, we don't do it at all costs. … I think the game has to be played that way, and I think all too often prosecutors don't play it that way because of their zeal to get a conviction."
And those tendencies have continued through to this day, those who are familiar with Walton said.
"While I certainly have reservations about PRISM (and the FISA court in general), Judge Walton certainly does not strike me as the type who would rubber-stamp the DOJ's requests," Walton's former clerk said.
As for the question of transparency and greater public scrutiny of the court's activities, don't look for Walton to become a champion of openness.
In a March letter to Senate Intelligence Committee Chairman Diane Feinstein, Walton said that there are certain circumstances under which judges on his court can release their opinions and committed to ensuring they know of those opportunities. But Walton is clearly not going to push the boundaries of the classification process, bluntly warning that "I would not anticipate many such cases given the fact-intensive nature of [these] opinions."
With reporting by Jacob Fischler.