Meet One Of The Most Badass Reporters In Mexico
Despite the murder of dozens of journalists and constant intimidation from the police and drug cartels, Ciudad Juarez's reporters aren't backing down. "We don't have time to put on a hero's T-shirt. We have to do our work each and every day … and help our community overcome this," Martin Orquiz says.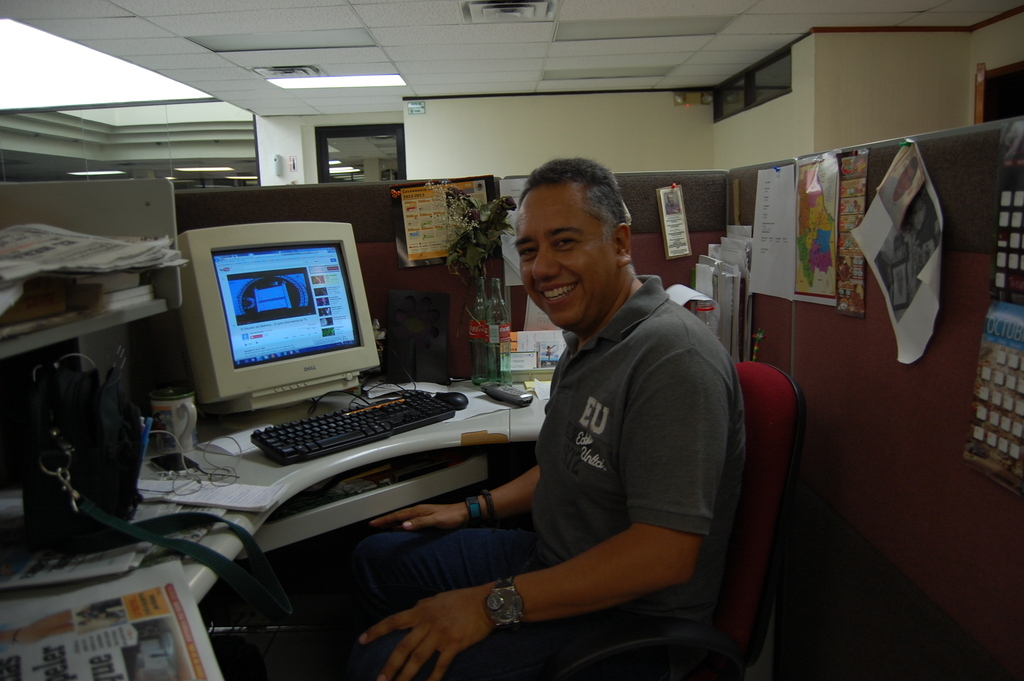 JUAREZ, Mexico — Martin Orquiz can recite the names of colleagues who have died or been injured in the line of duty by heart. He can provide the dates, the time, and details of their deaths as easily as he can tell you his own name.
But Orquiz, an affable, lifelong resident of this troubled border town, isn't a soldier, a policeman, or a member of a drug cartel.
He is a reporter covering crime and police corruption for El Diario in Juarez, one of the most dangerous cities in the world for journalists today.
"They threaten us, and say a lot of things. 'Don't publish that photograph,' 'don't publish that name' … if they decide to kill us, what can we do?" the veteran reporter said matter-of-factly. The threat comes from all sides in Juarez's enduring conflict — the police, the politicians, and the drug dealers themselves.
"It is terrifying. But we don't know that because this is our reality," he conceded, explaining he "realized it was important and dangerous when I [traveled to] other places. Because no one else does it."
Thanks to protracted wars between rival drug cartels along Mexico's northern border, violence, and lots of it, has been a regular part of life for the 1.5 million residents of Juarez for 20 years.
Since 2007 alone, more than 10,000 people have been murdered, and during the 1990s and much of the 2000s, hundreds of young women were brutally raped, tortured, mutilated, and murdered throughout the city.
Few of the perpetrators are ever caught: Police salaries are abysmal in Juarez and other border towns, meaning the police force is rife with corruption. Human rights violations by the police are commonplace, and many victims of crime are wary of reporting it to the police for fear of retribution.
Although murder rates have dropped dramatically in the past two years, Orquiz isn't convinced it will last. He remembers the last time when the murder rate dipped thanks to a lull in the drug wars, only to come roaring back.
"In 2007 it was really calm. We felt secure. But since then it's been hell," Orquiz said. "It's better in terms of killings, but we're still struggling with a lot of things."
For Orquiz and other Mexican reporters living and working along the border, the danger is very real.
Orquiz has lost two colleagues at El Diario in the past five years. Reporter Jose Armando Rodriguez was brutally gunned down one morning in 2008, as he sat in his car, preparing to go to work: His young daughter, who was not hurt in the attack, was seated in the passenger seat when the gunmen approached the car and opened fire. Luis Carlos Santiago, who at the time of his death was completing an internship with the paper before while on the path to becoming a full-time photographer, was gunned down two years later while sitting at an intersection. A second intern, Carlos Manuel Sánchez, was also injured in the attack. Sanchez not only survived but returned to the paper where he is now a full-time photographer.
Other border towns have suffered similar losses. In March, Jaime Guadalupe González Domíngue, a journalist in Ojinaga, a border town four hours southwest of Juarez, was murdered. The online news site he founded, Ojinaga Noticias, was shut down shortly after his death. The city of Torreón has also seen violence — several reporters from its local paper, El Siglo de Torreón, were abducted earlier this year by armed men.
The violence has caused some newspapers to change their coverage plans entirely. This spring, the newspaper El Periódico Zócalo, based in the city of Saltillo, announced it would no longer cover the drug trade or police corruption after it was the target of threats.
Gunmen have also attacked the offices of newspapers, television stations, and other news outlets, including the office of El Diario, which had shots fired at it in June.
Estimates on the number of journalists who have been killed in Mexico vary.
According to the Committee to Protect Journalists, 69 reporters have been killed under questionable circumstances in Mexico since 1992, the vast majority of those in the last 10 years as the drug war has ravaged the border region.
But according to a January report in the Texas Observer, government officials put that number much higher, finding that 67 reporters had been killed across Mexico since 2006 alone, while 14 others have disappeared.
Beyond the violence, journalists in the region live under constant threat — not just from nameless, faceless gunmen, but from their sources as well.
"I ran a story about a local prison and how they got drugs in" several years ago, Orquiz said when asked if he had ever been physically threatened. The story was the kind of blockbuster any journalist would love: Using interviews with current and former prison officials, inmates, and cartel sources, Orquiz had tracked in great detail the process for bringing drugs into the facility. Understandably, this upset both local officials and the cartels.
"A police informant of mine came to my house with eight or 10 guys" to discuss the story, Orquiz said. The policeman introduced him to a man. "I didn't know who he was … and he started asking me, 'How did you find about this?'"
Orquiz explained that he talked to lots of people for his story, careful not to give up much. Although the man never explicitly threatened him, the presence of so many men in his home got the message across: "They didn't threaten me, but I felt threatened."
Others at the paper, particularly female journalists, have been physically intimidated or threatened. "It's very hard, but we have to cope with it … [for] a lot of women, it's difficult because they're mothers," Orquiz said. Still, regardless of the danger to themselves and their families, these women continue to come to work day in and day out. "I admire them for that … I think they take a big risk, and they still do their job."
Beyond the threats of being targeted by cartels or corrupt police, nothing is easy about being a reporter in Juarez.
At the height of the violence, for instance, Orquiz and his colleagues found themselves frozen out of the police stations. "A lot of police see us as their enemies," he said, explaining that while police will often wait hours before arriving at a crime scene to make sure the shooting is over or it is not a trap being set to ambush them, reporters aren't generally as cautious.
"We very quickly get to the crime scenes … the citizens call us and tell us," he said, noting, "We arrive many, many times before the police."
"In those years, everything was closed, even the people. Because they were afraid," he said. Even police stations were officially off-limits to reporters. "We are banned from the police stations. Still we can't enter."
Unlike in the United States, where much of the information about criminal activities come from authorities, reporters in Juarez rely not only on the police and the community — but the drug traffickers themselves. "I realize they don't give me the information because they're good people," he said.
It's easy to forget that El Diario's reporters work in one of the most dangerous places on earth for journalists. The paper's low-slung office building is located in Juarez's bustling high-end business district. The wide street seems a world away from the city's slums and dusty downtown: Gleaming high rises, palatial hotels filled with foreign businessmen, and American-style malls and fast-food chains surround El Diario. In the newsroom, any reporter from New York or Chicago or Washington would feel at home among the rows of cubicles brimming with papers and editors yelling at reporters hustling the phones on deadline.
But the reminders of El Diario's losses — and the dangers the staff face — are everywhere. Two banners hang outside the paper's entrance demanding justice for Santiago and Rodriguez, the two gunned down reporters, and reporters' email signatures include similar pleas for justice. Pictures and other mementos of the two men decorate many of the reporters' desks.
Orquiz wants justice for his colleagues, but he doubts it will ever come. "I think the ones that killed them are probably dead already. Because those kind of people don't last five years," he said, adding that while there have long been rumors of various cartel figures or police officials being behind the murders, "nothing has been proven."
"But what I know is, it was because of the work they were doing."
Asked how he has been able to spend years, decades even, covering not only the daily brutality of violence in Juarez but also the constant threat to himself, Orquiz said simply, "It's my work. I began doing this a lot of years ago."
"A lot of people have asked me why don't I leave the work and the city," he said, explaining that in the past he had been offered help with relocating to the United States or someplace safer within Mexico. But he has refused.
"I think nobody has the right to push me out of my work, or my city, or my way of life. So I decided to stand. Many of my fellow reporters think the same."
When told that many people outside of Juarez see him and his colleagues as heroes, Orquiz shrugged sheepishly. "I think it's my job. We don't have time to put on a hero's T-shirt. We have to do our work each and every day … and help our community overcome this."