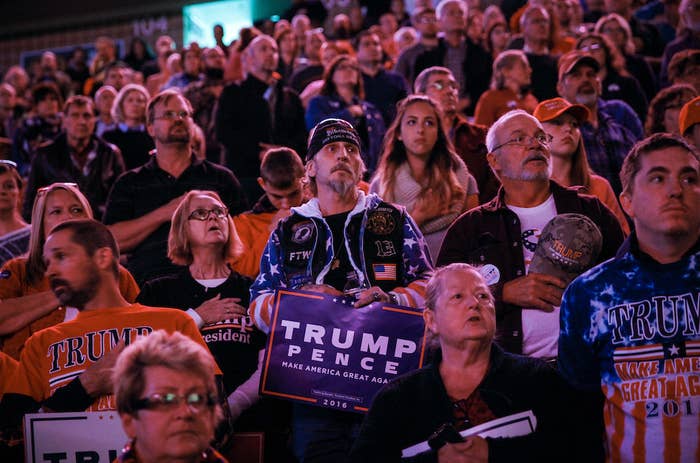 BANGOR, MAINE — Sitting alone in the back of the Cross Insurance Center arena, Rachel Harvey looked around quickly, making sure none of the several thousand Trump supporters were watching.

A smile on her face, she lifted up her black sweater, revealing the t-shirt she'd worn for the rally. Across her chest was a black version of the familiar coiled snake of the Don't Tread On Me flag. But instead of those words, underneath it said, simply, Don't Grab My Pussy.
"I made it myself," she said proudly, pulling her sweater back over it. She wasn't here to make a public show of her opposition to Trump, mind you. It was a silent protest, she said, explaining that she'd driven three hours from New Brunswick, Canada, with her husband, Jeremy Currie.
Though his wife was born in the United States, Currie is a Canadian. But he loves Donald Trump with a passion. "It's the nationalism. Bottom line," he told BuzzFeed News.
"When we got together, if I'd have known there was going to need to be a Trump test, things might have gone differently," Harvey joked.
Although she didn't want to make the three-hour drive, Harvey ultimately decided to support her husband, who said he "would have driven 10 hours for this."
But before she agreed to go, Harvey made him promise "not to post anything on Facebook. I've only told a few people we were coming," she said.
"None of my friends would understand," Harvey said.
Indeed, while Canada has a conservative political party, there isn't anything really approximating Trump, and this year's election has been a subject of alarmed bemusement for many Canadians.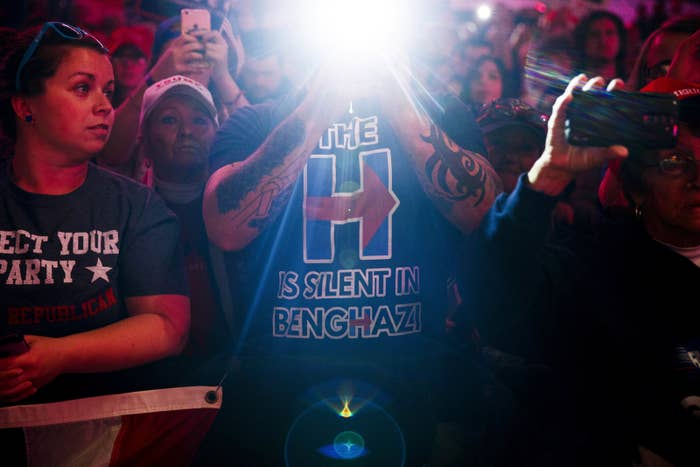 Although Harvey isn't a partisan person, she very much agrees with her Canadian friends and neighbors. "It's hard for me to believe there are our choices," she said. "I feel like every time I watch the debates, it's like watching two toddlers fight."
But, she said she's going to vote for Clinton because of her eight year old daughter. "I want her to grow up to be a strong woman … and not have to deal with all of this stuff," she said, referring to the many sexual assault accusations against Trump.
After the rally, Currie shopped for souvenir t-shirts outside the arena. "The adrenaline dump later is going to be fantastic!" he said. "Even if he doesn't win, I think it's going to be the end of the Republican Party and the start of a nationalist movement."
Asked about why nationalism appeals to him, Currie explained "This isn't a neo-Nazi, white nationalist kind of thing. It's 'take care of the people here' … there's no reason for money to be going overseas. There's poor kids here," he said.
As for Trump's treatment of women, Currie argued the "locker room talk" is a selling point. "I love it. It's refreshing, even if it's off-putting to some people."
Currie's support for Trump causes tension sometimes, they both admitted. "He's obsessed with Trump. It's a little tough," Harvey said.
Currie said part of the tension comes from the fact that many of his countrymen look aghast at him when he wears his Trump shirts around town.
"Canada is a more liberal, progressive place" he said, explaining that "people, families, stop and point at me."

While it may make his wife uncomfortable, Currie revels in controversy. "I enjoy it. I love it. Fuck 'em," he said, a wide grin spreading across his face.