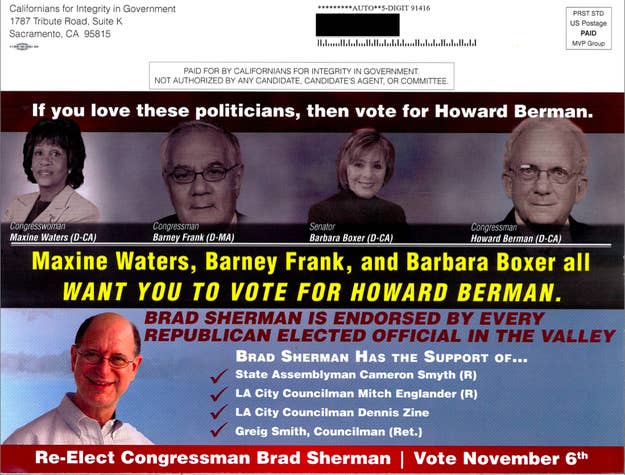 Washington, D.C. — One of November's ugliest contests, the race between two California Democrats for a Los Angeles-area seat, just got even more divisive.
In a move some Democratic operatives see as touching the hot buttons of race and sexual orientation, as well as intra-party politics, an outside group backing Sherman has begun circulating a mailer in the district featuring Reps. Maxine Waters, who is black and Barney Frank, who is gay, as well as Sen. Barbara Boxer, a champion of the environmental and women's rights movements.
For years, Republicans have used all three politicians as bogeymen of the left in advertisements and speeches to motivate conservative voters.
But their inclusion in a mailer backing Democratic candidate has raised eyebrows in Democratic circles, and drew a sharp rebuke from Berman's camp.
"We were shocked to see a mailer like this. We find it offensive," said Brandon Hall, a senior advisor to Berman.
Sherman's campaign did not immediately respond to a request for comment.
The mailer, sent to voters by Californians for Integrity in Government, features a quote from Greek philosopher Euripides on the front warning voters that they should "Judge an man by the company he keeps" and grainy, grey-scale photos of Waters, Frank, and Boxer on an ominous cloudy background.
"If you love these politicians, vote for Howard Berman," the flyer reads, warning that "Maxine Waters, Barney Frank and Barbara Boxer all WANT YOU TO VOTE FOR HOWARD BERMAN."
Sherman, meanwhile, is pictured smiling in a color photo, and the flyer notes he has been endorsed by "EVERY REPUBLICAN ELECTED OFFICIAL IN THE VALLEY." Republican endorsees of Berman listed on the flyer include State Assemblyman Cameron Smyth, LA City Councilmen Mitch Englander and Dennis Zine, and retired Councilman Greig Smith.
All four appear to be white men in photographs.
To be sure, this is not the first time either camp has used Republican supporters in campaign materials. Earlier this month Berman's campaign rolled out a robocall
by Republican Rep. Elton Gallegly pleading with voters to "not send Brad Sherman back to Congress."