Matt Bevin Went To A Pro-Cockfighting Rally
The conservative challenger to Sen. Mitch McConnell has said he didn't realize the event was to support cockfighting "activists" — even though he indicated he opposed federal criminalization of the practice. Update — April, 25, 2014 2:20 p.m. ET: A statement from the Bevin campaign apologizing to Kentucky voters has been added to this story.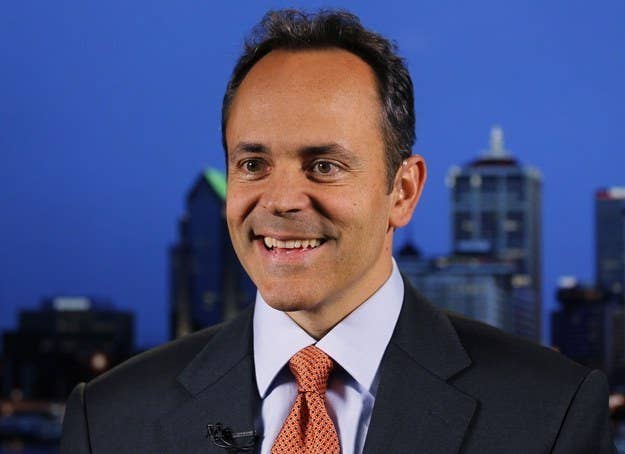 Kentucky Republican Senate candidate Matt Bevin told 700 cockfighting activists that he opposes efforts to "criminalize" the state's "heritage" by the federal government during a rally protesting federal efforts to make it a felony to attend the brutal sport.
Although cockfighting is illegal in Kentucky, law enforcement rarely takes step to crack down on the practice. Federal efforts to make being a spectator a felony offense have angered cockfighting supporters.
Bevin, who is challenging Senate Minority Leader Mitch McConnell in the state's May 20 primary, was one of a handful of speakers at a March 29 pro-cockfighting rally. Although Bevin has previously said he didn't realize the event was in support of the practice, video taken by WAVE 3 News not only shows the event was clearly — and solely — aimed at cockfighting enthusiasts, but that Bevin was asked point blank about his support of the practice.
American Gamefowl Defense Director Dave Devereaux asked Bevin if he would support efforts to legalize cockfighting in Kentucky. In response, Bevin said, "I support the people of Kentucky exercising their right, because it is our right to decide what it is that we want to do, and not the federal government's. Criminalizing behavior, if it's part of the heritage of this state, is in my opinion a bad idea. A bad idea. I will not support it."
Bevin's campaign Friday afternoon released a statement apologizing for his attendance.
"I am genuinely sorry that my attendance … has created concern on the part of many Kentucky voters," Bevin said, adding, "I am not and have never been, a supporter of cockfighting or any other forms of animal cruelty."
As for why he decided to attend the event, Bevin said it was because of his support for states' rights.
"Regardless of any personal views on this issue, animal rights are not an enumerated power granted to the federal government under the Constitution. Such decisions should be left to each state to decide. I made the decision to speak at the gathering in Corbin because I support our 10th Amendment rights, not because I support or condone every topic discussed at the event," Bevin said.