Mary Landrieu's Doing Something Weird: Running On Her Record
"I don't apologize." The Louisiana Democrat is vulnerable in 2014, but she isn't running a quiet campaign.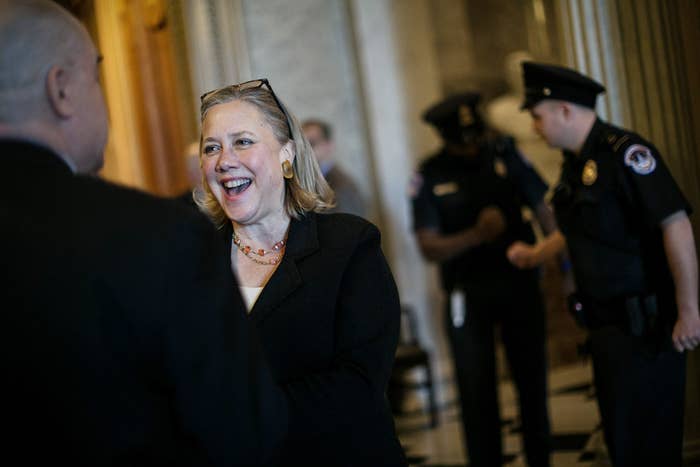 WASHINGTON — When Sen. Mary Landrieu took to the floor Nov. 21, 2009, she was determined to set the record straight. With Senate leaders still struggling to find the votes for the law that would become known as Obamacare, rumors began leaking to the press that Majority Leader Harry Reid had secured the Louisiana Democrat's vote with a promise of $100 million in Medicare payments to the state.
It wasn't true, and Landrieu was none too pleased. "I am not going to be defensive about asking for help in this situation, and it is not a $100 million fix. It is a $300 million fix. … I'm proud to have asked for it. I'm proud to have fought for it," Landrieu declared matter-of-factly.
Landrieu's floor speech was all the more remarkable given the intense pressure Democrats were under from Republicans over Obamacare. Within weeks, fellow centrist Sen. Ben Nelson found himself embroiled in controversy over the "Cornhusker Kickback" — a $45 million provision inserted into the health care measure for Nebraska that Reid had included as a sweetener for Nelson's vote.
Nelson then followed the conventional wisdom — if you're a red state, moderate Democrat, you need to run from your party, its signature legislation, and any hint that you break conservative fiscal orthodoxy. But that strategy didn't help Nelson, who watched as conservatives mounted an aggressive campaign around the earmark, ultimately forcing him into early retirement.
Meanwhile, Landrieu has embraced her record for bringing home the bacon, hasn't shied away from her Obamacare votes and finds herself in a good position to win reelection in one of the most conservative, anti-Obama states in the nation.
"It was just the way I was to taught to be, or encouraged to be, by my father and my parents," Landrieu told BuzzFeed.
A recent Landrieu campaign ad makes clear just how central her incumbency — and the benefits of seniority in the Senate — will be to her election bid, invoking her position as chairman of the Energy Committee, which the narrator solemnly assures the viewer is "the most powerful position in the Senate for Louisiana."
This is not new: Until Hurricane Katrina made it impolitic, more than a few of her colleagues referred to Landrieu as "Hurricane Mary" for her penchant for throwing last minute monkey wrenches into legislation in order to secure more funding for her state.
The political strategy is a throwback to a time when seniority could be a powerful campaign weapon — when being a longtime incumbent meant plum committee assignments, and more importantly, millions or even billions in federal dollars for their states.
The Republican revolution of 1995 ushered in a new era of anti-incumbency fervor that took on a fever pitch in the wake of the Bush era's spending excesses and string of congressional ethics scandals. The tea party rose up in response to that visceral voter anger, leaving Democratic members in red and purple states especially vulnerable to attack when pork-barrel projects became liabilities.
The result: Lawmakers running from voting records, skittishly attempting to deflect attention from certain votes.
Nelson, for instance, opted to retire rather than run in a race most observers expected him to lose. Likewise, former North Dakota Sen. Byron Dorgan retired abruptly in 2010 in the face of a potential challenge from popular Republican Gov. John Hoeven, who eventually took the seat. Fellow red state Democratic Sen. Blanche Lincoln, who like Landrieu and Nelson voted for Obamacare, voted with Republicans a year later when Democrats sought to push through additional health care provisions, and spent much of her 2010 race establishing how much different she was from Obama, House Speaker Nancy Pelosi, and Senate Majority Harry Reid.
Those efforts ultimately proved unsuccessful, and she was defeated in November by Republican John Boozeman, a former optometrist who'd spent nearly a decade as a rank-and-file member of the House.
While Landrieu's embrace of her record sets her apart, she still emphasizes the "centrist" part of it, however.
"I don't apologize … I'm very happy doing it and so far, the people of my state have elected me to do it. But I'm the same, and I'm going to stay the same. I'm a centrist, and I'm not going to run away from it. I'm going to run to it," Landrieu said.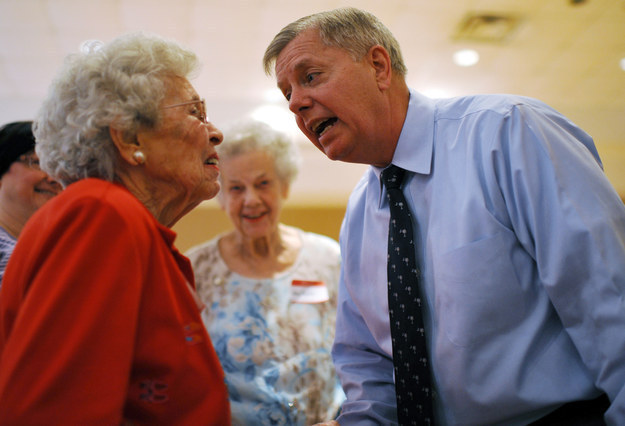 Republicans have likewise gone through an intense expulsion of incumbents; the primary challenge has loomed large for and claimed longtime lawmakers, like former Sens. Dick Lugar and Robert Bennett.
But then there's Sen. Lindsey Graham, who was considered extremely susceptible to a primary challenge — and is now expected to win reelection again.
Instead of an eleventh-hour conversion to tea party orthodoxy, Graham used his insider acumen to his advantage.
"I think I've got a lot to offer being myself," Graham said with a laugh. Graham, who has made a career out of angering conservatives by working with Democrats on occasion, insisted that owning his record has been a key part of his success. "I wouldn't appreciate it if I was a voter … I haven't changed anything. I'm socially and fiscally conservative."
A Senate Republican campaign operative praised Graham, arguing that despite conservatives open hostility "there's been no legitimate alternative presented to Lindsey … In the same way that [Sen. John] McCain owns his domain, so does Graham."
Asked if there is an appetite for politicians willing to stand by their records, Graham said, "Totally. I mean, for some [voters] it's an unpardonable sin. But for most, it's expected. I've given up trying to be universally popular."
Senate Majority Leader Harry Reid has likewise made a career out of being himself, often to the chagrin of his staff, who watch in horror as their boss called former President Bush a "liar," declared the war in Iraq "lost" and openly mocked tea party activists.
But while Reid's campaign victories are rarely anything but messy and close, his penchant for winning is undeniable. "Many, many years I ago I came to this conclusion. There are people better looking than I am, can talk better than I can, smarter than I am, more experienced than I am," Reid said.
"That may be the case … but I [have] the job. And one of the things I decided was that if I was in Elko, Nev., a real conservative place, or Las Vegas, I was going to answer the question the same way. That way I didn't have to worry, 'What did I say in Elko? What did I say in Vegas?' I am just so happy that I have an opinion. I'm not always right. I understand that. My caucus pretty well understands that I say things that make pretty uncomfortable, but I at least say how I feel," he explained.
"It doesn't work great, but I win my election. Not by much," the Nevada Democrat quipped.
So far, for Landrieu, that kind of strategy is working. Though she is considered one of the vulnerable Democrats, Landrieu holds a lead over Republican Rep. Bill Cassidy. And while Cassidy could take Landrieu in a likely runoff after the general election, so far she's doing better than many had thought.
"Being a leader is leading. It's not performing. It's not theater. It has real consequences, and I am who I am. I have strengths, I have weaknesses, and I just really try to lead in a way that puts the people of my state first and foremost. I was sent here to represent them … I just try to stay faithful to that," Landrieu said.