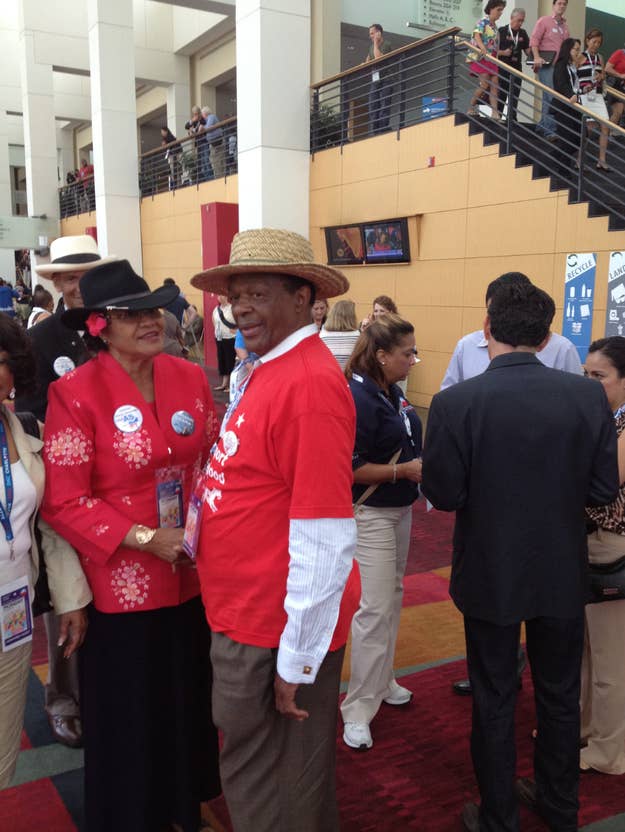 Charlotte, NC – Former DC Mayor Marion Barry hit the Democratic convention Monday and, as per usual, the divisive and wildly popular figure immediately drew onlookers and media interviews.
Barry was barely 10 feet into the Charlotte convention center before convention goers and reporters started queuing up to talk to him.
Although extremely controversial thanks to numerous arrests for crack possession, Barry remains very popular in Washington and many parts of the black community nationally.
Sporting a bright red t-shirt that read "I'm a Democrat and I support DC Statehood," the 76 year old Barry was clearly in his element.
"Are you still mayor?" one woman asked.
"He'll always be mayor. He's Mayor for Life," her friend responded as she posed for a picture with the Teflon politician.
That's what I'm talkin' about," she said, proudly showing off her photo.
In a brief interview with BuzzFeed, Barry urged President Barack Obama to stick to the themes of hope that helped propel him to the White House in 2008, even as he acknowledged the country's economic problems have gotten worse.
"Obama should stick to "the same themes to some extent that he did in '08. The problems have gotten worse, not better, in terms of jobs. He's got a great vision when it comes to jobs. He's already done healthcare, which was revolutionary and he's done some other things to get people back to work," Barry said.
The always outspoken Barry also took a direct shot at Republicans, who he argued have turned their backs on black Americans.
"The Republicans offer no hope, no direction that's particularly helpful to us, particularly African Americans," Barry said.
The current DC City Councilman also dismissed speculation that enthusiasm for Obama has waned in the black community. Barry said that despite concerns that the administration hasn't addressed their problems as much as they'd hoped in 2008, they will still turn out in November for the nation's first black president
"We have some doubts about whether he's done enough. But we're going to come out in large numbers. We have no choice — the choices are stay home or vote for Romney. And we're not taking any of those choices so we're going to be coming out … enthusiastic for President Obama," Barry said.