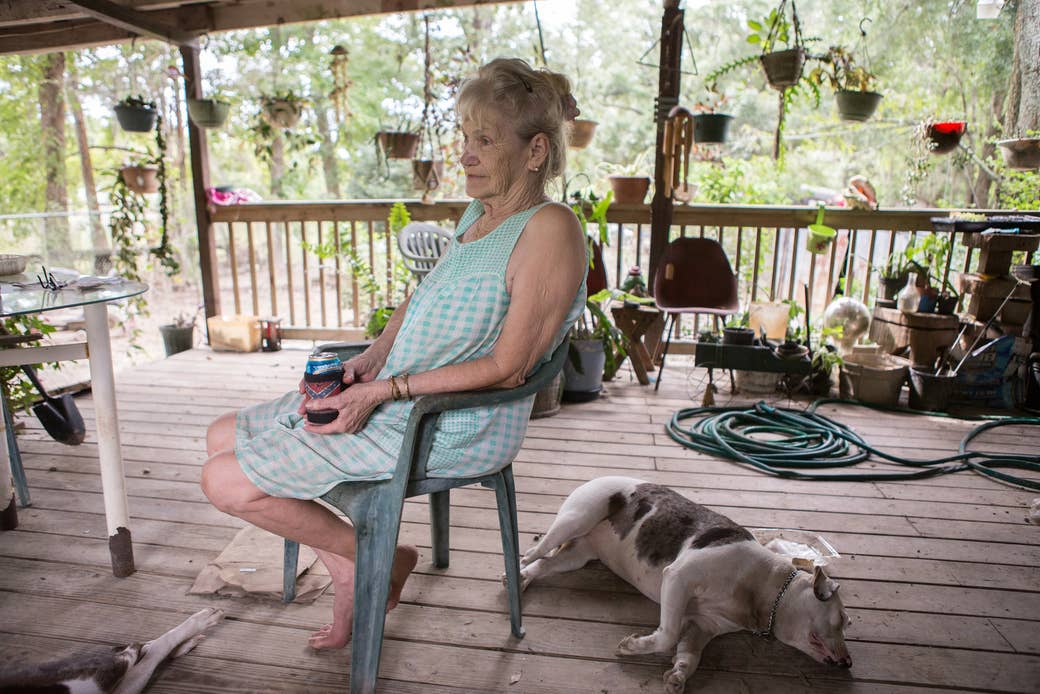 FRENCH SETTLEMENT, Louisiana — Leaning back in her chair on her porch, Miss Frankie Kindig surveyed the damage that historic floods earlier this month did to her trailer a few yards from the banks of the Amite River.
Kindig, 77, has spent the last week tearing out carpet, then pulling up hundreds of staples using a pair of needle-nose pliers and a screwdriver. Once her floors are dry and repaired, she vows to follow the next carpet installer around "with a hammer, and if he puts in extra staples, I'm gonna hit him in the head."
Floods have been a part of life for Kindig since she moved here in 1976, the first person to settle along this isolated stretch of river bayous an hour and a half north of New Orleans.
But Kindig had never seen flooding like what hit the region two weeks ago, which left at least 13 people dead statewide and at least 80% of homes in French Settlement damaged, according to the mayor. Roads were washed out and covered in a foot of river mud, debris, and raw sewage from thousands of overflowing septic tanks. EATEL, the local phone company, has been working overtime to get service restored, and the power only came back in the last few days.
And now, as a series of tropical depressions and disturbances are lining up in the Atlantic as hurricane season reaches its peak, French Settlement residents — along with local and federal officials — are increasingly nervous that a massive storm could sweep through and wipe them out.
The closest tropical depression is already making its way into the Gulf, following a track similar to the storm that would eventually become Katrina. And while forecasters expect it to take a sharp turn toward the east once it reaches tropical storm strength later this week, several other storms that have already begun forming off the coast of Africa could be heading toward the Gulf.
"It's a worry ... Hurricanes bother me. They blow that water in big time," Kindig said, adding that Hurricane Katrina laid waste to French Settlement, uprooting trees and telephone poles and making the roads impassable for days.
Local and federal officials are also worried that, given the slow pace of recovery from the floods, a hurricane could be catastrophic.

The cleanup has been slow going in part because the city doesn't collect property or sales tax. It instead relies largely on volunteers — who have come from around Louisiana, Mississippi, Texas, and even New York — and FEMA.
"We had a flood that mankind has never seen … we had horses swimming by," said Lawrence Callender, French Settlement's assistant chief of police. From outside the city's main municipal building, the scale of the destruction is plain. Workers are gutting the entire building, finished in 1976, because of water damage, and it remains to be seen whether it needs to be torn down.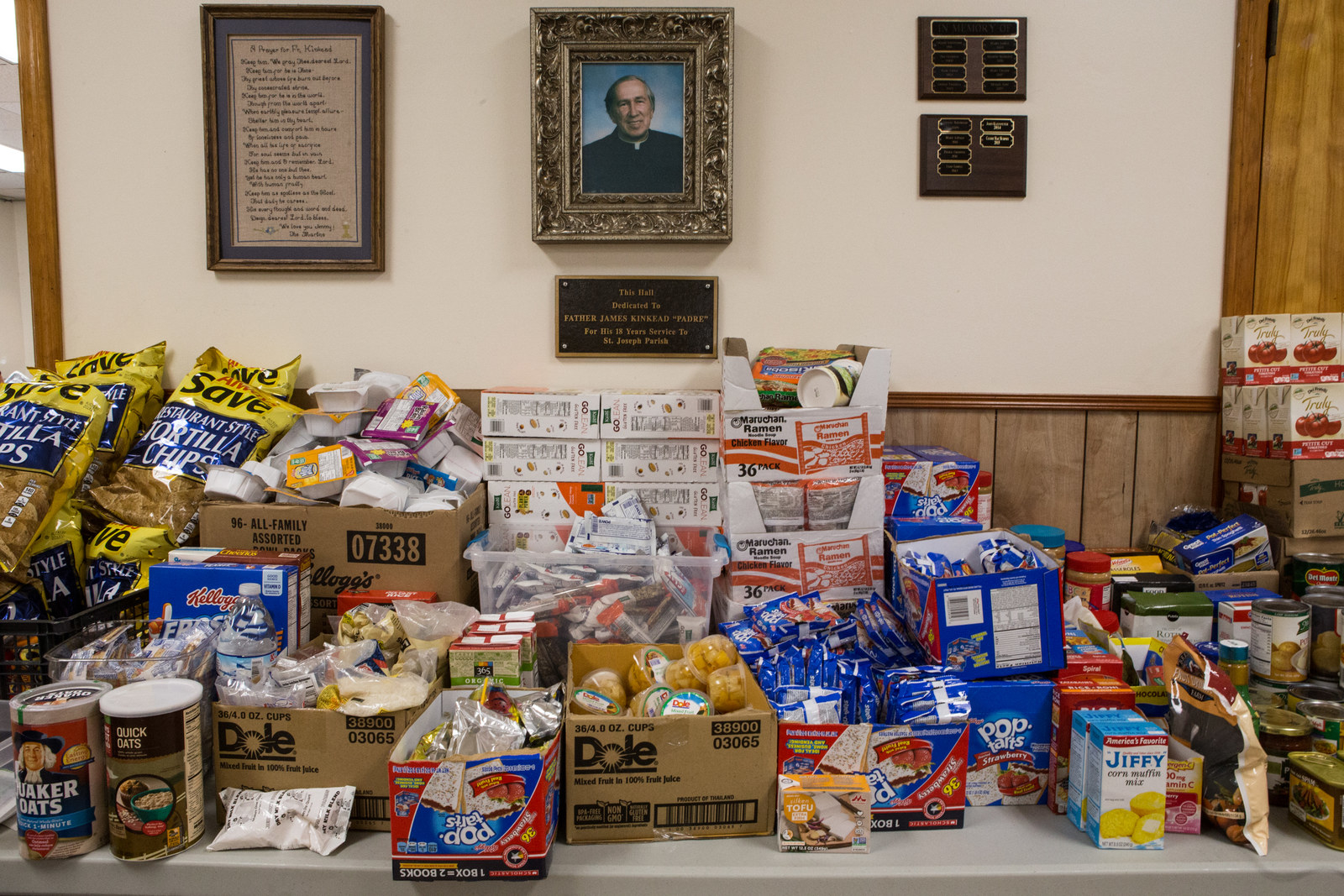 "It had never flooded. We had water up to the windows," Mayor Toni Guitrau said, a look of frustration in her eyes. They've had no deaths locally, she added, but there have been "some illnesses from bacteria and lung problems" because of the pollution and lack of running water. The town's parish priest remains bedridden with a lung infection.
"We're refugees," Callender said with a laugh. The town government is working out of the local Catholic church, which is also providing hot meals for residents and recovery volunteers and serves as a clearinghouse for donated diapers, cleaning supplies, and food.
Hurricane Katrina's destruction of the area was significant, but local officials worry that even a moderately sized hurricane could be far more catastrophic, given the saturated soil and tons of debris that remains to be removed.
Piles of furniture, appliances, and soggy drywall rise five feet or more above the town's roads, awaiting pickup by parish officials. And while the main roadways have been plowed of mud, side roads are still being dug out with Cats, thanks to volunteers like Eric Hammerberg and Jed Fisher, who run JF Construction Services in New Orleans.
Fisher's wife, Adrienne Katner, a researcher at Louisiana State University who conducts lead testing in New Orleans, arranged for researchers from Virginia Tech to come to French Settlement to test drinking water from residents' wells. Although many of the wells are dug deep enough to avoid contamination, some residents' water supplies remain at significant risk from the sewage-tainted floodwaters — and the floods burned out the motors on many of their pumps.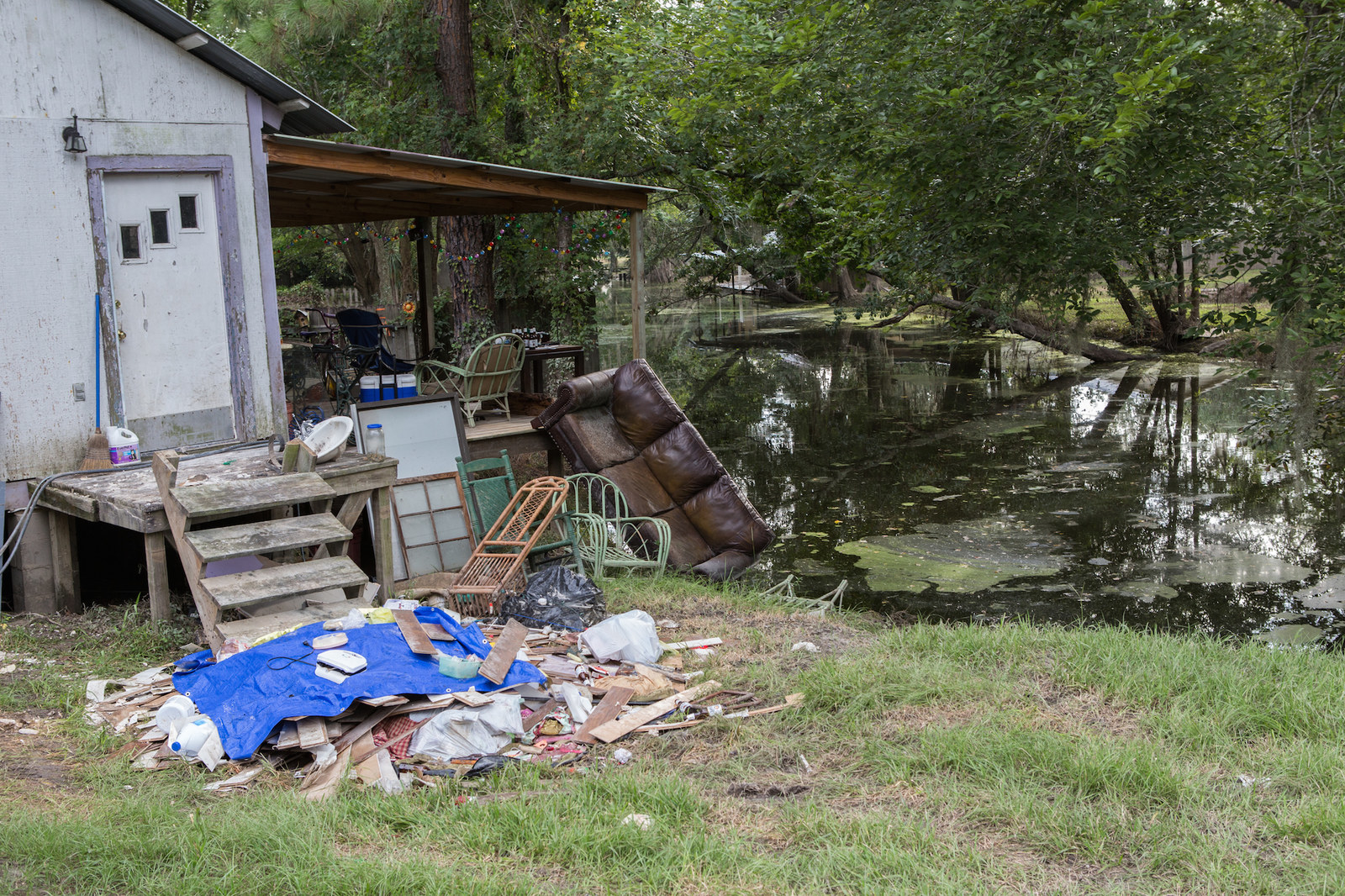 The lack of running water has already taken a toll on the health of some residents. "Anybody with a compromised immune system is at risk," Callender says. "One little cut can give you a staph infection. We see 'em come in every night [to the church] looking for supplies, with boils, open wounds, staph infections. Our worst fear is an epidemic. It's possible … As resilient as these people are, we're wallowing in sewage."

The possibility of hurricanes is making residents anxious. "We didn't get any wind with the floods," Callender said. "But if we get any wind at all, the ground's saturated, the trees will just fall over. There's nothing holding them down at all."
"We're just concerned about getting our debris out within the next week, all the debris out, before any tropical storm might think about coming in here, so it's in the air and everywhere," Mayor Guitrau said.
Rafael Lemaitre, director of public affairs at FEMA, said the agency shares those concerns and is already taking steps to prepare for a potential disaster. "We are monitoring those [storms] very closely, and are already in contact with state and local officials in areas that could be potentially affected."
Lemaitre also urged local residents to begin preparing for the worst now, noting that in emergency situations neighbors often become first responders in helping other residents. FEMA is "strongly advising folks … to continue listening to state and local officials" about potential evacuations, Lemaitre said, adding that residents should "take steps now to prepare. The time to prepare is not when you're getting tropical storm warnings."
But at this point, local residents are still struggling to rebuild from the initial floods.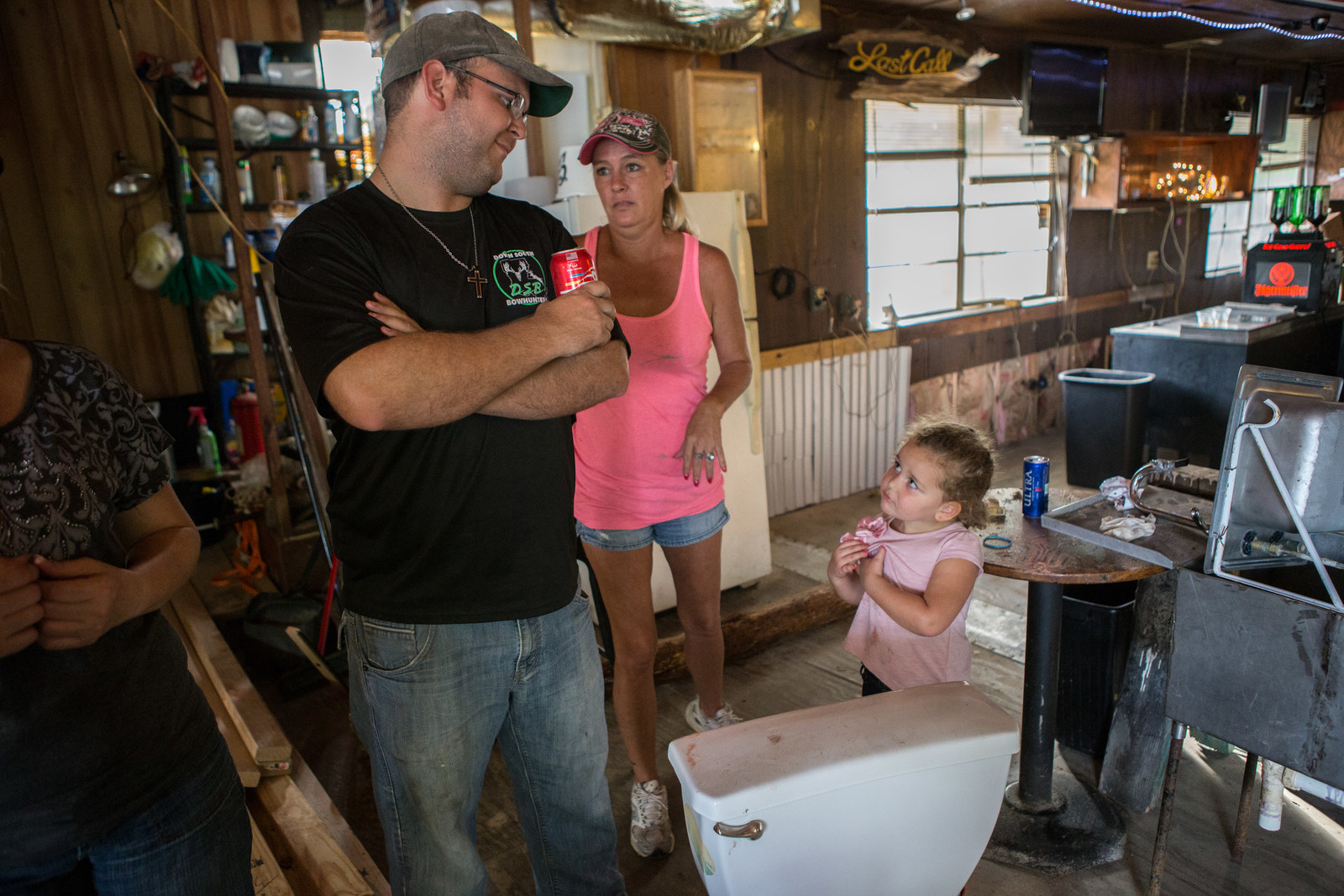 A mile up the road from Kindig's trailer, Butch "Moony" Jenkins and his family are working in the late afternoon heat inside the Last Call bar. Where the bar and bathrooms once were located, there's now a gaping hole in the floor, exposing the muddy ground below the raised building. Construction debris litters the floor, and huge sections of the bar's interior walls have been torn away.

"I hadn't served the first beer out of it before the floods," said Jenkins, who bought the bar just three weeks before the flood. There was "little more than a foot" of water in the bar, saturating drywall and the floors. Jenkins and his family have have spent days ripping out warped spots on the floor, repairing plumbing, and shoveling mud.
If everything goes according to plan, the bar, a mainstay for locals who live along the river, will be open before the end of September. "Hopefully just a couple more weeks. I need to open up. Bad," Jenkins said.
As for the threat of another flood, Jenkins says he simply can't think about that. "All we can do is put it together and hope for the best," he says. "There's nothing you can do, just keep going. You can get depressed and stick your lip out and all that stuff. But that won't do no good."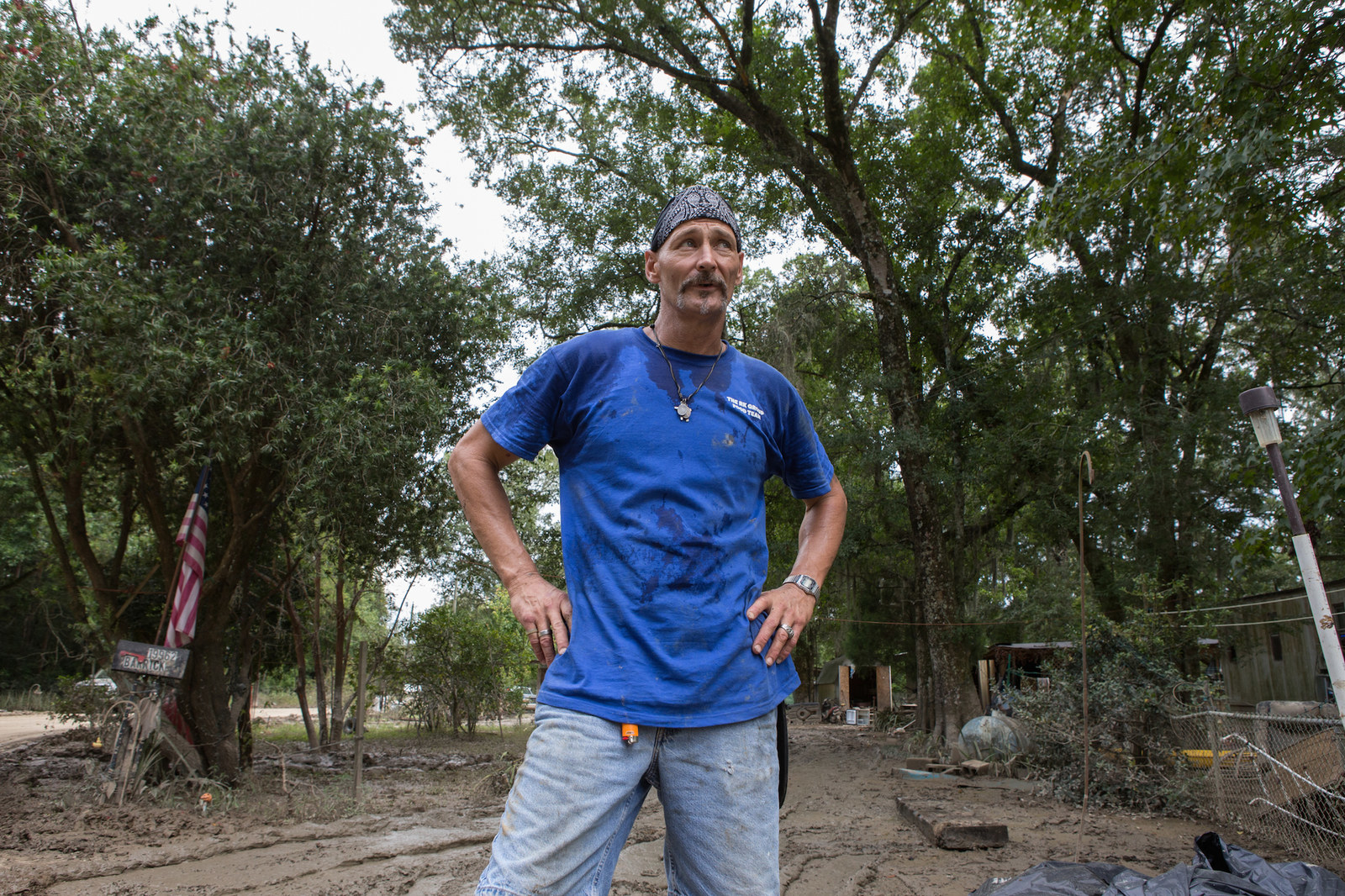 Raymond Barrick, whose family moved in next door to Kindig a year after she set down roots, said this year's flooding was one of the few times he's ever left because of water.

Barrick, 47, stands in his front yard, ankle-deep in the mud. "I hear they've got a shortage on this river bottom silt," he says with a laugh. "I got seven acres of it. They can come suck up as much as they want!"
Tanned from years of paddling the Amite River, Barrick says that while he's weathered plenty of storms, this was different. "When it broke the bank, I could see the water coming in. I was puttin' my stuff inside up on blocks. And within 45 minutes, it was this deep," he said, raising his hand several feet off the ground.
The floodwaters badly damaged his trailer and swept away many of his possessions.
And though he knows hurricane season is bearing down, he remains defiant. "I ain't worried about it. Bring it on. Shit, after this one, with three foot [of water in the house], you can't hurt anything. It's all out there, everything I own. Even everything I tied down. The stuff [that was] tied down, the current was so strong it broke the lines. It's all out there," he said. "I ain't leaving. I've been here 45 years."
Sipping a cold Milwaukee's Best Ice, Kindig also waved off the idea of leaving her home because of the threat of another flood.
"To me, I have the perfect place," she said. "You couldn't get me outta here with a stick of dynamite."