Lobbyists Have No Clue How They're Going To Work Under A Trump Administration
At least one high-profile Democratic lobbyist rushed to reassure clients everything would be OK and that their influence dollars wouldn't go to waste.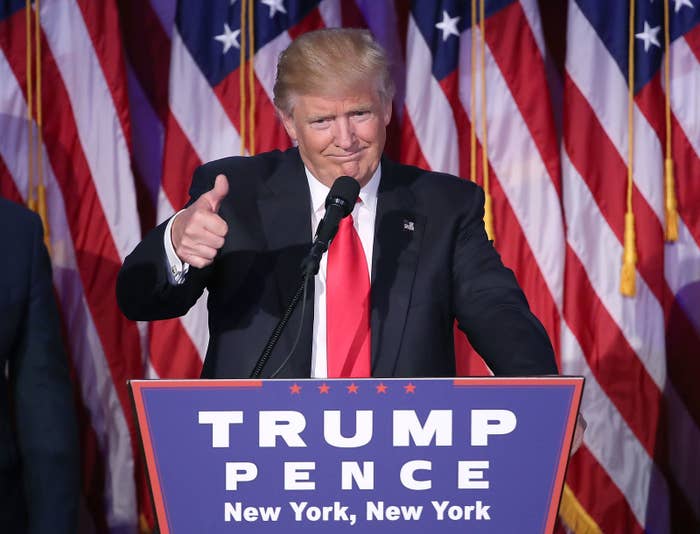 WASHINGTON — To lobbyists, the election of a new president usually means new jobs, new access to the corridors of power — and, by default, more influence for their clients.
But President-elect Donald Trump has vowed to "drain the swamp." His transition team recently purged a number of registered lobbyists and announced a lobbying ban for those who want work in the administration. Virtually no one on K Street — the button-down power corridor of Washington — has any idea what is actually happening or what it will mean for their business.
Increasingly on edge are Democratic lobbyists. One of the most powerful Democratic lobbyists in Washington, Heather Podesta (whose former brother-in-law John Podesta ran Hillary Clinton's failed campaign this year), wrote in an email to unnerved clients that their hard-earned influence dollars will still be well spent with her firm.
"Let's connect soon about working the lame duck, making sure you're engaging the transition team in the right way, preparing for the inauguration, and actively participating and shaping the first 100 days of a Trump Administration and the 115th Congress," Podesta wrote in the email obtained by BuzzFeed News.
Podesta, who also raised huge sums of money for Clinton as a bundler, adds that Republicans "Robert [Hoffman] and Amy Swonger are actively working with the Trump transition team, and Robert's been advising transition staff on ways to best engage the tech sector on policies that would be of mutual interest."
"Amy and Robert will be a great resource, with an eye toward building even additional resources and value in the months ahead," Podesta added, before closing the email, "Laura will be in touch to set up a call or meeting."
Podesta did not return a request for comment.
Lobbying has always been a bit of smoke and mirrors industry. People with personal relationships with lawmakers and their aides sign contracts with interests seeking to influence the powerful. The lobbyists, leaning on those relationships, trot out top staff — or if you're good, an actual former lawmaker — for meetings with CEOs visiting Washington. Occasionally, helpful provisions find their way into bills, though rarely because of any one single lobbyist.
And while control of Washington shifts between parties will normally mean some reshuffling of the lobbyist deck, most on K Street are good enough at the long con to have solid relationships on both sides of the partisan divide and to stay busy through the lean times.
But at least in the early stages of this year's transition, Trump and his crew are turning that pattern on its head.
"The reality is that right now, Trump world is very small so access is very limited," said Kyle Downey, president of Downey Communications and a veteran Republican strategist.
"Anybody who says they know how this going to work is kidding themselves, and their clients," said a lobbyist with a bipartisan shop. "A lot of lobbyists are scrambling, because the biggest issue is access."
The transition is being run by a tight group of advisers — many of which were the same people behind Trump's campaign — many of whom don't have deep connections to Washington. Most notably are his children Ivanka, Donald Jr., and Eric, who while all accomplished in the business world haven't been players in any legislative or regulatory battles, nor have they spent years developing the normal relationships in Washington that would help lobbyists.
Trump had initially tapped New Jersey Gov. Chris Christie to head up the effort, a reassuring nod to establishment norms that many lobbyists took as a solid sign that Trump wouldn't, in the end, be the sort of wild card many feared. But then Vice President-elect Mike Pence took over and Christie was out, as were many of his allies.
The transition reset, combined with the relative neophytes running the show, has led to hair pulling on K Street. "Normally, you flip the switch, and the next day you know who's going to be doing what," a Democratic operative said. "You don't know with Trump. And that's part of the problem."
A Republican operative familiar with the transition team's activities acknowledged that the Christie ouster — the subsequent edict from Pence that lobbyists be purged — caused turmoil within the transition, and over the last four days the Trump campaign has begun reaching out to people in Washington. "I know a lot of establishment types who they've talked to," the operative said.
That, Downey said, should be good for the lobbying business. "He's got to fill out the entire executive branch, so [the lack of access] will change" as veteran congressional staffers, lobbyists and communicators take positions. Downey also argued that with both chambers of Congress and the White House in control of Republicans, the levers of government will start working again, which could mean big pay days for K Street in the future.
"We're going back to regular order, baby," Downey said.