Lawmakers Worry About Attacks Against Muslims, Arabs Following Boston Bombing
"It's something that I face all the time, certainly as a Muslim but also as an African-American," Rep. Andre Carson said.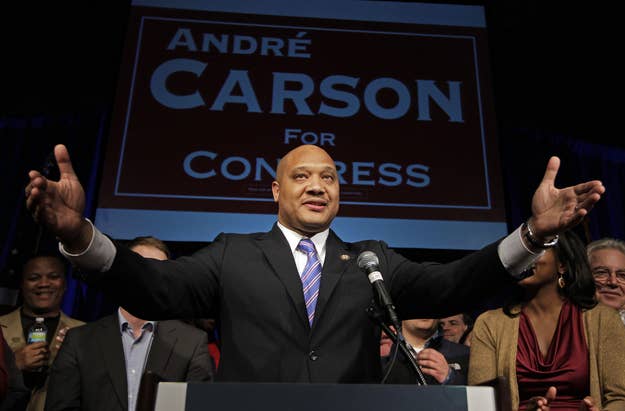 WASHINGTON — Lawmakers Tuesday said they worry Monday's terrorist bombing in Boston will unleash a fresh round of attacks on Muslims, Arabs and other minorities across the country — though there hasn't been any evidence of a violent backlash so far.
Law enforcement officials still don't know whether the attack, which left three dead and more than 100 injured, was committed by domestic or foreign terrorists. But that hasn't stopped some from lashing out at the Muslim community and other minorities — including Arabs, Persians and Sikhs.
"I'm always concerned," said Rep. Andre Carson, one of two Muslim members of the House.
"First and foremost, as a former law enforcement officer, we want to make sure that those who perpetrated this horrendous crime are brought to justice and dealt with immediately, swiftly and effectively. But at the same time we have to be careful not to put certain groups of people into a box," Carson said.
"It's something that I face all the time, certainly as a Muslim but also as an African-American," Carson added.
Sen. Debbie Stabenow, who's home state of Michigan is home to one of the nation's largest Muslim communities and Arab communities, agreed. "It's something we always face unfortunately. It certainly is concerning," the Michigan Democrat said.
"They're business leaders, they're educators … I think it would be very, very unfortunate for someone to jump to some conclusion based on lack of information and somehow stigmatize very important leaders in Michigan and other places."
Following the Sept. 11, 2001 attacks in New York and Washington, Muslims, Sikhs, Arabs and other minorities were targeted by vigilantes in communities across the country. Although former President George Bush and other leaders denounced the attacks, they left deep scars in communities.
Shortly after Monday's attack, a Saudi Arabian student in the United States was reported to be under investigation: it turned out he was one of the injured spectators of at the race. Within hours, social media was already ablaze with attacks on Arabs and Muslims.

Despite any anger towards their community, Muslim lawmakers said they believe the nation is changing and argued the focus shouldn't be on their community but on Boston.
"I think the American people are changing post 9/11 … [but we need] people that are vocal enough to temper certain stereotypes," Carson said.
Rep. Keith Ellison, who is also a Muslim member of Congress, said that the attack in Boston is a tragedy for Muslim Americans just as it is for all other citizens. "This is something all of us share as Americans," Ellison said.
"I had a meeting a group of Muslim leaders this very morning, and all of them were concerned about the victims, concerned about how people were feeling in light of this horrible tragedy and ways they might demonstrate solidarity. I don't think people are worried about themselves … they were worried about their fellow Americans," the Minnesota Democrat said.