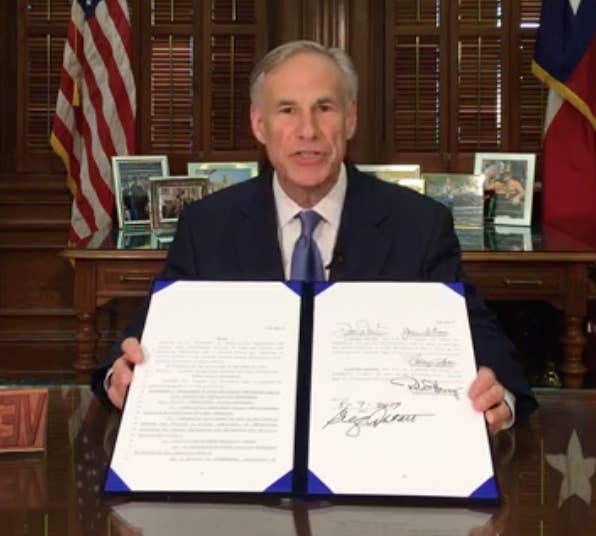 Some of the nation's largest Latino and immigrant rights organizations as soon as this week could call for a nationwide boycott of Texas in response to Gov. Greg Abbott's decision to sign so-called "show your papers" legislation Sunday evening.

The law, which bans sanctuary cities in the state and grants law enforcement officials the power to demand proof of citizenship from people they suspect may be undocumented, has already prompted at least one celebrity Latino to boycott Texas: actor and comedian John Leguizamo, who on Monday announced on Twitter he was cancelling a tour of the state.
And on Tuesday, the American Civil Liberties Union issued a "travel advisory" for Texas in response to the new law. "The ACLU's goal is to protect all Texans and all people traveling through Texas — regardless of their immigration status — from illegal harassment by law enforcement," ACLU Director of Immigration Policy and Campaigns Lorella Praeli said in a press release announcing the advisory.
According to multiple sources, officials from the National Council of La Raza, the Latino Victory Project, the League of United Latin American Citizens, the Mexican American Legal Defense Fund, and other groups have begun mapping out potential responses to the new law.

These sources said a final decision will likely be made in the coming days and will be based on whether groups based in the state decide a boycott is the best course of action.
NCLR Deputy Vice President Clarissa Martínez-de-Castro confirmed her organization is actively considering a boycott "in consultation with our partners on the ground. This is not something we take lightly," she told BuzzFeed News on Monday evening.
Likewise, Latino Victory Project President Cristóbal Alex said his group is ready to support a boycott and warned that Latino groups could turn Texas into the "racist, anti-immigrant last stand."
"If our partners on the ground decide to call for [a boycott], we'll support it. … There will be Latinos and our allies across the country voting with our wallets," Alex said.
What exactly a boycott would look like remains unclear. According to sources involved in the discussions, two options being considered are a basic travel boycott of the state and a boycott both of the state itself and of major corporations based in Texas.
A travel boycott would likely be based on the one launched against North Carolina in response to the state's law restricting transgender people's use of public restrooms. That effort led to dozens of major conventions, television shoots, and movie productions pulling out of the state, as well as the NCAA temporarily barring the state from hosting championship sports events. In March, an Associated Press analysis found that the boycott could cost North Carolina nearly $4 billion over the next decade.
The impacts of a travel boycott could be significant. According to the Census Bureau, more than 56 million Americans identify as Hispanic, making up at least 17.6% of the population. Latinos have also increasingly become a major economic sector in the country.
A boycott that also included companies based in Texas could have even greater economic impact. National brands headquartered there include Dell, Pizza Hut, ExxonMobil, AT&T, and 7-11.
Abbott's office did not respond to a request for comment. But in a Facebook Live video of the signing of the legislation, Abbott focused on the sanctuary cities provisions of the bill, arguing "legal immigration is different from harboring people who have committed dangerous crimes."
CORRECTION
Clarissa Martínez-de-Castro is the deputy vice president of the NCLR. An earlier version of this post misspelled her name.