Key Republican Senator Calls For Hearings Over FBI Handling Of Boston Bomber
"I don't want to live in a police state, no one does. [But] I want to live in a place that can defend itself," says Graham.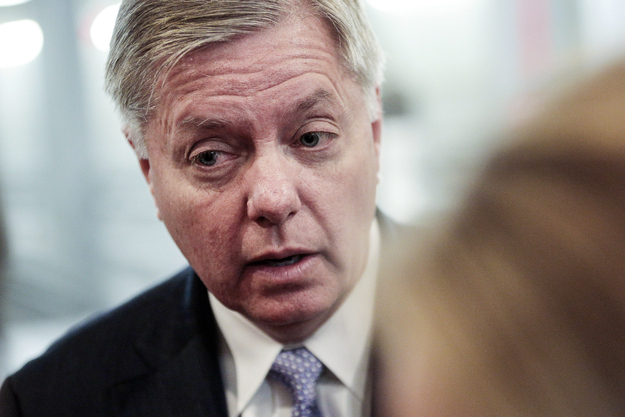 WASHINGTON — Sen. Lindsey Graham Monday called for hearings into the FBI's handling of suspected Boston bomber Tamerlan Tsarnaev, warning new legislation may be needed to expand the government's surveillance capabilities.
"I don't want to live in a police state, no one does. [But] I want to live in a place that can defend itself," Graham told reporters, arguing that while a 2011 investigation into Tsarnaev turned up no evidence of illegal activity, "you should at least be watching what this person does in the future."
Graham said that while he does not necessarily believe the FBI failed to do its job adequately, he said the Boston attack provides a "good case study … to get better, to learn more."
According to Graham, a senior FBI official told him Sunday that the bureau's initial investigation into Tsarnaev, which was prompted by a tip from Russian intelligence officials, turned up inadequate evidence of terrorist or criminal activity to continue its inquiry.
The FBI approached the Russians asking for evidence, but none was ever turned over.
Shortly thereafter, Tsarnaev went to Russia's Caucus region — a trip that federal authorities did not know about, because, according to Graham, his name was misspelled on a passenger manifest.
It was during the period following that trip that Tsarnaev's online activity took a decidedly radical turn: he frequented jihadist recruitment pages and posted radical Islamist videos to his YouTube account.
Although the federal government monitors jihadist sites closely, Graham said gaps in the law meant that no one was watching Tsarnaev's online activities. When asked about that, the FBI official told Graham simply "the system is not as robust as you think it is."
"This is why we need to have a hearing. What is it that happened here?" Graham said.
Graham is one of several Republicans who have raised questions about the FBI's investigation, although unlike many of his colleagues he was careful to avoid directly criticism that bureau.
"This may not have been a mistake from the FBI's handling of it," Graham said.
Others, however, are defending the bureau and its agents, including Rep. Michael Grimm, who is a former FBI agent.
"You cannot expect the FBI is randomly investigating American citizens … it's antithetical to our Constitution," Grimm said.
Although he would not specifically say what sorts of changes to surveillance laws he, or the FBI, would like to see, Graham warned "there's more days like this coming. I hate to say this, but there's more people like this coming."