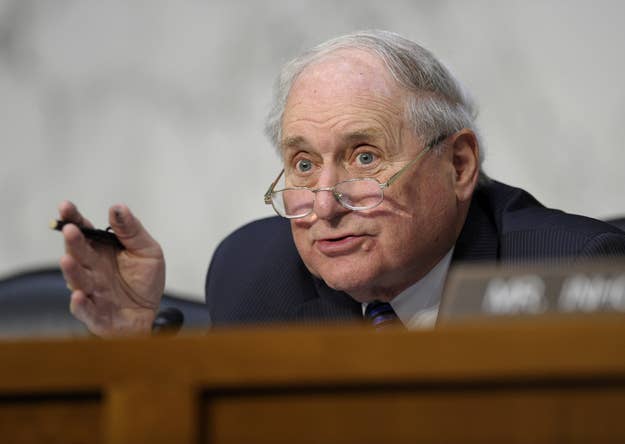 WASHINGTON — Sen. Carl Levin Tuesday said he will oppose Senate Majority Leader Harry Reid's plan to end filibusters of President Obama's nominees, saying he cannot support an effort by the majority to change the Senate's rules by "fiat."
Angered by Republican filibusters, Reid is threatening to use an end-run around the chamber's arcane debate rules to use a simple majority to change those same rules: something that has been dubbed the "nuclear option."
"Do I favor changing the rule about executive appointments getting a vote? You betcha … I want to change the rule, but not by fiat. Not by breaking a rule that says it takes two thirds of the Senate to end debate on a rules change," Levin told reporters during a breakfast sponsored by the Christian Science Monitor.
Levin accused both parties of hypocrisy. Republicans' "position is totally inconsistent … but our position as Democrats is totally inconsistent."
"I cannot support this … I've been clear with my leader," Levin added, noting that when Republicans sought to make similar changes to judicial nominations Reid and other Democrats vocally opposed that effort. "Now the leaders are in the position of flipping their positions … I can't just now say, 'ok, we're in the majority. So now it's ok,'" Levin said.
Levin is one of a dwindling number of old guard Senate Democrats who have expressed discomfort with the idea of changing the rules. But there is enormous pressure from Democratic base organizations to change the rules. And much of the Senate Democratic conference is made up of relative neophytes with little love for the chamber's traditional rules that have turned it into a legislative quagmire.
Levin's comments come following a late night meeting of the entire Senate Monday designed to bring an end to the standoff between Democrats and Republicans. But the more than three hour closed door meeting resulted in no agreement, and Reid was scheduled to hold a series of votes later today to set up a change of the rules.