John Boehner's Tea Party Foes Host "Retirement Party"
Pressure from the right keeps Republican leadership in line.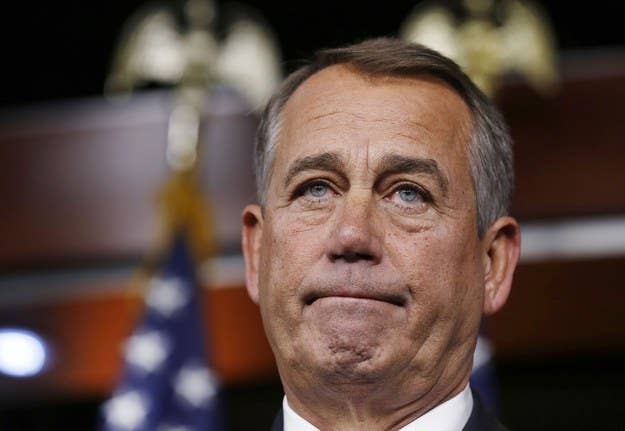 WASHINGTON — Tea party activists are sending out invitations for a "surprise retirement party" for House Speaker John Boehner, targeting inside-the-beltway Boehner backers and reporters.
The email invites are paid for by the Tea Party Leadership Fund Political Action Committee, a conservative organization that has spent more than $300,000 this cycle supporting 32-year-old J.D. Winteregg's primary challenge to Boehner this year.
"We're throwing a retirement party for our John Boehner, and 1,000 of his closest Beltway buddies are invited. I've pledged to get him a shuffleboard set so he can enjoy his new Florida retirement in style," PAC spokesman Rusty Humphries said Friday.
The invites are the latest effort in a tongue-in-cheek campaign by tea party activist — and adjunct French professor — Winteregg's primary challenge to the powerful Ohio Republicans in his May 6 primary. Earlier this month Winteregg released a commercial on YouTube parodying Cialis commercials, titled "Electile Dysfunction."
According to a source, the invite is being sent to "1,000 of John Boehner's closest friends and D.C. political reporters," and asks invitees to "join 8th District primary voters in remembering 23 years of reckless spending, feckless leadership, and gutless deal-making. Wish John bon voyage as he departs Congress for his new Florida condo and a life of overtanning, bad golfing, and early bird specials."
While it is all but certain Boehner will emerge from his primary unscathed and the challenge is unlikely to affect Boehner's work in Congress, it could still have an impact on Congress.
The fear of primary challenges has been one of the biggest roadblocks Boehner has faced during his time as speaker, despite the relative lack of successful insurgent campaigns against incumbents. A host of moderate Republicans are facing primary challenges over the next two months, and the willingness of tea party activists to spend significant sums in Boehner's race could harden their unwillingness to compromise with Democrats on hot-button issues ranging from the budget to immigration reform.