"Jobs" Legislation Could Cost Sailors 10,000 Jobs
A difficult tradeoff buried in the highway bill. "This is an effect of the unwillingness of the Tea Party Congress to actually fund highways," says Rep. Larsen.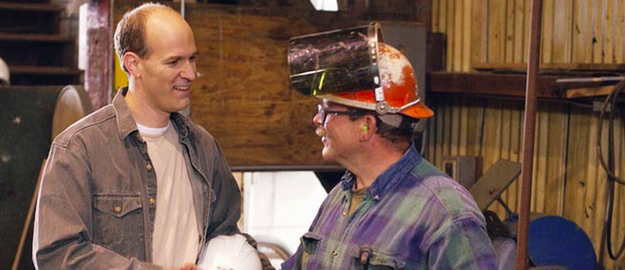 When Congress passed a massive $105 billion highway bill last month, Republicans and Democrats alike hailed the legislation as a rare bipartisan success that would result in millions of jobs for Americans — but an obscure provision may cost some 10,000 shipping industry workers their jobs beginning this year.
The bill will "provide a major boost to our economy by putting Americans back to work," House Transportation and Infrastructure Committee Chairman John Mica said, while his Democratic counterpart in the Senate, Environment and Public Works Chairwoman Barbara Boxer said the legislation would "save and create about three million jobs" when was fully implemented.
And they were right – over the next two years state and local governments will put the money to use building and repairing roads, bridges and mass transit systems. And that will mean tens of millions of Americans will see a regular paycheck.
But for thousands of men and women working as longshoremen and in the maritime industry, the bill could mean an end to their once secure jobs.
The highway bill will result in ships leaving "the U.S.‐flag with the resultant loss of jobs for our skilled U.S. citizen merchant mariners," the chairman of the trade group representing the merchant marine James Hardy warned lawmakers late last month.
Meanwhile, Rep. Rick Larsen, a Washington Democrat, told BuzzFeed the highway bill will result in as many as 10,000 merchant marines and other workers losing their jobs in the coming months.
The unexpected casualties is one of Capitol Hill's many unexpected consequences of a sausage-making process that seems to get messier every year, with hard partisan divisions and a new ban on earmarks adding an edge to the tradition of carefully-negotiated, bipartisan highway bills. Without earmarks to sweeten the deal for members, and with intense pressure to tighten the federal belt leaders were forced into making difficult choices that in years past would have been unthinkable.
The notion that a "jobs bill" could result in thousands of lost jobs may seem ironic. But in Washington, nothing is as simple – or easy – as lawmakers and their press releases would have you believe. And with voters demanding often diametrically opposed actions of their politicians – "Fix Our Roads!" versus "Fix the Debt and Cut Spending!" in this case – these tradeoffs are likely to continue.
At issue in the highway bill is a little noticed provision of the highway bill making key changes to the "Food for Peace" program. First started in 1954, the program is designed to provide food assistance to developing nations as well as areas of the world hit by disasters and other crises.
By Larsen's estimate — which matches that of the trade group, USA Maritime — the program also has a significant impact on the domestic economy, accounting for some 33,000 jobs, $523 million in household earnings and $2 billion in economic output.
Under the program, some 75 percent of shipments are required to be made on U.S.-flagged vessels.
But using U.S. ships is an expensive proposition, and in the push to help pay for the highway bill lawmakers decided to reduce those shipments by 1/3 – a cut that supporters of the program said could mean lost jobs for thousands of workers on both coasts.
Who included the language, known as a "pay for," is unclear: Boxer and Mica's offices did not respond to a request for comment.
"To chose this as one of the pay fors does run counter to creating and maintaining jobs in the United States," said Larsen, who acknowledged "the bill over all will be a job creator."
"This is an effect of the unwillingness of the Tea Party Congress to actually fund [highways] … with the gas tax," said Larsen, who is working with fellow coastal Democrats to try and find a way to restore the funding.