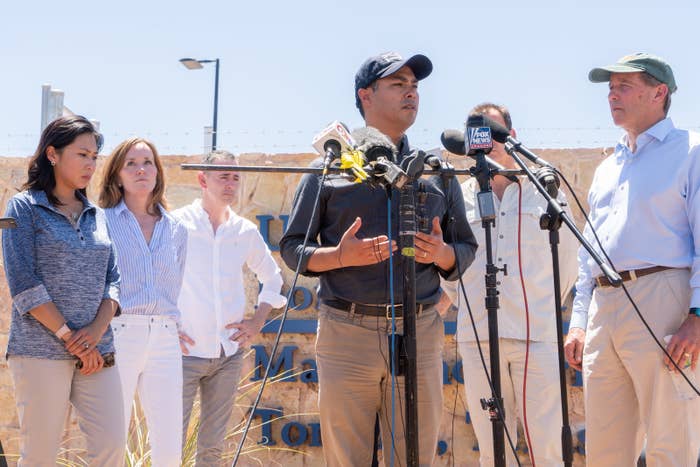 LORDSBURG, NEW MEXICO — US Rep. Joaquin Castro Tuesday called on Customs and Border Protection Commissioner Kevin McAleenan to resign over the death of 7-year-old Guatemalan immigrant Jackelin Caal.
Castro, a Texas Democrat and the incoming chairman of the Congressional Hispanic Caucus, called for the resignation following a tour of CBP holding facilities here and at the Antelope Wells Port of Entry, where Caal was initially held on Dec. 6 after she and her father turned themselves into agents.
"I believe he should step down," Castro said, adding that after two lengthy conversations with McAleenan and seeing the "very disturbing" conditions in which immigrants and asylum seekers are being held, he believes McAleenan has no choice. "If I were in charge … I'd ask for his resignation," he added.
Castro also cited the fact that McAleenan purposefully did not disclose Caal's death to Congress when he testified earlier in December. Federal law requires Congress be notified within 24 hours of the death of an immigrant in CBP custody.
Castro was part of a 13-member congressional delegation that toured CBP's facilities as part of a fact-finding mission into the circumstances surrounding Caal's death.
The lawmakers came away from their visits clearly shaken, and they described squalid living conditions for hundreds of people. For instance, the Antelope Wells facility does not have running water and has only two portable toilets to service the hundred or more people who are detained there on a daily basis.
In Lordsburg, more than 100 men, women, and children were crammed into two detention spaces with a total maximum capacity of 85. Although each room has a toilet, it is in the middle of the room and has no privacy. In both facilities, detainees are fed granola bars, frozen burritos, and water — though on Tuesday there were no cups to distribute water at Lordsburg. There are no beds, and detainees are given thin, foil blankets.
"There is a mass of humanity wrapped in foil lying on the floor in this facility," Castro said.
Rep. Raul Ruiz, A California Democrat who is a trained physician, also said there was next to no medical equipment at the Antelope Wells facility, and neither detention center had any pediatric medical equipment — or even an examination bed.
"What I saw in these facilities is unbelievable and unconscionable. The ASPCA would not allow animals to be treated the way human beings ate being treated," said Rep. Al Green, a Texas Democrat who will become the chairman of the House Financial Services' Subcommittee on Oversight and Investigations when Democrats take control of the House next year.