Jindal: Obama Has The Authority For ISIS Air Strikes
And he supports Obama's plan to arm Syrian rebels.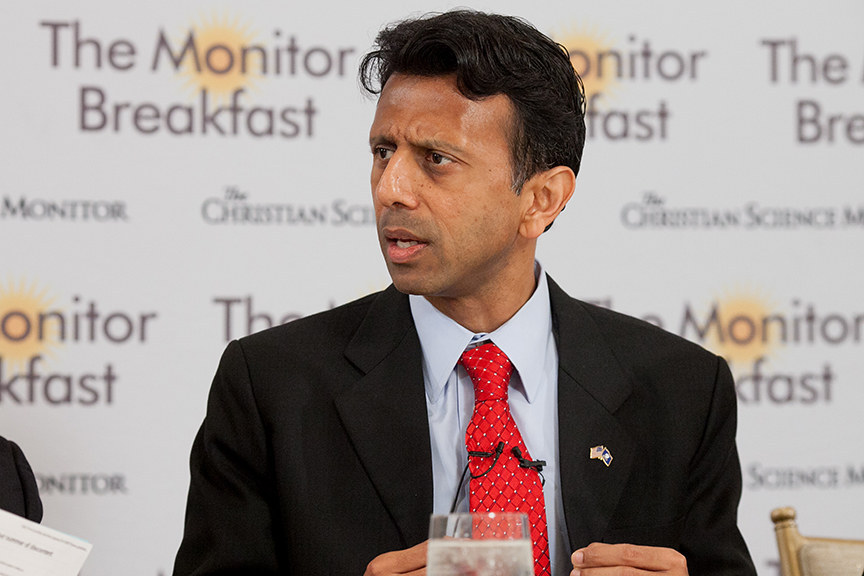 WASHINGTON — Louisiana Gov. Bobby Jindal Tuesday backed President Obama's request for funding to help arm and support Syrian rebels fighting the terrorist group ISIS, even while pinning the blame for the group's rise to power on the president.
Speaking at a breakfast sponsored by the Christian Science Monitor, the Louisiana Republican said "absolutely I think Congress should support the administration's request … this is a terrorist group that threatens U.S. interests."
Similarly, Jindal said he believes Obama already has the authority to conduct air strikes against ISIS. "I do think personally he has the authority … to take limited strikes," Jindal said, adding that it is still important for Obama to outline his strategy for Congress.
But Jindal offered harsh criticism of the administration's foreign policy, arguing that "leading from behind has made the world more dangerous … his dithering, his delaying has allowed them to gather land and resources and grow even stronger."
And while Jindal called Obama's speech following the execution of journalist James Foley and "eloquent" expression of national grief, "unfortunately … grief wasn't a strategy. It isn't a strategy."
"If speeches were results we would have the greatest president in history. Unfortunately they are not," Jindal said.
Meanwhile, Jindal declined to defend Duck Dynasty star Phil Robertson's argument that AIDS and other diseases are a celestial punishment for immorality, but argued he has the right to express his beliefs.
"Phil is perfectly capable of explaining and defending his own words. He doesn't need me to do that … I still stand up for his right to speak. Whether people agree with him or not, it's his right to speak," Jindal said.