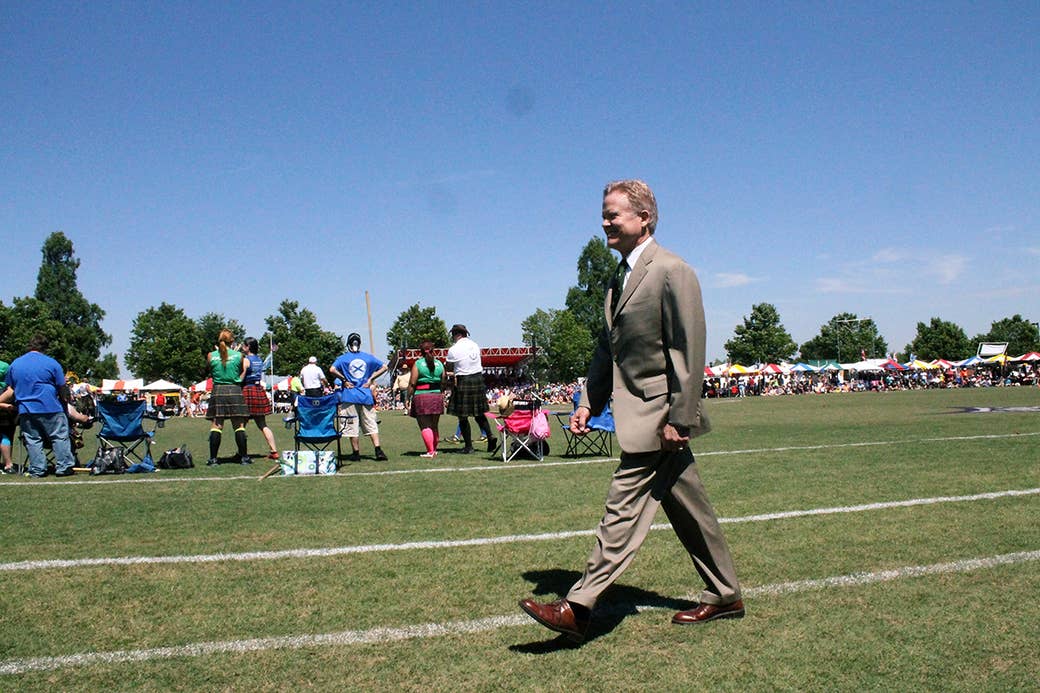 GREENVILLE, S.C. — "No, no! Don't throw it yet!" a burly Scotsman warned the beauty queen. "Put your foot on the line, there—" he motioned toward her black stilettos, "and then throw."
She laughed nervously. Next to her, Miss Greenville Scottish Games Teen stepped up to the line, looked down range, and in lightning quick, fluid synchronicity loosed an axe from manicured fingers. It landed with a satisfying thud.
This — the annual Scottish Games in Greenville — is where Jim Webb, former U.S. senator and longshot candidate to defeat Hillary Clinton, spent last weekend.
The Republican contenders spoke to conservatives in air-conditioned Oklahoma City last week. Hillary Clinton toured small businesses in Iowa and New Hampshire. And Jim Webb casually walked past a woman straining under the weight of a 15-foot poplar tree trunk, which she then hurled into the air. It's not your normal presidential campaign stop, sure. But what about Webb's candidacy is quite normal?
Since announcing the creation of a 2016 exploratory committee in November, he's essentially moved, unnoticed, through the early circus of the campaign season as bigger names on both sides of the aisle have announced their own campaigns, each seizing a week or more of media attention. All the while, Webb has done his own thing, and whether that's good or bad for his prospective campaign doesn't really seem to bother him.
During the course of 18 hours in South Carolina, he made only one, oblique reference to the race, telling the Gathering of the Clans dinner that he and his fellow Scotch Irish have "had 13 presidents, so far — so far."
While he's spent a fair amount of time in some early primary states ("I've been in Iowa several times, I've been in New Hampshire, I was down here in South Carolina once before … I think we're fine," he told me), it's certainly not the saturation level pursued by his opponents. They've spent the last six months in constant motion between Iowa, New Hampshire, and big money trips in New York and L.A.

Meanwhile Webb has either played the small venue circuit like the Scottish Games, or just gone missing altogether. Instead of attending the South Carolina Democratic convention last month, he sent Mudcat Saunders ("I'm supposedly an adviser," Saunders told the crowd. "I don't advise. I tell him what's going on. There's no whisperin' in the ear. There's no, you know, design, strategy. Jim Webb is Jim Webb.")
At the end of March, Webb left the country entirely for 10 days at the behest of the government in Thailand, which had asked for his assistance in quelling an ongoing major social and political upheaval. It was an odd move for someone like Webb, who needs all the exposure he can get in the early states. Odder still, though, was the fact that his campaign didn't use the trip to tout his foreign policy chops.
Even at the most overt campaign-style event of the weekend in Greenville, Friday's Gathering of the Clans dinner, Webb entered to virtually no fanfare.
Taking the stage from a visiting clan leader from Scotland, Webb admonished the crowd, "Please, do not call me a politician," before launching into arguably the briefest stump speech in presidential history — a six-minute-and-five-seconds contemplation of the role of the Scotch-Irish in American history. Aside from his closing quip about the number of Scotch-Irish presidents, there was virtually no reference to the primary campaign, Hillary Clinton, the Republican field … not even his own policy positions or beliefs.
In fact, Webb wasn't even the main attraction. As his speech wrapped up, a group of men dressed in traditional tartan kilts made their way into the hall, carrying swords and a stuffed sheep's stomach, parading the haggis through the hall to cheers.
The next morning, walking around the heavily tattooed and kilted crowd, Webb was both clearly at home and yet detached from his environment, more observer than participant. Sporting a tan suit and green Marine Corps tie, he could easily be on hand to provide emergency legal services in the event of a fight between clans rather than serve as guest of honor.
He mixed with the crowd, shaking hands and trading pleasantries, watching groups of thick muscled men and women participating in the Caber Toss, a traditional Scottish feat of strength that is one of the highlights of the games.
When Webb was announced, the crowd only clapped politely.
There were no planted campaign volunteers the crowd waving Webb 2016 signs, no t-shirts with campaign slogans. It was clear that aside from his one staffer and the handful of VIPs that organizers introduced him to, I was probably one of the only person in the crowd that recognized him, let alone knew that he's running for president.
It was a deeply weird moment and Webb, or anyone for that matter, could be forgiven feeling and looking awkward as he walks solitary to the viewing stand.
But Webb was at ease, casually walking past the caber tossing as he made his way, unaware, to join the gathered VIPs.
If it all is a little odd, Webb seems to know exactly what he's doing. "Where do you want me? Is this OK?" he asked when we started our interview. There are some of the obvious trappings of a campaign, too — Webb is constantly flanked by his body man, who had Webb 2016 bumper stickers stuck in his back pocket last weekend. And organizers, recognizing that this was the first time in the Greenville Scottish Games history that a presidential candidate has visited, kept Webb on a tight schedule, ferrying him about the sprawling event site in a VIP golf cart (over his protestations — "Jim keeps saying we want to walk around, but they insist on using the golf cart," Webb's man, Joe Stanley said).

Webb maintains this is all to plan, and that it is working, even if it hasn't gotten much, if any, attention from the campaign press corps.
"We have our own pace," he told me. "The Democratic side is different from the Republican side in terms of how you can get your message out and in terms of how you can even proceed forward with a campaign. We've set a baseline of what we would attempt to do, and we've done it carefully."
Asked why, as a presidential candidate, he'd spend the first day of the Memorial Day weekend at this particular stop, he replied, "This is an interesting event. I've never been to it, but it celebrates the impact of the Scottish, and particularly the Scotch-Irish immigration into the country … I've always wanted to see this."
This is the arc of Webb's career, nearly, this idea of showing up in the most unexpected places — writing novels, running for Senate, leaving the Senate after one term — for reasons unclear, but possibly because it's simply the interesting thing to do. I mentioned to Webb that once, shortly after his 2006 election, I saw him emerge late one evening from an Ethiopian restaurant on 9th St NW in Washington, D.C. Now an epicenter of gentrification, bistros, and expensive apartments, a decade ago, the neighborhood was significantly rougher, and it's almost certain he was the first member of the United States Senate to have walked its streets alone, late at night.
He laughed, saying that a story on his Senate election noted that he "was one of the few political leaders that this writer had known who could go down into the alley ways of South East Asia and also the hollows of Southwest Virginia. You know, that's just been my personal experience, I wouldn't trade it for anything."
It's easy to write off Webb's Seinfeld-esque campaign tactics as hopelessly out of touch with modern political realities. But towards the end of the day Saturday, I met Kevin McBride, a former Marine Corps veteran who coordinated the Games' tribute to the various branches of the U.S. military.
McBride, an avowed "hard-right kind of guy," had actually met Webb before, nearly 30 years ago during an awards ceremony in Washington, D.C., when the Marine Corps commandant honored the Marine Corps' best riflemen.
"Gen. Gray was the commandant and Gen. Gray loved infantry Marines," McBride explained. "He loved all Marines, but he had a particular fondness for infantry Marines. One of his terms of endearment was that whenever he gave somebody a commendation or a medal, he always punched them in the chest. Gen. Gray, he was a sort of sawed-off, ornery little cuss."
"He punched all 13 of us," McBride said.
With hundreds of people looking on, Gray then introduced Webb, who as Secretary of the Navy was the guest of honor at that ceremony, too, to considerably more fanfare.
Webb shook Gray's hand — and then Webb punched him.
"He wasn't used to that … we were close enough and I could see his eyes. There was a second of anger, his face turned red," McBride laughed. "So as Marines, in the group, we always had a real fondness for Secretary Jim Webb."
"I'd just be honored to see him step forward and knock [Secretary] Clinton to the side… he's a real person," McBride said.