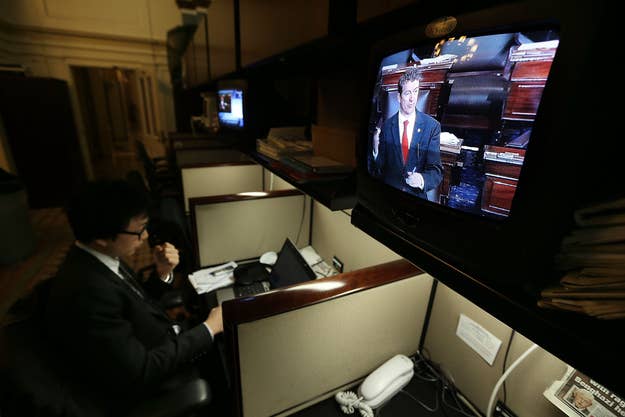 WASHINGTON — Sen. Rand Paul's nearly 13-hour-long filibuster could mark a key turning point not only in the Kentucky Republican's meteoric political career, but for a Republican Party that has struggled to find any footing since November's electoral defeats.
Fueled in large part by support from a Twitter political class that flexed its muscles on policy issues, Republicans rallied around Paul in a way that hasn't been seen on the national stage in years and could provide a glimmer of hope for a listless party.
"There was a hell of a lot of team play tonight," a senior GOP leadership aide said Thursday morning, acknowledging that Paul's filibuster had given the GOP a much needed jolt of energy. "Everybody's in a three-point stance, helmets on and ready to fight," the aide said.
"I think it was a great show of unity by the Republicans, and I think that the White House really missed an opportunity to tell the American people on this specific issue what the American people want to hear," said Sen. John Barrasso, who as chairman of the Senate Republican Policy Committee, is the fourth ranking member of leadership.
Senate Minority Leader Mitch McConnell, who after an initially strained relationship with Paul has come to embrace him, was effusive in his praise. "I wanted to congratulate him for his tenacity, for his conviction, and for being able to rally the support of a great many people and also people who have come over from the House of Representatives who felt also, I gather, that this is a legitimate question," McConnell said.
Paul even got some love from Democrats. "It was a good debate, and I think it was collegial and Sen. Paul and others brought up good issues, and Sen. Durbin engaged, and all in all — it was the first real filibuster in a long time," said freshman Sen. Brian Schatz.
The push was partially fueled by Paul's libertarian-tinged demands that the White House explain its drone policy when it comes to U.S. citizens.
The effect Paul was having on his colleagues was clear early on. While a core group of senators led by Sens. Ted Cruz and Mike Lee kept Paul company throughout his vigil, as the night wore on more and more Republicans joined them. At first, it was largely conservatives like Sens. Marco Rubio and Jerry Moran, but by the end even McConnell had come to the floor.
And it wasn't just Senate Republicans. A host of House conservatives also came to the Senate floor to participate — several, including Rep. Louie Gohmert, even brought Paul candy and cough drops, and by the end of the night House conservatives were packing the benches behind him.
But throughout the filibuster and the media and public uproar it caused, Twitter was the driving force behind much of the momentum that helped power Paul and the pressure on his colleagues to join in.
"Twitter is woven through the DNA of this filibuster, taking an obscure legislative process into the public space," GOP strategist Rick Wilson opined on Twitter at one point late in the evening Wednesday.
Although he wasn't able to check Twitter, television, or any other media, it was clear Paul himself was beginning to grasp the enormity of his effort in the public sphere minutes after the filibuster was over.
"I really think that we will get word out and we drew enough attention. I haven't been outside of the Senate, but I think we drew some attention to the issue, and I'll be very surprised if the president doesn't respond," he told reporters.
Indeed, Cruz — in a clear hat tip to the famous telegraph scene in Mr. Smith Goes to Washington — twice came to the floor to read tweets encouraging Paul, and the hashtag #standwithrand trended not only nationally but worldwide, including in places like Mali and Iran.
According to several GOP aides, a number of Senate Republicans, who had initially dismissed Paul's filibuster as futile gesture, were swayed into coming to the floor to demonstrate their support for CSPAN's cameras in no small part because of local and national Twitter pressure campaigns organized by Tea Party groups and other conservatives.
"I was getting tired for a while. And I got more energy when a lot of the senators started coming in and the House members, and that sort of reenergized me. But I was flagging there," Paul said following the filibuster.
The upwelling of support from Twitter wasn't lost on Republicans.
Late in the evening, GOP Chairman Reince Priebus even went so far as to tweet "Attention all Republican US Senators -> Please go to the floor and help out @SenRandPaul #StandWithRand."
Brad Dayspring, a spokesman for the National Republican Senatorial Campaign Committee, began pushing out tweets of support for Paul at a rapid-fire pace Wednesday evening, and the NRSC quickly launched a donation page to capitalize on the swell of public support.
The energy couldn't have come at a better time for the GOP. House Speaker John Boehner has at best a tenuous hold on his conference, there is no national leader who's emerged to unite the deeply fractured party, and infighting over everything from gay marriage to the budget threaten to erupt on a daily basis.
More fundamentally, once the forced confidence and declarations that the party is beating President Obama on fiscal issues are put aside, the reality is the Republican Party has had little if any energy or direction.
Whether Paul's filibuster will actually provide a long-term direction for Republicans remains to be seen: While rivals for the 2016 presidential nomination like Rubio may have played nice Wednesday night, that won't last long, and social conservatives may not like Paul's largely libertarian focus.
But at least for now, Republicans went home with a pep in their step for once.