House Republican Hijinks Embarrass The Ticket
Paul Ryan's awkward relatives. "House Republicans are like Cousin Eddie from National Lampoon's Christmas Vacation."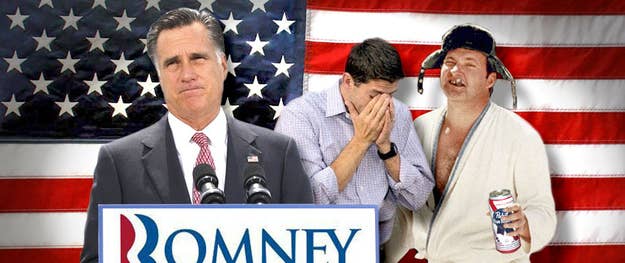 WASHINGTON, D.C. — Like a drunk uncle at a wedding reception that's run a little long, House Republicans have delivered one embarrassing, cringe worthy episode after another in the early weeks of the Romney-Ryan wedding.
Dual scandals over one Missouri Congressman with unusual ideas about rape and a Kansas Republican caught skinny dipping in the Sea of Galilee produced an almost universal acknowledgement here on Capitol Hill Monday that Rep. Paul Ryan's friends on the Hill have become a risk to the Republican presidential campaign, never mind their efforts in Missouri and elsewhere.
"House Republicans are like Cousin Eddie from National Lampoon's Christmas Vacation. It's just so embarrassing," one GOP aide who has worked in both the House and Senate said Monday.
Republicans pointed out that neither party is exactly free of embarrassing legislators. But the potential problems with the House, where Ryan is a top party leader, came into clear focus Sunday when Rep. Todd Akin claimed women's bodies could "stop" pregnancies if a rape was "legitimate."
Akin's comments prompted the most obvious unease amongst Republicans: numerous GOP Senate candidates, including Sen. Scott Brown and former New Mexico Rep. Heather Wilson, denounced him and called on him to step aside.
But more importantly for Romney and Ryan — who has co-sponsored bills with Akin imposing new stringent restrictions on abortions — the scandal became yet another distraction from their campaign, pulling them away from their economic attacks on President Barack Obama.
After distancing himself from the comments on Sunday, Romney Monday again engaged the issue, saying "I can't defend what he said, I can't defend him," while National Republican Senatorial Campaign Committee Chairman John Cornyn issued a public 24 hour deadline for Akin to get out of the race.
But the bigger question of what is going on with House Republicans has gotten under the skin of Republicans on Capitol Hill, who say they are becoming at best a constant distraction for Romney and Ryan and at worst a drag on the top of the ticket and Senate candidates.
The list of train wreck moments is piling up:
Rep. Joe Walsh on August 9 warned his constituents that "radical" Muslims had infiltrated the Chicago suburbs and were planning attacks on them;
On Saturday, Rep. Michael Grimm's top fundraiser Ofer Biton was arrested by the FBI as part of their investigation into allegations the two men shook down a prominent Israeli rabbi in 2010 for campaign cash;
Meanwhile, this weekend it came to light the FBI is also investigating Grimm and a handful of other lawmakers for a drunken skinny dipping episode in Israel's Sea of Galilee last year that included congressmen, staff and the daughter of Rep. Steve Southerland, a Florida Republican freshmen.
"Like Cousin Eddie they don't even know they're being embarrassing and damaging … which I think is the most comical aspect of this," the aide said.
"If you were putting together a dinner party and went down the list of House Republicans, you'd get to the bottom and say, 'God, I only invited two or three of these guys,'" the aide added derisively, arguing the recent embarrassments have been a part of a broader problem Speaker John Boehner and Majority Leader Eric Cantor have faced since taking control of the House in 2010.
"They've not been given a chance to succeed," the aide said.
Indeed, in many instances Republicans like Walsh, Akin or most famously Rep. Michele Bachmann who have gone far off reservation have ended up turning that into an asset, particularly with elements of the grassroots.
"Where as before the establishment and the media would have punished these people … they become rock stars online and outraise the leaders," the aide said.
A longtime GOP operative agreed that the House has become a potential liability to the Republican presidential ticket and that, at least for now, Romney needs to distance himself from them.
"If I was on the campaign I'd tell him to 'severely distance yourself, say these guys don't represent the party and behave like the adult of the party and condemn their behavior,'" the operative said.
A House GOP leadership aide defended the conference generally, saying that despite the "eclectic behavior" of its members, "House Republicans are actually doing things. We are engaged in a debate over the economy and jobs, and we have passed untold number of bills that are sitting in the Senate."
The House aide also said the House simply appears to be more dysfunctional than the Senate "because the Senate as a whole isn't doing anything, whether its engaging in interesting behavior or doing actual work."
Still, the aide acknowledged Akin, Walsh, Bachmann and others have increasingly been something of a problem. "Does the House have more members inclined toward eclectic behavior? Sure … but in every barrel there's always a few slightly deficient apples."