House Passes Fiscal Cliff Deal Over Conservative Nays
Top Republican leaders Eric Cantor and Kevin McCarthy abandon Speaker and vote no as economic collapse is narrowly averted. Paul Ryan's last minute change of heart.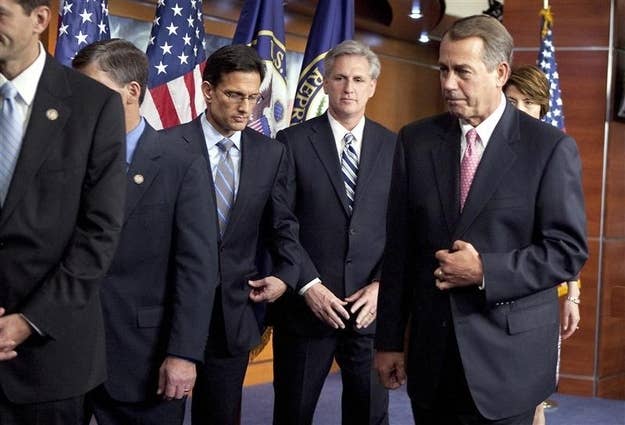 WASHINGTON — Congress late Monday night begrudgingly approved a multi-trillion dollar package of tax cuts and spending measures aimed at averting the fiscal cliff — but only after weeks of on again, off again negotiations, mini-revolts in Republican ranks and no surplus of political courage on any side of the debate.
The vote came with a particular cost to House Republicans: Majority Leader Eric Cantor and Majority Whip Kevin McCarthy broke with Speaker John Boehner and voted against the bill, even after they had pushed not only rank and file members but even other lower ranking members of leadership to vote for the bill, according to Republican sources.
Cantor and McCarthy both informed Boehner of their decisions prior to the vote, and waited until after the bill had gotten the needed 218 votes to pass the House. Budget Chairman Paul Ryan, who along with McCarthy and Cantor make up the so-called "Young Guns" was also expected to break with Boehner prior to the vote, but at the last minute he apparently changed his mind and voted for passage, a Republican source said.
Following the vote, Ryan told Buzzfeed, "When you like something, you vote for it. …I wasn't afraid." He said he thought the deal reflected conservative values.
In a statement released by his office later, Ryan was more forceful in defense of his vote, noting that while he had concerns "Will the American people be better off if this law passes relative to the alternative? In the final analysis, the answer is undoubtedly yes. I came to Congress to make tough decisions—not to run away from them."
There wasn't much to like for Republicans in the deal. Its most important plank will raise taxes on income over $400,000, something they'd fought hard to resist. Some Republicans raised objections to smaller provisions in the bill, including extending favorable tax treatment for Nascar and Hollywood.
In total, 151 members of leadership, chairmen and rank and file Republicans voted against the bill, while only 16 Democrats did.
The final House vote turned out to be one of the lowest points for Speaker John Boehner, who has seen his authority eroded almost completely as a result of the fiscal cliff fiasco.
In the immediate future, the defections appeared to abruptly end efforts to pass a $60 billion spending supplemental related to Hurricane Sandy and will almost assuredly have long lasting implications for Boehner's team in handling an already wild and unruly conference.
Cantor has been helping champion the spending measure and has worked closely New York Mayor Michael Bloomberg and New Jersey Gov. Chris Christie, as well as their states' delegations.
But after a particularly bruising fight over tax increases — and the GOP's intense opposition to increasing spending — convincing the conference will be a difficult task. And now with his relationship with Boehner damaged and the Speaker almost assuredly unwilling to further provoke his conservative wing, Republican aides said it was unclear whether the House could pass any sort of relief bill.
What effect the break within leadership will have on Thursday's speakership election is unclear. Boehner is still well liked within his conference, even if he is unable to effectively manage it. And Cantor, McCarthy and Ryan have all made it clear they aren't looking to challenge him.
Prior to the House vote, conservatives who for weeks were highly critical of the efforts clearly unhappy.
"This will certainly add to a growing list of frustrations," an aide to a conservative House member said. The aide added, "It will definitely turn up the heat from the base to dump Boehner."
"We have not had the spending conversation we need to have," said Rep. Tim Scott, who will soon succeed Sen. Jim DeMint, one of the Senate's most prominent and steadfast conservative members.
Other House Republicans who were not enthused with the deal echoed that practiced refrain.
"The spending cuts are very important, and we need to get the spending under control," said Rep. Cathy McMorris Rodgers, the fourth-ranking House Republican.
Ultimately, an aide offered her an out.
"We've got to go," Jeremy Deustch, her chief of staff, interrupted. "We have a vote."
After the House voted, however, Republicans who opposed the bill were more vocal about their disappointment — and hinted at possible backlash later.
"Oh, people are paying attention" said Rep. Jason Chaffetz. "People are paying attention."
Among the few senators who opposed the deal, Sen. Marco Rubio nevertheless defended those in his party who had voted for the tax hike.
"Taxes went up today automatically, so Republicans didn't vote to raise taxes," Rubio said.